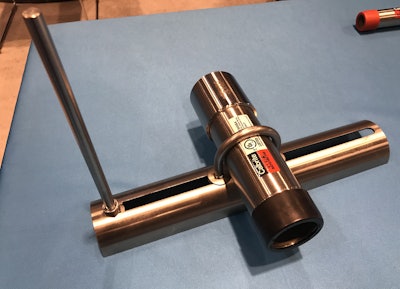 The Calbrite stainless-steel conduit support system is designed for sanitary and washdown environments commonly found in food processing and pharmaceutical industries. The custom dome-shape design eliminates any flat surface where debris or bacteria can form, and eliminates the ability for water to pool during the washdown process. The conduit features polished 304 stainless steel with the 180-Grit "brite" finish. This increases corrosion resistance and its aesthetic appearance.
With a custom dome-shape design, the conduit eliminates any areas where water or bacteria can gather and provides an excellent strength to weight ratio. All supporting rod and dome shaped nuts eliminate exposed threads after installation, according to the company.
Comprehensive mounting options make the conduit suitable for vertical or horizontal applications and can be supported from the ceiling, wall or floor.
The conduit has a continuous slot design that the company says provides maximum flexibility to install any size conduit with any type of Calbrite accessory. It also allows the 10-ft conduit to easily be divided into one foot increments. The conduit is a single support design for both vertical and horizontal solutions with limited hardware needed for hanging.
Companies in this article