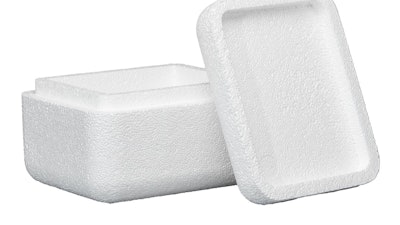 Lifoam Industries, a business segment and subsidiary of LifeMade Products (LifeMade), has announced new testing results on its Envirocooler™ insulated shippers with compostable Bioffex™ technology. After 14 months of testing in a bioreactive landfill environment, Bioffex™ technology showed over 90% degradation. The degradation rate was established through third-party testing in compliance with ASTM D5511 standards.
The 100% bio-based Bioffex™ technology was tested per ASTM D6400-19 standards for compostability and biodegrades within three to four weeks. In compliance with D6400, composted Bioffex™ also has no negative impact on plant growth and leaves no hazardous residues. Meanwhile, continued testing under ASTM D5511 has provided evidence communities that do not yet have access to an industrial composting site will still experience much faster degradation in bioreactive (wet) landfills than legacy petroleum-based foam—months compared to centuries or longer.
Insulated shippers with Bioffex™ technology deliver thermal and mechanical performance comparable to traditional EPS foam shippers, offering payload protection and reliable temperature control with minimal changes to container dimensions or gel pack and dry ice loads. Moreover, these shippers require fewer resources to manufacture. PLA-based Bioffex™ material uses zero petroleum, and insulated shippers made with Bioffex™ technology use up to 80% less water and greenhouse gasses than traditional EPS manufacturing, achieving similar densities of 1.3 to 1.5pcf.
The Envirocooler™ insulated shipper with Bioffex™ technology requires little to no changes in shipping operations for most existing cold chain distribution channels to make a switch to this sustainable alternative.
Companies in this article