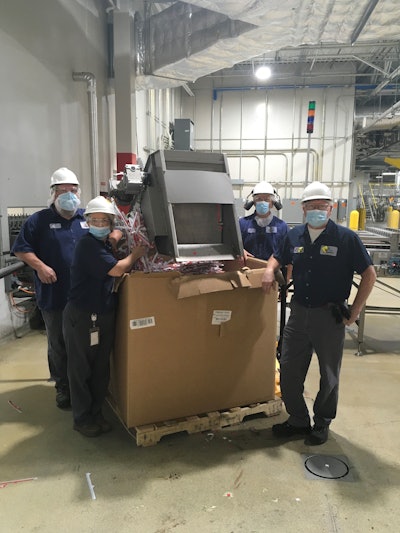 At Conagra Brands' Waterloo, Iowa, facility, "stars and bars" are small pieces of plastic created when formed cups are cut and separated. "Our stars and bars have long been a recycling challenge, because a foil lid stock is attached to the plastic," states Plant Manager Steve Schultz. Recycling the waste has been a challenge for the past several years, forcing the facility to landfill this material, affecting the site's landfill diversion efforts.
The Waterloo facility worked with its material supplier, which recently partnered with a recycling center, to invest in equipment to delaminate the foil from the plastic, making both materials more readily recyclable.
"With this new vendor, we are able to divert about 80,000 lb of plastic from the Waterloo, Iowa, landfill per month, which represents over 10% of the site's total waste," according to Schultz. "By recycling these materials, we are limiting our impact associated with plastics in landfills."
There has been a significant labor reduction at the plant since completing this project. "Prior recycling efforts constituted baling the stars and bars, which is a labor-intensive task," explains Schultz. "The new method requires far less hands-on work, reducing exposure to ergonomic and other types of hazards."
"We have been reaching out to countless recyclers and, of course, suppliers in hopes of finding a waste stream for the stars and bars material. Through the refuse-to-lose attitude of our Waterloo team that genuinely cares for our environment, we were successful in getting this plastic into a recycle waste stream instead of placing it into our landfill by remaining passionate and persistent."
PACK EXPO Las Vegas and Healthcare Packaging EXPO (Sept. 27-29, Las Vegas Convention Center) will reunite the packaging and processing community. With over 1400 exhibitors, no other event in 2021 will bring together a more comprehensive gathering of suppliers offering new products, technologies and solutions. Attendee registration is now open.
Companies in this article