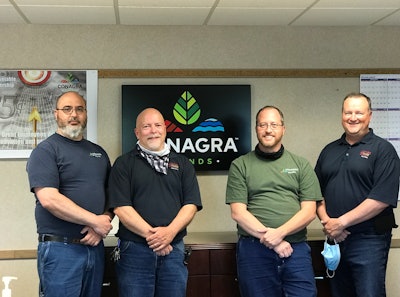 Conagra Brands' Maple Grove, Minn., plant operates four microwave popcorn presses to support its Orville Redenbacher and Act II businesses. These lines utilize speed splicers to make paper splices from roll to roll, which use older technology and have less precise methods for triggering a paper splice. Working with partner vendors and contractors, the plant incorporated a laser measurement to automatically trigger the paper splicer, allowing it to use more of the paper on the end of the roll.
"By utilizing more of the paper on the roll before splicing, we reduce waste and save money in material savings and recycling costs," says Keith Huegel, plant engineering manager. "This project saves a fraction of each roll, but over the course of the year that equals approximately 35 tons of waste and 3.3% of the site's total waste."
Huegel says the measurement lasers were installed on two presses in January 2020 and have been operating well since. The presses have netted about $20,000 in savings for each line, representing a significant return on investment. The project took less than two months to plan and implement.
The idea for the project emerged when a Conagra Brands plant engineer attended PACK EXPO and discussed ways to improve the plant's current operation with an exhibitor.
"Any facility that is unwinding a material on a core may be able to benefit from the technology to use as much of the material as possible left on the core," says Huegel. "It was important for us to get the vendor and contractor involved early to find the best solution. As we get closer to the core, the more critical it is that the vendor has a good starting wind of the material on it. We will be working with them to maximize our material use."
---
---
Companies in this article