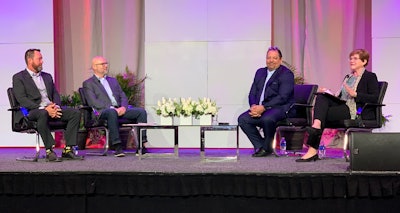 When the U.S. Dairy Export Council was formed almost 27 years ago, the U.S. was exporting only about 2% of its production. Today, it's closer to 18%. If not for some of the headwinds being created by shipping issues, it would've been more like 20% last year, according to Krysta Harden, president and CEO of the council.
"People love our products, they want our products, they want to be able to afford our products," Harden told an audience at the recent Cheese Expo in Milwaukee. "It's up to us whether we're going to step up and meet that demand."
---
---
Joining Harden on stage for the keynote discussion were a handful of cheese and milk execs—all of whom lamented the supply chain woes that have befallen this along with just about every other industry since the start of the COVID-19 pandemic. David Ahlem, president and CEO of Hilmar Cheese, said that supply chain issues were a leading challenge for his company. "We've been selling a lot of stuff, but we can't get it to customers right now," he said.
There's underlying optimism that goes along with that. "Customers want to purchase our products even at current price levels. I'm excited about the long-term demand in the marketplace," Ahlem says. But there's also concern that the situation cannot continue if Hilmar wants to continue to get business. "Long term, it affects our ability to be a reliable supplier. Customers need to know whether we can be that predictable supplier. And we need to be."
From Harden's perspective, it's a concern worth losing sleep over. "I'm a good sleeper," she says. "But the thing that wakes me up is this shipping situation."
It used to be that U.S. dairy producers would export only what they happened to have leftover. "The industry worked so hard to change that narrative," she says. "Is there concern that this is going to flip back some of that narrative?"
No, says David Lenzmeier, CEO of Milk Specialties Global. Looking at the outlook in key competing geographies, such as Europe and New Zealand, the capabilities come from North America, he says. "This is the place to be. We have the most competitive milk producers in the world in terms of size, scale, and efficiency."
The spread of sustainability
The U.S. is in a pretty good position when it comes to the sustainability perspective, a narrative that is increasingly spreading from Europe. "We're globally positioned pretty well, from a productivity and efficiency standpoint," Ahlem says. "Our greenhouse gas emissions intensity is the lowest in the world. We beat every other dairy region. And we've only just begun that process. We can do more and reduce that going forward." The U.S. dairy industry owns the science; now it needs to own the narrative, he adds.
The industry needs to use the data it has to tell a better sustainability story, insists Marshall Reece, senior vice president of sales and marketing for Associated Milk Producers. "Dairy farmers have always been sustainable," he says. "It's hard to measure or reduce what you aren't tracking. But we're doing a much better job of tracking what we're doing. With data, we can tell a great story."
---
---
Milk Specialties began tracking more of its efforts about five years ago, Lenzmeier notes, beginning to understand better how to send fewer trucks down the road and how to better reutilize water in the plants. "The great thing is there's always an ROI there—and it's the right thing to do," he says. "Everyone's got to double down on their commitment to sustainability." Freight and water reuse continue to be at the top of the list for Milk Specialties, he adds.
Having recently published its 12th sustainability report at Hilmer Cheese, Ahlem has seen the evolution along the way. "We were doing some good things, but we weren't talking about them," he says. "Now we're setting science-based targets, working toward goals, and providing transparency."
Asked by an audience member about water reuse in whey production, Ahlem commented that, while it becomes more of a priority in drier regions, it's always the right thing. "We're finding new ways to reuse more water," he says. "As we expand what you can do with that polished water, we have the potential to move to almost a zero water footprint. That's an aspiration and a goal. We're not there yet, but it's on the horizon."
Food and worker safety
The bar has risen in terms of food safety and sanitation as well, Ahlem says. "Also the technology and sophistication of the products we make," he adds. "With that also the training and skillset of our workers. We're also building a culture of food safety in plants."
The difficulty in finding labor makes all of this more challenging, Ahlem adds. "There's much more investment in skill and the culture side than we did 10 to 15 years ago," he says.
The comfort level with Zoom that employees have gained as a result of the pandemic is providing more opportunities for training workers, Lenzmeier says. "We have more tools than ever to do that," he says. "We also have more tools to manage a lot of challenging situations. Conflict resolution is one of the most important tools a manager has to have."
Reece adds, "As an industry, we do continue to invest in our people. And our people continue to invest in themselves."