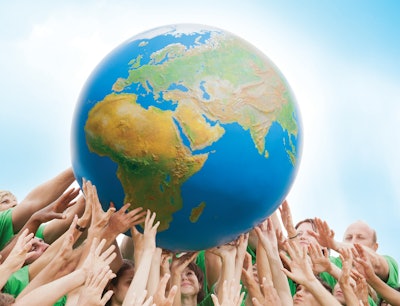 As a group, food and beverage processors tend to be tight-lipped when it comes to sharing the whys and hows of their production advances. But the latest trade secrets in sustainability seem to be the exception to the rule—manufacturers are more apt to share these pre-competitive ideas to help the industry overall meet environmental and resource savings goals.
The topic of sustainability has steadfast competitors like Anheuser-Busch and Molson Coors sitting down over breakfast to talk about the one thing they're still allowed to discuss. It has Keurig Dr Pepper working not only with ADM on regenerative agriculture, but also with competitors like PepsiCo. "It's the great thing about the sustainability space—we can even work with competitors," said Melanie Condon, KDP's director of sustainability, at the latest BevTech conference.
Each year, ProFood World recognizes projects and programs undertaken by food and beverage operations. If there's one thing that shone through with this year's entries for our Sustainability Excellence in Manufacturing Awards, it's how big a role collaboration plays in achieving sustainability goals. Getting financial support from energy companies or local government agencies is often instrumental to pursuing goals. There are environmental groups that companies work in collaboration with.
Perhaps most important of all, these projects require collaboration with your employees. Get them engaged, and they'll come up with some of the simplest yet most effective plans for process improvement.
You might notice that, whereas in the past we've typically awarded three winners in each the Program Category and Project Category, this year the shift has been almost entirely toward the project side of things. It might be an anomaly, but it creates a sense that companies are having significant success just chipping away at sustainability issues. Even the smallest changes highlighted in the following pages are seeing significant returns.
At the Food Northwest show earlier this year, Zach Podell-Eberhardt of Cascade Energy talked about the importance of saying "and" rather than "or." Take on the small projects in addition to larger projects. The small ones will help provide the cost-effective, quick returns to help fund the bigger stuff. And—while moving on to the larger projects, don't forget to keep up with the smaller ones to make sure they continue to work the way you first intended. With attention, they will continue to fund your projects moving forward.
All entries were judged by a team of food industry peers. The winners will be honored at a special session at PACK EXPO Las Vegas on Sept. 11.
FIRST PLACE | Program Category
Evol Frozen Meals Made in Conagra Brands' First Zero Waste-Certified Facility
In June 2022, Evol became the first brand to introduce Carbonfree Certified Carbon Neutral single-serve frozen meals. Part of Conagra Brands, the eight Evol meals are produced at the company's TRUE certified Zero Waste facility in Fayetteville, Ark.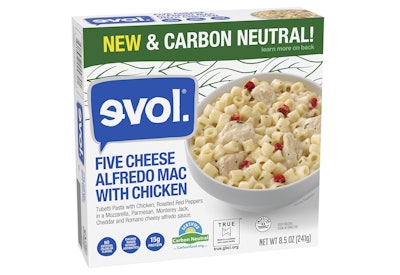 This latest certification achievement is part of an ongoing effort from Conagra, which has long prioritized impactful recycling and waste reduction measures. Being a TRUE Zero Waste facility means the Fayetteville plant has diverted an average of 90% or greater waste from landfills or other waste reductions in the past 12 months. Tracking waste intensity (lb waste/lb production), the Fayetteville location achieved a 90.5% diversion rate, diverting 17,351 tons of waste from the landfill through recycling, organic diversion, and food donation.
There are other sustainability efforts in play as well. "All of Evol's paperboard cartons are fully recyclable. The tree fiber used for the cartons is responsibly sourced, certified to the Sustainable Forestry Initiative. Evol also made the switch from 100% plastic bowls to paper-based bowls, which lowered the carbon footprint of packaging across all products. Ingredients across the line include chicken, beef and pork raised without antibiotics and no artificial colors or flavors," notes Emily Muth, director of sustainability supply chain for Conagra.
"Fayetteville is Conagra's first ever TRUE Zero Waste certified facility, and our team is currently evaluating how we can grow and continue our support of innovative waste reduction projects," Muth says.
FIRST PLACE | Project Category
Hormel Reuses Reverse Osmosis Concentrate Water for Retorts
Progressive Processing, located in Dubuque, Iowa, and owned and operated by Hormel Foods, makes Hormel Compleats microwave meals, bacon toppings, and Spam products. Production professionals at Progressive Processing are always looking for ways to reduce water usage, and their latest effort makes use of reverse osmosis concentrate (ROC) water.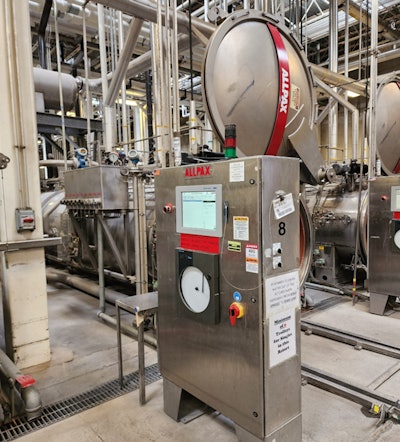 With approval from a water-chemistry consultant and the Hormel Foods Internal Thermal Processing Authority group, the Progressive Processing team verified that ROC water could supply the operation's retort process control in place of cold soft water. Changes were then made to the plant's plumbing to allow the ROC water, a byproduct of boiler feed water, to be used in the retorts to replace the use of cold soft water.
"Retorts cook most of the food produced at the facility, and a large amount of cold soft water was used for non-food-contact process control," explains Randy Thole, manager of plant engineering for Hormel Foods. "Reverse osmosis filtering is used to treat the makeup water, which the boilers turn into steam, and the steam is used in the retorts."
The first phase of the ROC project was implemented in August 2022 on the existing retorts and the final phase in December with the installation of additional retorts. The project reduces water use by about 7.28 million gallons per year. Facility-wide, this is a reduction of about 8% for water use and 10% for wastewater.
"The project is self-sustaining because there is a direct correlation between the amount of steam used in the retorts, ROC water generated, and water needed for process control," Thole notes. "This process could be transferred to other facilities that have both reverse osmosis filtering systems and steam retorts."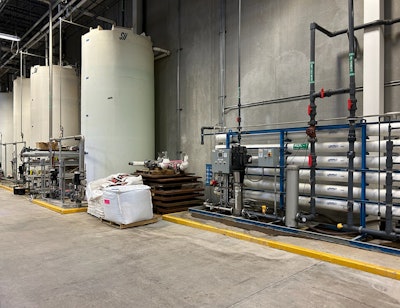 Although a larger distance between the reverse osmosis filter and steam retorts could cause issues for use in other facilities, there is also potential for ROC water to be used in other heat transfer applications.
SECOND PLACE | Project Category
Optimizing Steam Traps Brings Significant Water and Energy Savings
Steam traps are a significant source of water and energy use, and proactively addressing potential leaks can create more sustainable operations. Conagra Brands' facility in Imlay City, Mich.—known primarily for its Vlasic pickles brand—set out to review and optimize its steam traps to reduce steam and water loss, which has the additional benefit of carbon emissions reduction associated with that process.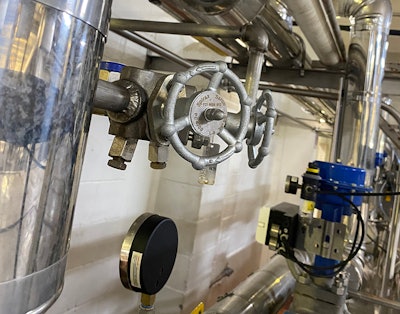 After an initial analysis by a third party, the Imlay City facility identified 12 trap assemblies with improvement opportunities. With new steam traps, the independent assessment determined that nearly 139,000 gallons of usable boiler feeder water could be saved each year and carbon emissions associated with the 12 steam traps have the potential to be reduced by 78 tons per year.
"Steam has become the new green source for power and heating if controlled and utilized properly," says Raju Markose, Conagra's environmental manager in Imlay City. "Keeping a consistent record of the performance of steam traps can increase the system's reliability and functionality."
With this in mind, the Imlay City facility installed hardware that gives maintenance the ability to change a steam trap on the system without having to take the system out of production. "The new pipeline connector has a block and bleed function that allows the team to isolate the trap and bleed off the pressure, change the trap, and re-enable the system with full functionality," Markose says. "This will shorten the time needed to replace traps in the future and also is an increase in the safety factor when servicing the steam system in general."
THIRD PLACE | Project Category
Production Employee Idea Cuts Food Waste on Bob's Red Mill Line by 70%
The Pacific Coast Food Waste Commitment (PCFWC) calls on food businesses and government entities to work collaboratively toward a goal of cutting food waste in half by 2030. Bob's Red Mill was the first food manufacturer to join the voluntary agreement, setting to work to reduce food waste in its own operations.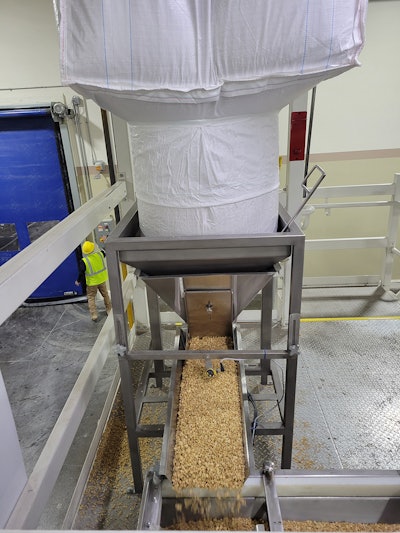 With help from PCFWC and TripleWin Advisory, Bob's Red Mill developed a multi-faceted employee engagement campaign to reduce food waste in the company's whole grain milling and packaging facility in Milwaukie, Ore. Hosting a Food Waste Reduction Challenge, the manufacturer asked its employees for ideas on how to reduce food waste—from milling to packaging, to innovation, receiving, and quality.
"We started by asking, 'Where is food wasted today that could be saved or prevented?' We were impressed with the engagement from our employee owners, who submitted 176 creative, innovative food waste reduction ideas," explains Julia Person, sustainability manager for Bob's Red Mill. "We tested one reduction idea and implemented a change to a whole grain packaging line."
The result: a more than 70% reduction in wasted food per pound of food packaged, on a single production line.
Following three months of the education campaign—incentivizing idea submissions, sharing a food waste educational video, and bolstering employee buy-in around reducing food waste—Bob's Red Mill chose one employee suggestion to run as a five-week pilot.
The winning project idea, submitted by production employee Jennifer Blasko, focused on reducing grain spillover on a line producing granola products as well as pulse/whole grain products such as green lentils, split peas, and pearl couscous. It called for a method to better regulate grain flow, and implementation of the plan reduced food waste by more than 70%.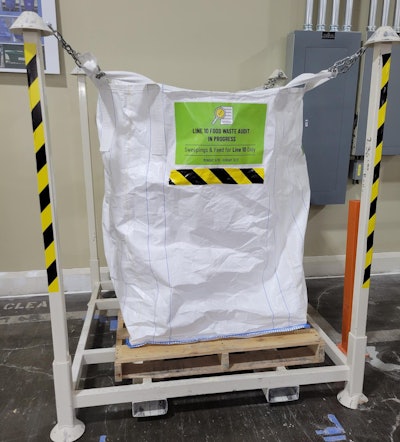 To conduct the pilot on the production line, a baseline was first measured. The maintenance team then made an adjustment to the line to reduce grain spillover from a conveyor belt by maintaining a metal screening tool that controls grain flow more regularly. The post-implementation measurement period ran for three weeks, to show the amount of food waste produced after the fix.
The post-implementation food waste audit showed an average 71% reduction in food waste per pound and 78% reduction per case for each product produced on the line. For granola products, it was 15 lb of product saved per pallet produced, and for pulse/whole grain products, the change saved 110 lb of product per pallet produced.
With a relatively simple change needed—requiring just a few hours of maintenance time, with a total cost of about $500—the ROI was almost immediate, Person says.
"The pilot shows how one simple employee idea can translate into impactful environmental savings," Person says. "Food waste savings translate to avoided carbon emissions as food is able to make it into the hands of customers, rather than being wasted."
The PCFWC supported the pilot, and a key outcome of the project was to share results with other manufacturers—through both a published case study (pfwgo.to/bobs) and a presentation at the PCFWC Manufacturer Summit.
FOURTH PLACE | Project Category
Camera Installation Helps Smithfield Avoid Plastic Film Waste in Ham Steak Packaging
Smithfield Packaged Meats, in Kinston, N.C., has a company-wide goal of 75% Zero Waste to Landfill. Because of the difficulty finding plastic recyclers in the area, an important part of that goal is to find ways to prevent plastic waste in the first place so that it doesn't end up in the local landfill.
"A large amount of the solid waste generated at the Kinston plant is plastic waste," says Charlie Prentice, environmental coordinator for Smithfield Packaged Meats. "This waste fills up our two compactors and requires us to have them pulled numerous times per week at less than the maximum fill weight."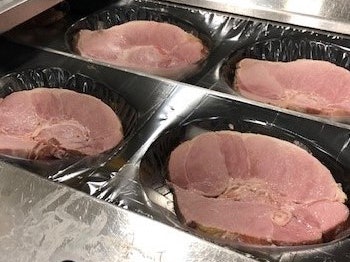 Smithfield's winning project focuses on reducing that plastic waste, in this case from its Bone-in-Ham Wet Pack area, where the company runs steak lines. The steaks are cut from the center of hams, and then a conveyor carries the steaks to the pack machine, which is loaded with plastic film to create individual pockets. Employees place one ham steak in each pocket, and then the machine covers the pockets with preprinted film and seals the steaks for boxing.
"At times, employees were not filling all the pockets before the machine advanced. This could be due to line speed, fatigue, or inexperience," Prentice says. "When these pockets are not filled, the wasted plastic/film from those empty pockets is collected as trash and sent to the landfill."
The solution that Smithfield settled on after talking with contractors was to install cameras above each line. If the camera detects any empty pockets, it does not let the line advance until all pockets have product in them.
"This system greatly reduces plastic/film waste," Prentice says, adding that it also reduces the number of times each week the compactors have to be pulled. This not only reduces the amount of plastic sent to the landfill, but also reduces the fuel burned by the hauler.
Since production rates change from year to year, the facility used the variance report to determine cost savings, but a moderate estimate of film waste reduction so far is 75%, Prentice says, providing an ROI of just under a month. The cost for the three cameras was $18,000, but the facility expects to save about $167,000 in forming film each year along with more than $2,000 in landfill costs.
The cameras were basic plug-and-play models, making it easy for the maintenance department to install and operate. The key concern was how to hang the cameras on the equipment. A mounting system had to be fabricated and installed over the equipment to center the camera. Stainless steel pipe was bolted to the floor and the piping raised enough to provide the height and centering needed and also keep it out of the way of production employees and nighttime sanitation crew.