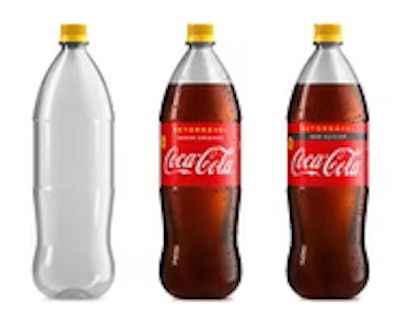 The Coca-Cola Company has pledged to having 25% of its global portfolio of brands sold in refillable/returnable glass or plastic bottles, or in refillable containers through traditional fountain or Coca-Cola Freestyle dispensers, by 2030. In 2020, 16% of the company's packaging was reusable, and 90% of its refillable glass and plastic containers were collected.
Coca-Cola's announcement is "the first known goal of its kind" and "a welcome change in strategy," fund manager Green Century Capital Management said in a statement. Green Century and activist investor As You Sow filed a shareholder proposal urging Coca-Cola to reduce single-use plastic. They are now considering whether to withdraw their proposal.
According to a poll recently released by advocacy group Oceana, eight in 10 American adults support government policies to reduce single-use plastic. In January, Coca-Cola, PepsiCo, and a number of other international brands called for a global pact that includes cutting plastic production.
---
---
If Coca-Cola attains its new goal, it will be "easier to achieve our objectives of a World Without Waste, where we intend to collect back a bottle or can for every one we sell by 2030," says Coca-Cola CEO James Quincey.
Coca-Cola's World Without Waste initiative focuses on its three core pillars, including making all primary consumer packaging recyclable by 2025 and using 50% recycled material in packaging by 2030; collecting and recycling a bottle or can for every one the company sells by 2030; and bringing people together to support a healthy, debris-free environment.
"We continue to put consumers at the center of all we do," says Elaine Bowers Coventry, chief customer & commercial officer, The Coca Cola Company. "One way to do that is by offering sustainable packaging types. Accelerating use of reusable packaging provides added value for consumers and customers."
Companies in this article