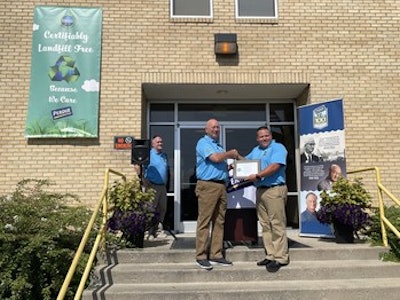 Perdue Farms' Washington, Ind., facility has received GreenCircle Zero Waste to Landfill certification, making it the first U.S. turkey processing facility and third Perdue facility to earn third-party environmental validation. During the audit period between May 2021 and April 2022, GreenCircle validated the Indiana operation diverted 100% of its waste from going to landfills starting in January of 2022, and kept nearly 155 million lb from landfills during the total audit period.
GreenCircle completed extensive audits and assessments of all waste streams at the facility, including hazardous and non-hazardous materials, inspected all waste receptacles, and assessed all third-party waste management companies to confirm management methods and diversion rates. Every aspect of the operation's waste was assessed, including personal protective equipment, the process used to minimize contamination of the cardboard recycling stream, and the beneficial reuse of cardboard, paper, and feathers.
---
---
In 2020, the Perdue Lewiston, N.C., facility became the first U.S. poultry company to earn GreenCircle certification. The company's Petaluma, Calif., operation received certification the following year.
In 2018, Perdue Farms established it five-year environmental sustainability goals, which include reducing its solid waste diversion from landfills by 90% by 2023. So far, it has diverted more than 94% of solid waste from landfills.
"Perdue's pursuit of their waste diversion goals demonstrates that transparency and continuous improvement are essential to the way they do business," says Michelle Bonanno, director of operations at GreenCircle. "The goal of our certification is to help companies understand the reality of their waste minimization and zero waste programs. That information enables them to minimize waste, manage materials to reduce their environmental impact, and achieve their environmental stewardship goals."
Companies in this article