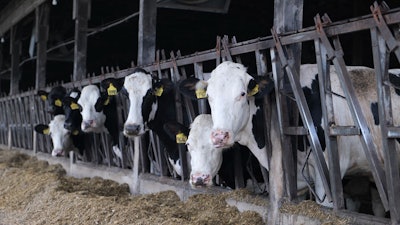 The Cargill Letterkenny plant in Chambersburg, Pa., is turning tens of thousands of pounds of Hershey's chocolate waste per year into nutritious feed ingredients for cows, pigs, and other livestock.
After the facility receives from multiple Hershey facilities big cardboard boxes containing items, such as chocolate and licorice bits, the Cargill team separates wrappers, recycles the cardboard and compacts what they can, and ships the wrappers and excess to an incinerator to be turned into energy. Then, they allow the edible portions to dry out naturally, shred and grind them into smaller particles, mix them with the dry feed ingredients, and fine-tune the nutritional value of the candy meal and quality control.
The result is nutritious food for cows and other livestock, since sugar is an important energy source because of how concentrated and rapidly digestible it is compared to other calorie sources.
---
---
The upcycling of the chocolate is important in helping both companies with their sustainability efforts. "We had a commitment across our entire operations to significantly reduce waste going to landfill [before the joint project began]. When it came to finding a partner to help us with this process, we knew that trust and technology were two critical factors," says Eric Boyle, senior director of commodities and procurement at Hershey. "After careful consideration, we realized that Cargill was the perfect fit. Not only could we trust them to handle the process safely, but their advanced technology made them the clear choice for us."
"It's a win-win for everyone—Hershey, the environment, our customers, and Cargill," adds Darryl Reiner, a senior merchant at Cargill.
Companies in this article