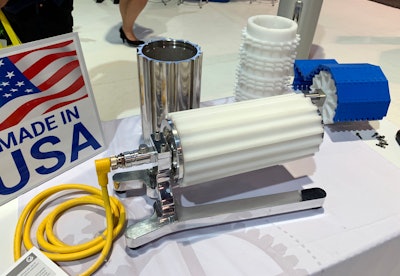 Aaron Hand
As part of VDG's (Van der Graaf) SSV line of sanitary drum motors for food processing and handling conveyor applications, the new SSV-XP enables users to change out the profiled sleeve to enable different styles of modular belts to be used with the same drum motor.
---
---
Unlike typical conveyor apparatus, with exposed conveyor drives, VDG's SSV series has no external moving parts, eliminating harborage areas for bacteria and providing a more sanitary way to drive conveyor belts. The all-316-stainless-steel, IP69K-rated construction withstands washdown and also eliminates the maintenance required on external components of a conventional conveyor drive, including the motor, gear reducer, sprockets, and chain.
A drawback to the drum motor design, however, is that anytime a food producer wants to change the type of belt used for conveyance, they must switch to a different drum motor with a different profile built into the stainless-steel design, notes VDG's Sonia Kanaris. That all changes with the interchangeable profiled sleeve, she explains, which makes it easy to quickly change the profile. "Now, within minutes, you're ready to go," she says, also noting the added benefit of not having to stock so many different kinds of drum motors.
---
---
The VDG SSV-XP drum motor drives modular, wire mesh, and monolithic thermoplastic conveyor belts without using sprockets. It is available with profiles for all major belt manufacturers, including Intralox, Wire Belt, Habasit, Gates, Cambridge, and Volta. Designed for 80,000 hr of continuous operation before maintenance, the motor is available in a range of diameter sizes, belt speeds, horsepower, and industry-specific options and features to suit various food processing and packaging belt conveyor applications.
Companies in this article
Videos from VDG (Van der Graaf)