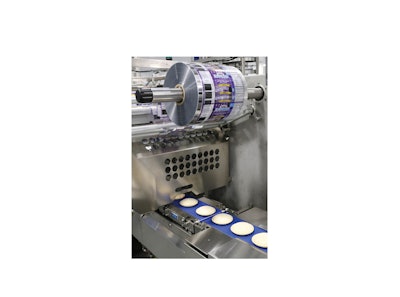 Photo courtesy of J. M. Smucker.
As the famous broadway song lyrics go, there are "525,600 minutes" in a year. If my calculations are correct, J. M. Smucker's new state-of-the-art facility in Longmont, Colo., has the capacity to produce one Uncrustables peanut butter and jelly sandwich about every other minute on a yearly basis.
Back in 1998, the processor purchased a company that made crimped, crustless frozen peanut butter and jelly sandwiches and later built a facility in Scottsville, Ky., to produce the frozen sandwiches. The rest is history, as the saying goes. Since 2003, 5 billion Uncrustables have rolled off the lines in Kentucky that ran 24/7 year-round. By 2017, sales had grown to $200 million a year, with double-digit growth occurring each year, putting a strain on the Scottsville facility to keep up with demand.
In June 2019, Smucker added to its Uncrustables success story by starting up a 400,000-sq-ft greenfield facility in Longmont, working with Dennis Group, the same design firm that built and completed several expansion projects at the Scottsville plant. In 2020, the Longmont facility was named as the top winner of ProFood World's fourth annual Manufacturing Innovation Awards. (For more information about the awards, see the sidebar below.)
Dennis Group was charged with leading site development, which included design, procurement, and construction services for the buildings, utilities systems, and bakery equipment, according to Brad Borkowski, project manager for the Longmont greenfield plant. "The team's previous experience with the product, processes, and equipment in Scottsville, as well as their broad experience in food manufacturing, were critical to our success," he explains.
"Uncrustables are the leading brand in the frozen hand-held category and one of the most popular brands in our portfolio," states Jeff Nagle, Longmont's facility manager. "With the Longmont facility, we are now better positioned to meet the continued demand for this popular product."
During the planning stages, Smucker knew key location considerations included where ingredients would be sourced, where product would be shipped, available workforce, and sufficient land. Today, the Longmont facility is solely dedicated to manufacturing Uncrustables products and is on track to deliver more than 280 million sandwiches in fiscal year 2021.
Brand growth has skyrocketed with an annual average rate of 19% and has achieved year-over-year double-digit sales growth for 18 of the last 21 quarters. The brand grew 23% in the third quarter of this fiscal year alone.
Hygienic design and food safety standards
From an operational perspective, Scottsville personnel provided recommendations for the entire go-live process of the new plant in Longmont, states Nagle. "From a technical perspective, all equipment was evaluated. In some cases, the same equipment from the same supplier was chosen with incremental improvements," he adds. "In some cases, it was determined that entirely new technology was a better choice, which meant working with a new supplier."
Where possible, equipment is designed for tool-less disassembly and reassembly, according to Borkowski. Piping and conduit are mounted to allow easy and effective cleaning. Hollow bodies were avoided; welding was continuous, avoiding crevasses; and equipment mounting points on the floor were minimized.
"We take quality and food safety very personally at Smucker," explains Nagle. "One of the things that strikes a lot of people is just how clean the process is. But having said that, it is peanut butter and jelly and bread. We have certain places where it's much easier for us to swap out a piece on the line and then clean it offline, rather than shutdown and try to clean," Nagle says. Areas where sandwich cutting and crimping, peanut butter and jelly depositing in sandwiches, and capping the top slice of bread onto the sandwich are places where the equipment came in SMED (single-minute exchange of dies) ready, and Smucker just ordered an additional set of parts that allowed it to execute SMED. Nagle says the process minimizes downtime by swapping dirty parts for clean parts versus shutting down the line for cleaning.
"We took a lot of the tools that already exist in many of our other Smucker locations and reapplied them here [and] made it an intentional part of people's onboarding," he explains. The training program includes risk assessments, lockout-tagout, and good behavior observations.
Staff commitment is guided by the Smucker Quality Management System (SQMS). According to Nagle, this system was designed to continually identify and remove loss within the organization. "SQMS is not a program or project. It is how we work each and every day. While we are proud of our successful track record, we recognize that our work is never done, and we strive for continuous improvement."
In alignment with the FDA's food defense mitigation strategies, the Longmont facility was designed with a range of security features, says Mary Frances Stotler, project manager with Dennis Group. Access controls are used not only for entrance to specific areas of the plant, but also to access specific equipment and controls, she adds.
The Longmont facility abides by Food Safety Modernization Act preventive controls/food safety plan requirements, which incorporates all the requirements of the Global Food Safety Initiative HACCP standards.
Continuous monitoring via the controls systems helps to identify issues that may compromise the integrity or safety of the food, according to Stotler.
From the sourcing of ingredients to the time products are placed on store shelves, the plant reviews the entire lifecycle of its products and reacts when something doesn't meet standards. "By having these rigorous standards in place, we are also able to be more predictive," says Nagle, "so we are not only solving for issues that arise, but helping ensure they don't occur tomorrow."
Highly automated process has no room for error
Plant applications use a virtualized infrastructure and a converged plantwide Ethernet network, according to Dennis Group. The distributed applications included visualization, historical data and trending, alarm and event monitoring, downtime and manufacturing key performance indicators tracking, as well as asset management, change management, and access controls. All adjustments, recipes, and parameters can be managed from thin client workstations distributed throughout the facility as well as on mobile devices because the plant has complete wireless coverage throughout.
At Longmont, utility technicians utilize tablets that allow them to monitor and troubleshoot plant systems anywhere in the facility. All systems can be monitored throughout the organization, and access to third parties is strictly controlled. In addition, a JDA warehouse management system manages both raw materials and finished product.
Maintenance skills are embedded in the operating teams versus traditional dedicated maintenance roles. The plant design, layout of the equipment, and placement of meeting rooms were all done with operational efficiency in mind, according to Dennis Group. Team rooms are close to operating areas, and operators can monitor several areas at once. Additionally, layout of the pre- and post-kill bakery areas was done to minimize the need to move between them.
To avoid cross-contamination from raw flour and other food safety risk vectors, a physical wall separates the pre- and post-bakery areas with only a small stainless-steel-framed penetration to permit conveyance. This baking process is unique, has no room for error, and is executed on a large scale. "We produce tens of thousands of pounds of dough per hour at Longmont, making it the largest single-line bakery in the world," according to Borkowski.
Uncrustables fillings include peanut butter, various jellies, honey spread, and hazelnut spread, though the high-speed lines at the Longmont facility run exclusively peanut butter and jelly sandwiches at present. The sandwiches are cut to remove crust and also crimped.
Sandwiches are individually wrapped prior to cycling through a spiral freezer. A vision system helps to identify any less than perfect sandwiches, and those not meeting standards are rejected. Individually wrapped Uncrustables are packed in cartons of four, 10 or 18 packs before being case-packed.
A sophisticated cartoner and case packer allows Smucker to add pack sizes without major impacts to the line, according to Ryan Bequette, project manager for food and consumer products at Burns & McDonnell. "When choosing partners for projects such as these, the importance of flexibility and expandability cannot be overstated. In this case, the equipment supplier provided both as well as demonstrated a strong level of detailed engineering to deliver performance."
Cases are palletized and conveyed into a finished goods warehouse with a temperature of -10°F, where they are racked, awaiting shipment. The warehouse, at 43,000 sq ft, has the capacity to hold 10 days' worth of product.
Sustainability and energy savings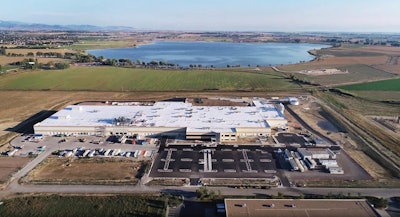 The refrigeration systems at Longmont include a two-stage ammonia system with three suction temperatures. A floating condenser pressure design combined with the three suction temperatures with a variable speed lead compressor results in greater efficiency as production loads vary and take advantage of cooler Colorado weather, according to Dennis Group.
The refrigeration system includes an emergency pressure control system, an ammonia detection system, and a custom control system. The CIMCO-designed and -built control system is interlocked with the ventilation system and features a human machine interface custom controller.
The finished goods dock is cooled by three ceiling-suspended evaporative units and is maintained at 40°F. These evaporators have a total capacity of 45 tons. The packaging area has seven ceiling-suspended evaporator units. This area is also maintained at 40°F. These evaporators have a combined capacity of 115 tons.
Over 650TR of freon-packaged roof-top units have been saved by using a central chilled glycol system that is cooled by the ammonia refrigeration system, according to Dennis Group, reducing freon inventory and electrical usage.
Smucker has made corporate commitments to environmentally sustainable actions, including realizing its 2020 goals of diverting 95% of waste from landfill, which it achieved one year early; reducing water use intensity by 15%, which it also exceeded one year early; and reducing its greenhouse gas emissions intensity by 10%, which it is on pace to achieve.
At the Longmont facility, specific efforts ensure boiler feedwater is preheated by economizers; condensate preheats boiler feed water; waste heat from air compressors preheats process hot water; condensing temperatures of the refrigeration systems vary; float traps are used to optimize hot gas defrost on evaporators; and high-lumen, low-energy LED light fixtures with occupancy sensors are used in large production and warehouse areas. In addition, HVAC and lighting are monitored and controlled by a building energy-management application.
Workforce engagement and development
Smucker provides employees with a comfortable and safe work environment. "All of these considerations were taken into account as we developed the Longmont facility," Nagle states.
Four teams working 12-hour shifts keep operations running 24/7. Regular safety training and monthly training topics provide continuous learning for employees. The plant also instituted step-up cards that demonstrate proficiency in job areas. Employees continue to be assessed against their step-up cards, which includes safety items for their areas, adds Nagle.
The work system at the Longmont site is very much in line with the workforce-engagement model as defined by PMMI's OpX Leadership Network work product, according to Joe Zembas, director of engineering and technical service at Smucker. "Our system design is intended to achieve the empowerment, enablement, and connection defined in the model. Hourly employees at Longmont were hired weeks before the facility was ready to begin production. "During that time, we conducted training on our culture, a key differentiator at Smucker and something we believe in maintaining throughout our business. We also spent significant time training the employees on the equipment and processes used to make the product. This training was a key investment that we chose to make to ensure our employees were engaged and empowered to support an effective startup of the new plant."
Meeting the challenge
The project's compressed timeline presented a number of challenges and required careful management. Nagle's advice from the plant startup is to have a good plan in place, but be flexible. "Our timeline for startup got pulled forward, so we needed to get creative around the way we executed it. Having a really strong team that could do that and be flexible really helped us be successful," he says.
According to Nagle, internal teams did the startup of the equipment and the commissioning of the equipment. But there were external partners as well. The flexibility of Burns & McDonnell and Dennis Group helped Smucker compress the schedule.
Demand for Uncrustables grew faster than forecasted, explains Stotler. "This required resequencing of construction and equipment installation and compression of the overall commissioning schedule. Schedule acceleration occurred during a time when Colorado's unemployment was at a record low of 1.7%, intensifying competition among the pool of skilled tradesmen required for project construction."
"For this particular project, we had a multitude of international suppliers, and the changing schedule for commissioning was a bit of a challenge," states Bequette. The relationships created allowed for open and honest communication, he adds.
Burns & McDonnell managed design, procurement, and construction services for the sandwich assembly and packaging equipment. "Their ability to integrate all of the closely coupled equipment and startup planning resulted in the lines starting up ahead of schedule and at higher-than-anticipated efficiency," says Borkowski.
Some concerns early on in the project was the large number of people to hire and the training they would require. Getting staff trained and up to speed quickly to meet the startup timeline was challenging, according to Nagle, but Smucker was able to exceed the goal, even with a very tight 2019 labor market.
Phase two of the Longmont project is a plant expansion that will double current output. The project is tentatively scheduled for completion in fall of 2022, but could be held up due to the to the current coronavirus pandemic. Phase one of this fast-track project of a frozen favorite went from concept to completion in 24 months with 2,600 contractors and 750,000 labor hours.
As the world remains in the grips of the COVID-19 pandemic at press time, food and beverage manufacturers around the globe, like Smucker, continue to produce quality products as quickly as they can. By 2022, Smucker hopes to increase its Uncrustables sandwich output to an astounding one per minute.
Make plans to visit PACK EXPO International to see the latest technologies for food processing and packaging machinery and materials.
Companies in this article