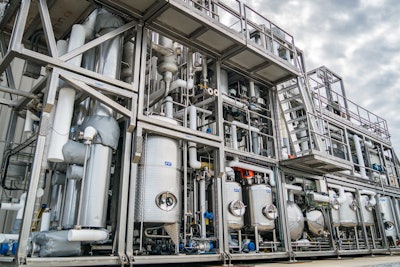 Photo courtesy of Beckhoff Automation.
Cannabis has become a budding business for many consumer packaged goods (CPG) companies, with market researchers projecting it will exceed $97 billion globally by 2026. But many CPGs are still producing cannabidiol (CBD) products in small batches. Precision Extraction Solutions, a supplier of cannabis processing equipment, saw that void as an opportunity. The Troy, Mich.-based company created industrial equipment that uses modular automation systems and PC-based control technologies from Beckhoff Automation that extracts hemp-derived CBD oil at scale.
Precision teamed up with AMG Inc., a Dayton, Ohio-based engineering consulting firm that focuses on agricultural processing and industrial automation, to build Precision's KPD 1500 and KPD Vulcan industrial extractors to enable large-scale continuous processing.
With the KPD series of equipment, the extraction process begins with infeed of biomass, whether hemp or marijuana, using a cooling screw conveyor at -40°C. This ensures consistent solvent temperature and efficient extraction. The cooled biomass then enters a large stainless-steel tank, where counter-current ethanol extraction separates the cannabinoids. After expelling the waste biomass, the micella stream—a cannabinoid and ethanol mixture—undergoes multiple types of fine particulate filtration. Evaporation and tower reflux distillation stills vaporize the ethanol, leaving behind the pure cannabinoids, aka "crude oil." The distilled ethanol returns to the initial holding tanks to start the process again, and the crude CBD oil enters a final holding tank for decarboxylation, which prepares it for final distillation and consumption.
"In this industry, many companies still produce CBD oil in small batches, similar to microbreweries or even home brewers in beers," explains Aaron Kenney, electrical and instrumentation department manager at AMG. "The KPD series can process 1,500 to 4,500 kilos of biomass per day. Now companies can achieve the equivalent of mega-brewery production for CBD, which is where the cannabis market is headed."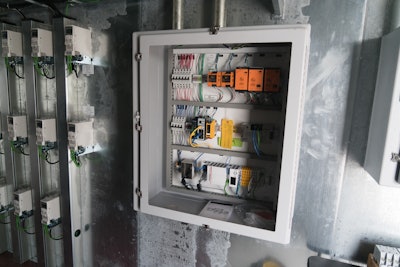 Behind the build
When they designed the KPD series machines, Precision and AMG turned to Beckhoff Automation for modular automation systems to optimize commissioning, operation, and remote support. They also used Beckhoff's PC-based control technologies as a universal platform to provide real-time networking with deterministic control, explosion-proof hardware, and intuitive operator interface technology.
The central controller for the KPD series is a Beckhoff CX2040 Embedded PC that runs TwinCAT 3 automation software. Installed in the control center, the PC-based controller features an uninterruptable power supply; a 60 GB CFast card for added storage; and a 2.1 GHz, quad-core Intel Core i7 processor. A VPN router in the control center provides a secure Internet connection to the CX2040, which allows AMG engineers to provide remote support and program updates to machines around the globe.
EtherCAT and Automation Device Specification, a device- and vendor-neutral protocol in TwinCAT, simplifies integration of third-party systems by automatically scanning and configuring devices on a network.
AMG says it chose EtherCAT for the KPD machines because it is the the fastest and most open fieldbus that can accommodate the machines' 21 variable frequency drives (VFD), which use AS-interface; several EtherNet/IP compressors; and multiple HART devices. EtherCAT offers interfaces and couplers to more than 25 top industrial networking systems, free selection of cabling topology, and up to 65,535 nodes in a single network.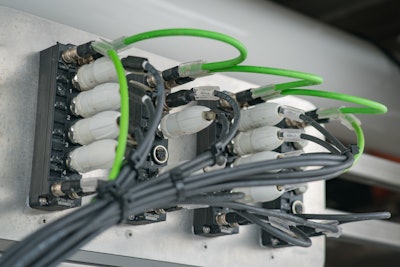 EtherCAT devices also include a wide range of options that enable the modularity that the KPD machines require. For example, numerous I/O terminals are rated in IP20, IP67, and IP69K. The DIN rail-mounted options provide rapid communication inside the control center and explosion-proof enclosures on the machine. Machine-mounted EtherCAT Box modules allow direct installation in the field using cables with M8 connectors and no enclosures.
Operators interact with the machines via Beckhoff multitouch human machine interface (HMI) hardware with custom branding for Precision. A 24-in. CP3924 Control Panel resides in the control center and connects to the CX2040 via CP-Link4 – the One Cable Display Link. A CPX3721 Panel PC, which offers certifications for CE, ATEX, and IECEx Zone2/22, provides a robust HMI in the field. The 21.5-in. touchscreen also runs the HMI software directly on board via a quad-core Intel Atom processor, 8 GB DDR3L RAM, and 60 GB CFast card. "With the CPX panel, the operator on the equipment has full control to start, stop, or perform other tasks locally, which was important," Kenney says. "Then the main 24-in. touchscreen in the control room supports control and monitoring of all processes and utilities, such as air compressors, chillers, cooling towers, and every piece of equipment on the KPD."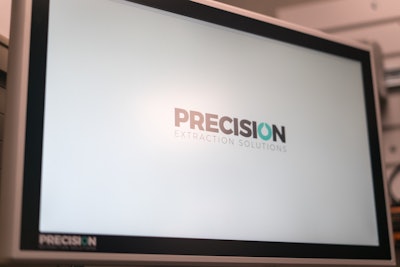 Extracting the benefits
The KPD 1500 and Vulcan have achieved the necessary modularity for fast commissioning and reliable, high performance for efficient extraction at scale, according to Nick Tennant, founder and chief technology officer at Precision. "The entire apparatus from Precision Extraction Solutions takes just four people to operate. Achieving this throughput from batch processing would require about 50 people and eight extractors running around the clock," he says. "Our systems are also extremely simple, essentially plug and play. You can drop one onto a slab at a farm or an industrial processing facility. Automating the process as much as possible streamlines efficiencies and allows for extremely low business overhead, which grows more important as competition and regulations in this industry evolve."
PC-based automation technologies also play an important role in achieving these goals. Beyond greater programming flexibility with TwinCAT, the use of Beckhoff components cut hardware costs by 30% compared to equivalent technologies on the market.
In addition, the CX2040 Embedded PC provides inherent connectivity to log performance data in a cloud-based historian and provide remote support. This feature was particularly useful when troubleshooting a KPD 1500 recently installed in Sicily, Italy. "It saved me an 18-hour flight to fix something small," Kenney says.
Going forward, Kenney plans to use more Beckhoff technologies on the KPD machines and in other areas. He intends to upgrade the operator interface software to TwinCAT HMI and further reduce component costs by replacing the machines' current drive technologies with Beckhoff AX8000 Servo Drives. A new VFD mode provides the same functionality while replacing two VFDs with one AX8000. In addition, when AMG Custom Controls builds electrical cabinets, it will use Beckhoff PC-based controllers and EtherCAT I/O unless customers specify otherwise.
Other stories about cannabis that you may want to read about:
Cheers to cannabis: Big alchohol stakes a claim in the legal marijuana boom
A sustainable yet elegant approach to cannabis packaging
Looking at cannabis through the lens of big tobacco and the alcoholic beverage industry
OEMs Needed for $32 Billion Budding Cannabis Industry
Join us for "The Most Engaging Virtual Event for the Entire Industry" at PACK EXPO Connects, Nov. 9-13. Live demos of equipment and products, live chat with product experts, expedited product search, and more. Attendee registration opens Sept. 15. Be notified when the site goes live by clicking here.
Companies in this article