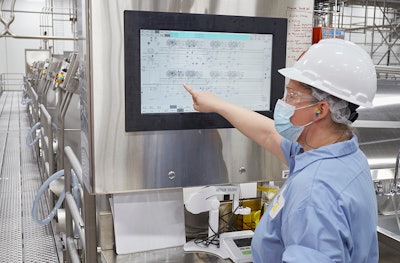 Photo by Thomas Kirby
With the sheer size of its operations, and an on-site server system large enough to store three or four months of data, MWC is up to its eyeballs in data. This could be overwhelming, so it's important to know how to turn that data into information, notes George Chappell, vice president of dairy operations for Glanbia Nutritionals. But in much the same way it has added other bells and whistles into its operations, MWC is building out analytical capabilities in layers, bit by bit.
---
---
According to Chappell's "effective-before-efficient" principle, when all the equipment is running, MWC gathers data on its servers that create a baseline of information. "Once we have that, then we layer on our management information systems that will generate reports," he says. "These are automated reports that come to specific leaders in the facility that allow them to start making decisions based on the information, not just the data."
Now that MWC has come to the end of its commissioning phase, it's beginning to layer on more reporting to drive further efficiencies, Chappell adds. The supervisory control and data acquisition (SCADA) system provides automation control for the facility and is also used for information and reporting. "It gives you a lot of ways to layer on additional capabilities—whether it's around reporting systems, whether it is linking into other software, where you can pull and send data to business systems and start to link them together," he says.
---
---
MWC uses an Ignition SCADA system from Inductive Automation, configured and integrated by Tamaki Control, which specializes in industrial automation. "We proved it out at Southwest Cheese, and so we just dropped it in here and it's a really useful system," says David North, senior site director for MWC.
"It gives you an opportunity to just layer on things like track and trace, OEE [overall equipment effectiveness], and automated report generation," Chappell says. "It has a lot of additional add-ons that are easily pulled forward once you get the plant started up."
Ignition's playback capabilities particularly attracted MWC to the SCADA system, according to North. "Literally, we can turn back time. Something happens during the night and we come the next day and we can't work out what it was, we can go into replay and we can see every action that was taken during that period of time," he explains. "It is the single most delightful thing to have when you're trying to fault-find where something went wrong or went right."
The system's ability to compress data also initially attracted MWC (and SWC before it) to Ignition, Chappell says, enabling them to reduce server space by about 80%. "It saved us close to a quarter of a million dollars at our other facility, just in those reductions," he says. "It was compelling just from that front, but the more that we use the Ignition system and understand its capabilities and its flexibility, that's just that much more incentive to continue moving forward with it."
Predicting failures
MWC uses the data from the SCADA system to better manage maintenance on an ongoing basis, based on how many operations are being made every minute, every day, etc., North says. An alarm system also alerts operators and maintenance personnel about any potential situations.
---
---
"Anything that the system is picking up that seems abnormal will send an alarm and a flag back to whoever needs to see it," Chappell says. "If you see a valve fault X amount of times, it triggers a signal for people who are our maintenance or operators to go and have a look, see what's going on with valve X. In a plant of this size, where we literally have thousands of valves that can fail, it's impossible for an operator to see those without some type of automation intervention."
The SCADA system enables managers to log in from home to monitor operations. MWC also uses the system to allow its vendors to support the plant remotely. "They can come in through a protected firewall system that we provide them in short intervals that will allow them to come in, access the system, do what they need to do, and then it shuts them back off again," Chappell explains. "It allows us to receive support, and we have done in the past support from Australia, Europe, anywhere in the world."
It's important that, while layering on capabilities, it's done cautiously, Chappell adds. "I would say we're heavy into Ignition, and we're moving forward with it but moving cautiously to make sure that we do it correctly," he says.
MWC has a fully fenced site with swipe card access, but the security doesn't stop there. "With the amount of automation that we have and the technology that we have, it's important we protect the site from a cybersecurity standpoint as well," Chappell says. "That's an ever-increasing threat that we have to be aware of and that we continue to build the securities around."
---
PACK EXPO Las Vegas and Healthcare Packaging EXPO (Sept. 27-29, Las Vegas Convention Center) will reunite the packaging and processing community, offering new products, technologies and solutions, while implementing up-to-date protocols for a safe and successful in-person event. Attendee registration is now open.
Companies in this article