Michigan's state motto declares, "If you seek a pleasant peninsula, look about you."
When a greenfield facility is planned, two of the many key topics researched are the close supply of raw goods and the availability of a qualified workforce. In St. Johns, Mich., MWC found a perfect home for its new cheese and whey processing facility, which ProFood World has named as a 2021 Manufacturing Innovation Award winner.
Located about 15 miles north of Lansing, in the heart of America's automotive manufacturing industry, MWC found not only a talented local labor pool, but also the abundant supply of milk required for its new processing facility.
The 375,000-sq-ft dairy facility receives 8 million lb of raw milk per day and, from that, produces about 850,000 lb of cheese in 40- and 640-lb blocks per day. MWC also produces whey protein concentrate and isolates at a rate of about 3,000 lb per hr, which are packaged in 20-kg and bulk bags.
Started up in October 2020, MWC's building now spans over 9 acres and processes about 25% of the milk produced in Michigan.
Complete Filtration Resources (CFR) provided a turnkey process solution to receive and process the raw milk, and then coordinated MWC's building and utility needs with Shambaugh & Son. The plant includes some of the newest technology and equipment from some of today's largest equipment manufacturers, including Tetra Pak, GEA, and SPX Flow's APV division.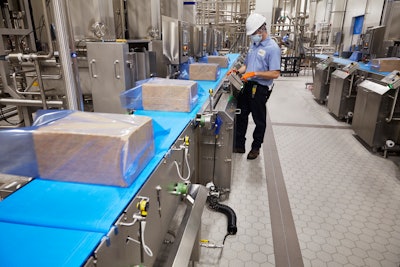 "MWC was formed based on the success of Southwest Cheese," states George Chappell, vice president of dairy operations for Glanbia Nutritionals. "We have the same kind of partnership with MWC as we do with Southwest Cheese, which is a joint-venture [JV] model, based on Glanbia Nutritionals operating the sales and marketing portion of the JV." Dairy Farmers of America (DFA) and Select Milk supply all the milk, while Glanbia handles operations and product distribution. MWC was formed in 2018 by these same partners that have been operating Southwest Cheese in New Mexico since 2008.
"The main draw for almost all of our facilities is milk supply," states Chappell. "It's a natural fit based on the previous JV. Glanbia continues to look for an opportunity to grow and maintain its strong foothold as a No. 1 supplier of cheese and whey products in the U.S."
Product quality and consistency
In designing the MWC plant, Glanbia relied on decades of knowledge gained from its other facilities, including Southwest Cheese. "We applied those to the process, the build, and how we operate this facility," states Chappell.
The St. Johns facility added new automation and updated maintenance procedures, while incorporating learnings from the company's other facilities, explains David North, MWC's senior site director. "We've taken all those ideas and all the latest enhancements that the vendors bring, and we incorporated them within this plant."
Chappell also says that customer feedback received over the past 15 to 20 years and the knowledge gained from it has also impacted the St. Johns facility design. "When we first started Southwest Cheese, we weren't a 640 [lb block] supplier," he says. "Southwest Cheese was the first facility where we made 640s, so it was a hard learning curve for us in that facility. The beauty about the St. Johns plant is now we've been doing it for over 15 years, and we have a very good process and recipe for success that's been applied here."
This vast experience is allowing MWC to ramp up production and meet customer requirements more quickly. North says the company's success is based on product consistency and the fact that the facility contains proven technologies that produce a proven product. Chappell agrees. "When you walk through the facility, you can find a lot of the same equipment that's in many facilities out there, at least the newer facilities. But how we use the equipment is the intellectual property that's inside our facility."
Lean manufacturing
While bringing proven process technologies into the plant has helped make it a success, North doesn't discount the workforce factor. "To make it operate well, we have to have really good people, training, and hiring plans in place."
MWC brought in staff from Southwest Cheese, who are currently working alongside St. Johns employees. North says it gives new employees confidence, because the work is different than other jobs they've held, and it ensures employee safety. "We know the equipment is top notch, but how we train the people operating the plant is a key thing for us," he says.
Once employees are trained, MWC employs the Glanbia Performance System (GPS), a Kaizen-type model that looks at how things work and then identifies how efficiencies can be made. Chappell's motto is "Effective before efficient," and while the facility is now in the ramp-up stage, it will soon move into the efficiency stage.
GPS is a collection of lean manufacturing tools, says Chappell. "The beauty of it is that we are on the leading edge of that in the food industry, particularly in cheese and whey. We've applied those principles and tools within how we operate our facilities—and not only in how we operate, but also how we build and onboard it."
For example, when MWC was in the start-up phase, it used a principle called early management. "It's how we manage from the process build and then to the ramp up of the final products," says Chappell. It's key to holding the project together, or what Chappell refers to as operational readiness. "That's the transition from the time the plant is built to the time you have commercialized and are sending product to the customer. It's a critical part of the overall process of bringing on a greenfield site that is pretty easy to miss if you're not accustomed to doing it."
Preventive maintenance is critical
North says he feels blessed to be working with a staff that comes from an automotive and engineering culture that can easily move into the autonomous maintenance and early management culture at MWC.
Preventive maintenance (PM) is absolutely critical, North declares. "The beauty is we lifted those PMs from Southwest Cheese, and we brought them here. We just adapted them, because a lot of equipment is very similar, with a few subtleties, so we can just drop those PMs straight into our system here."
At MWC, production managers don't have to worry about equipment failures, because maintenance staff performs duties, such as vibration analysis and thermal imaging. In fact, the plant runs 24/7 every day of the year and shoots for 100% uptime.
Line changeovers are typically performed during the clean-in-place (CIP) process. "That's where we shift from a 40-lb production to a 640, and vice versa, on one of our lines," says North. "It's very simple compared to what some factories might do when they're making multiple SKUs."
The facility currently processes about 300 million lb of American-style cheddar cheese annually. "We can do a 50/50 split, so about 150 million lb of 640 and 150 lb of 40," explains North. "Or we could do a straight 300 million lb of 40-lb cheese. That gives us flexibility that we don't have in some of our other plants."
The block formers were redesigned to provide a smaller footprint, a hygienic lift system, and the latest auto baggers for 40-lb blocks of cheese. The block formers provide operators with heightened safety features and MWC with a lower total cost of ownership to operate the lines, according to Tetra Pak.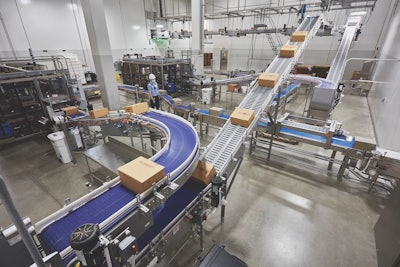 The plant also includes a 640-lb cheese block forming line from Tetra Pak, which takes crumbled 40-lb blocks from the block formers and produces a homogenous 640-lb block utilizing seven state-of-the-art vacuum chambers manufactured by Loos Machine & Automation. Each of the customized vacuum chambers incorporates a tight-seal design, allowing maximum drawdown pressures and CIP for ease of cleaning, increased production uptime, and the elimination of confined space hazards. There are two separate whey production streams at MWC. Whey permeate, a byproduct of the cheese process, is sent to the adjacent Proliant Dairy Ingredients plant via a pipe bridge. The bridge transports 95,000 lb per hr of permeate liquid to Proliant so it can make permeate powder. (Read about Proliant's facilty here.)
MWC's facility has 16 large Tetra Pak horizontal cheese vats capable of making 10,000 lb in each batch. The vats feature the latest seal technology, provide easy maintenance, and reduce the likelihood of leakage. The cheese belt systems incorporate advanced whey and cheese curds separation technology, which will reduce downtime for CIP, thereby increasing production time."
Turnkey process solution provides sustainable gains
Equipment was planned, modeled, and coordinated with Shambaugh to ensure it could be placed inside the structure and assembled before the building space was complete. Interconnected process piping was coordinated with utilities and cable trays on massive combined pipe racks suspended from the structure into and out to the additional 30,000 sq ft of cheese CIP, culture storage, secondary package, and support spaces dedicated to the cheesemaking process.
MWC hired CFR to provide a turnkey process solution for receiving and processing raw milk, and coordinated building and utility needs with Shambaugh to ensure a cost-effective, timely, safe, and successful start-up, says CFR Co-owner John Park. "A variety of process modeling, fluid modeling, and 3-D equipment and piping modeling was used to plan maintenance access, ease of installation, and operational workflow before fabrication started."
Eight flexible receiving bays receive raw milk through automated mix-proof valve clusters. The raw milk is then processed through dual filtration, standardization, and pasteurization lines prior to cheesemaking. "Dedicated energy recovery systems were incorporated into the designs, saving 16,000 PPH of steam and 1,000 tons of refrigeration," states CFR Co-owner Tim Isenberg.
CFR provided a process solution for the whey plant, using process modeling, fluid modeling, 3-D equipment, and piping modeling to plan maintenance access, use of installation, and operational workflow. "Dual production lines were designed throughout the entire whey plant," states Park. Whey storage pasteurization and fractionation were accommodated in the soace as well.
Shambaugh Project Manager Caleb Casper points to the use of 3-D modeling for determining all the drain locations as a crucial part of the project's success. Any drips or leaks can cause floors to deteriorate over time. Shambaugh placed hub drains in the proper places and designed catch trays to prevent water from hitting the floor. During CIP, as the valves pulse, the liquid goes straight to the hub drain.
A cheese fines recovery system that uses short-bowl decanters minimizes bacterial growth in the clarified whey. Twelve filtration systems with a total surface area of 65,000 sq ft were installed in 43,000 sq ft of the whey processing space, including two CIP rooms. The system was designed to recover about 95%, or about 800,000 gal of water, each day from the whey process and convert it to Category 1 water for use throughout the plant.
Chappell says the best way to manage waste is to never have the waste in the first place. MWC tries to eliminate all the waste it can and maximize the use of all water. "The dairy industry is a unique environment, because 87% of milk is water. We use the water from the milk to clean our equipment before it ever gets discharged down to the wastewater treatment facility," he says. "That allows us to really minimize how much water we need to use. It also decreases the amount of water that gets discharged."
In other areas of sustainability, MWC plans to implement focused improvement teams to look at how it can minimize waste and improve operational efficiency. At the present time, North says the plant's variable-frequency drives (VFDs) are at 80%.
When the whey and cheese processing lines are running, there is waste heat on the cheese side that can be used on the whey side, says North. "We'll use another set of plates within that pasteurizer where we can transfer heat across. When the whey side is coming down, we can transfer heat back to the cheese side. It makes a really big difference in how much energy we use in the cost per pound of our product."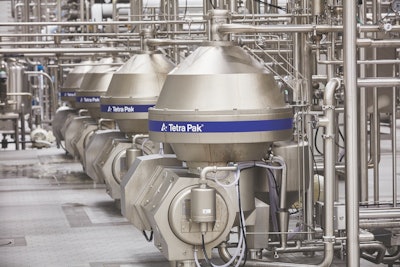 Air handling
The building also needed to satisfy MWC's tight temperature, humidity, and filtration requirements. "The open product processing method provided a unique challenge in dealing with the room's latent load and how to handle air movement to minimize potential fogging," says Shambaugh Senior Mechanical Engineer, Alex Sumajin. In addition to these challenges, the large volume of air required for the space created its own difficulties. Shambaugh's team selected critical process air (CPA) handling systems capable of providing up to 100% outside air at the required temperature infiltration.
According to Sumajin, the units are double wall insulated, and include stainless-steel glycol cooling coils for dehumidification, steam reheat coils to support active dehumidification and temperature control of the space, and gas heating for when tempered outside air is required.
The CPA integral exhausts operate on VFDs that are capable of modulating to maintain air pressure, while also reducing sheet metal return air duct installation. An Allen-Bradley programmable logic controller (PLC) system supports the HVAC system and integrates with process controls for CPA mode of operation selection throughout the process human-machine interface (HMI). "The result is very tight temperature and humidity control, three levels of filtration up to MERV 14 for ultimate food safety and quality, active pressure control to ensure that hygiene zones are maintained, full washdown capability of the CPA equipment and air distribution duct, and integration into process controls, so that operators can manage the HVAC system from plant floor HMIs," states Sumajin.
In addition, utility and chemical piping and cable trays are accessible for future maintenance and expansion, while ensuring a sanitary, cleanable installation.
One of the many project challenges encountered involved the avoidance of floor-posted supports in the processing areas, says Ritzert. "With point loads from combined process/utility/electrical racks exceeding 7,000 lb, coming up with a clean detail to attach racks to the bottom of the precast roof took some thought, ingenuity, and planning."
Without the use of 3-D modeling, the project would have been challenged to make all the necessary utility and electrical connections, as well as process interconnecting piping details.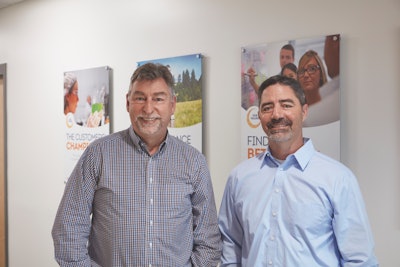 COVID-19 protocols met
While MWC completed most of its factory acceptance testing (FAT) before the pandemic began, all processors had to think of new ways to conduct FATs once the coronavirus was rampant. MWC conducted virtual plant tours with customers. Under normal circumstances, Chappell says customers would visit the site in parallel with the engineering and design phases. Since that couldn't happen during the pandemic, MWC invested in a robot.
"A little robot simply went around with us, and we'd take customers on a virtual tour through the plant using it," Chappell explains. "If they wanted to see something specific, we could take them to those areas and show or demonstrate various things."
Today, with COVID restrictions loosening a bit, MWC still adheres to a strong safety plan with smaller, select groups allowed inside.
Close to 150 workers were hired before the plant's first day of operation. Due to space limitations, training could not be done on-site during the pandemic. To keep staff safe and socially distanced, MWC rented an adjacent building to conduct training and testing. It turned out to be a really good plan in the end, explains North. The unexpected training atmosphere helped create a solid employee culture.
According to Casper, Shambaugh worked with Glanbia and state and local authorities to ensure all the needed COVID-19 regulations were met. More than a dozen protocol solutions were conceived and brought to fruition in a matter of days. A contact tracing solution was implemented to track personnel movement and interactions on-site. Sanitation crews wiped down high-touch areas once every hour around the clock. A temperature checkpoint was put in place.
"Because of the protocols that went into place, the communication that took place, the cleaning that took place, we were able to get past the fear," explains Chappell. As a result, MWC was able to meet project milestones. "That in and of itself is a mind-blowing task," he adds.
North points out that Shambaugh & Son managed to make it all the way through the building phase with no COVID-19 infections. "S&S has done an outstanding job managing the whole process for us," he adds. In fact, the project was delivered ahead of schedule in 17 months.
Food safety culture
MWC conducts 20- to 30-minute monthly online training on topics, such as foodborne pathogens and hand washing, to bring its workforce up to speed on food safety, as many of the staff have moved from an auto manufacturing culture and must learn the food safety and sanitary needs of the food processing industry. There is also an onboarding process that all employees must attend before they step foot on the plant floor.
"The philosophy is fairly simple," says Chappell. "We build in food quality by design, through the engineering, and what we do. And then, we layer on top of that. That's food safety culture. It's fairly simple when you think about it that way, but it's not simple to execute. But it is simple to think about how we get to a good-quality and food-safe product."
MWC honors its employees for doing a great job by providing recognition in front of peers. Internal trophies are moved to plant areas that are performing at the highest level.
Keeping workers safe is also paramount at MWC. "Safety is one of our non-negotiables, and we unashamedly hold people accountable for doing their jobs safely," Chappell explains.
"Throughout the process, we had engineers and the operational readiness team working together, identifying things like hard-to-reach places and eliminating them," he states. "So, you eliminate some of the risks by design, and then, there are some things that you can't, and that's where layering on the culture occurs."
Ritzert says the clean design of processing spaces sets this facility apart from other plants. "Floors of food plants, specifically hard-to-clean elements of floors, are one of the biggest challenges to product integrity and food safety. Directing waste to drain, sloping floors so high-traffic areas are dry to operator foot-traffic, locating drains to be accessible for cleaning, and avoidance of floor-posted supports were key elements of early planning activities."
Housekeeping is also a core competency at MWC. Having an organized workplace with 5S protocols in place can shape a plant culture. "If you create a behavior, a mindset, a culture around we don't accept leaks, or we don't accept things laying around, it helps support safety, quality, and sustainability," says Chappell. "As a simple example, without the housekeeping, you might accept that you have a hose that's unrolled on the ground. If you look at it on the surface, that's not a big deal, until someone trips over it and falls and has an injury, or it becomes a contaminant."
North concurs. "We've always called it 100% audit-ready. If we are having auditors on-site, we don't need to prep for it," he states. "We're always ready for it."
When building a greenfield facility, Glanbia typically intends to expand the facility in the future, explains Chappell. "We can layer on efficiencies. When we go into a greenfield site, we make very conscious decisions about what efficiencies we will layer on at the beginning and which ones we will bring out at a later date. We already have a list of efficiency projects that we will be bringing on over the coming years," he says. "We're very conscious about what we bring on today vs. what we layer on tomorrow. We have several sustainability projects that we'll be bringing on that will give us better energy efficiency, and all these things can be layered on at a future date."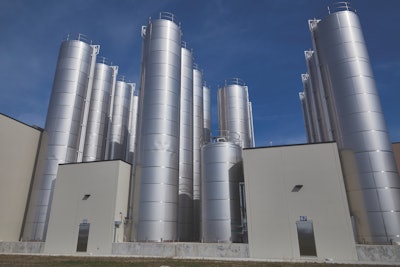 A blueprint that works
Ritzert says he cannot recall a project where every aspect of the team exceeded expectations, including a great owner, a site management team second-to-none, great process vendors, subcontractors and consultants, great local labor force, and a local government committed to the success of the project. "It was only through the actions of each and every one of these people that we were able to deliver this large, complex project and overcome obstacles as well as we did," he says.
Chappell sees a great future for the facility and says the cheese and whey market is economically resilient. "We can go through ebbs and flows of market changes, but people continue to eat cheese, and they continue to buy protein products."
But as consumer buying habits change, Chappell says MWC is able to manage market conditions and can adapt its production to supply its large customer base that sells both branded and private-label products.
"The demand for cheese has historically and steadily grown for the last 30 years at about a 2% to 3% rate," he says. "Effectively, you can bring on a new facility of this size about every five to eight years. If you look at the track record of what we have done as a JV and as Glanbia Nutritionals, we're growing at about the same rate as the market demand would support."
Chappell says he would feel very comfortable if asked to build a similar facility. "We know the blueprint. We know how to make it work all the way through, from designing an idea to full completion and execution." But Chappell says he and North would not have spoken this way 20 years ago. "It's pieces that we've learned and developed over the years. We now have a blueprint that works."
PACK EXPO Las Vegas and Healthcare Packaging EXPO (Sept. 27-29, Las Vegas Convention Center) will reunite the packaging and processing community, offering new products, technologies and solutions, while implementing up-to-date protocols for a safe and successful in-person event. Attendee registration is now open.
Companies in this article