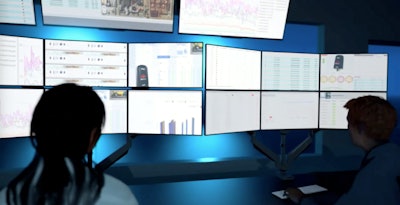 No doubt, digitalization and the predictive analytics it enables have become increasingly important for a wide variety of industries—from food and beverage to life sciences to oil and gas—to gain better visibility into potential production problems and predict equipment failures before they happen. The COVID-19 pandemic has put even more focus on manufacturers' ability to monitor production and assets remotely.
>>Read ProFood World's February cover story to learn more about how COVID-19 is pushing food and beverage manufacturers toward digital innovation.
Naming its latest offering after a bird known for its intelligence and insight, Flowserve is bringing Industrial Internet of Things (IIoT) capabilities into its own flow control products while helping its customers monitor their other assets remotely as well. RedRaven is an IIoT service suite that supports any flow control equipment, regardless of manufacturer.
"We're giving them eyes where they've never had them before," says Lars Rosene, vice president of corporate communications and public affairs for Flowserve. "The pandemic has caused us to really change the way we monitor operations."
Though the definition of IIoT has changed and grown along the way, Flowserve has been deploying IIoT equipment since 2010, comments Scott Rowe, Flowserve president and CEO. Now, the RedRaven platform improves scalability to monitor equipment and prevent failures, and provides more accurate analytics, "which leads to better insights," Rowe adds.
IIoT-based predictive maintenance solutions are expected to reduce factory equipment maintenance costs by 40%, according to Deloitte. Predictive maintenance can also reduce safety, health, environment and quality risks by 14% and extend the life of an aging asset by 20%, according to PwC.
"We're betting big on IoT to help companies avoid costly downtime, which is not feasible in today's world," Rowe says. "The COVID-19 pandemic illustrated the critical importance of digitization in production facilities for business continuity, and RedRaven can help companies accelerate their digital transformation to start reaping the numerous productivity and profitability benefits of IoT."
RedRaven is a systems-based service platform. Available with wireless or wired options, it includes sensors that are placed on industrial equipment and gateways that collect data from assets and then transmit the data to the cloud. "We focus the risk in a birds-eye view and bring understanding from a systems approach," says Tauseef Salma, vice president of global marketing and technology at Flowserve. Customers are facing increasing economic pressures, with the need for systems that are more efficient, with higher reliability, she adds. "We give them the ability to respond, do it safety, and with minimum cost."
A differentiator for Flowserve is its dedicated remote monitoring facility, which is staffed by a team of technical specialists who not only identify problems but also help companies understand how to fix the issues. RedRaven provides a platform for that service offering as well, notes Sanjay Chowbey, president of aftermarket services and solutions for Flowserve. "We provide value through quick response centers and technology, and help [customers] with any need," he says. There are various levels of RedRaven and its capabilities that customers can apply to their particular needs. "They can choose to go all in right away or they can choose to go in steps."
Customers can access critical data on their equipment performance via Flowserve's secure Insight Portal dashboard. "We have our own internal monitoring center to provide feedback to the customer. Or customers can log in themselves to the portal and understand what's happening with their assets," says Aric Zurek, Flowserve's vice president of global IoT. "All of that data goes up [into a centralized database] to be processed by analytics and supported by a global network of service specialists."
RedRaven works for any company with flow control equipment, including those in the oil and gas, water, chemical, power, food and beverage, and other industries. Zurek gave an example of a potential food and bev customer with a complex plant layout, with rooms full of pumps, valves, dryers, motors, and gearboxes. "They were looking for something low-cost to put on a variety of equipment," he says. "It's a very competitive industry, so it needs to be low-cost. We recommended LoRa-based equipment, which is easy to set up."
Part of the RedRaven platform, Flowserve's LoRa (long-range) system is a wireless equipment monitoring system that provides a cost-effective and secure way to monitor and optimize assets over a sprawling facility. "Most of the food and beverage industry has very high-speed production," Chowbey says. "So it's really important to predict problems before they happen."
>>Learn more from PMMI about predictive maintenance: