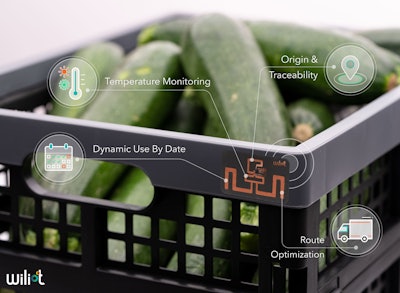 FDA Low- or No-Cost Food Traceability Challenge winner, Wiliot's Sensing as a Service (SaaS) platform consists of stamp-sized computers, called IoT Pixels (Internet of Things), that can be affixed to any packaging to detect and understand various conditions–packaging location, temperature, tamper-detection, humidity, motion, fill rate, as well as product identification.
In real time, the IoT Pixels are built to securely communicate the information to the Wiliot Cloud via Bluetooth from phones and nearly all WiFi access points, thus becoming the IoT Pixels' infrastructure. From the Wiliot Cloud, information can be accessed and analyzed by brands, manufacturers, distributors, and retailers to make more informed decisions along the supply chain.
At PACK EXPO Las Vegas 2021, Wiliot showcased its IoT Pixels applied to reusable plastic containers (RPCs), such as product and parcel crates, pallets, and vaccine vials. From the show floor, data from these containers was fed to the Wiliot Cloud so attendees could view live updates, detailing the travels of the "smart" RPCs.
"We enable the internet of things to scale from being the internet of expensive things to the internet of everyday things," said Stephen Statler, SVP of Marketing, Wiliot. "We do that based on a tag we call Wiliot IoT Pixels that power themselves by harvesting radiofrequency energy. We're in the Reusable Packaging Pavilion here at the show, and that's doubly appropriate because we reuse the radio waves that surround us to power these tiny computers."
When companies can closely monitor the status of goods in Wiliot-enabled RPCs, they can more accurately match supply and demand so they're not over-producing but increase revenue; they can more efficiently deliver goods where they need to go, using fewer vehicles or shorter delivery routes to reduce emissions; and they can gain greater visibility into inventory to improve business performance and offer superior service to their customers. Wiliot's platform works across many different packaging options for various industries, from auto parts and pharmaceuticals to food and beverages.
Companies in this article