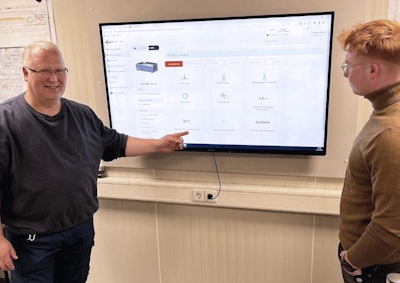 Emsland Frischgeflügel
Emsland Frischgeflügel (Fresh Poultry) keeps a close eye on its chicken operation—from feed to meat processing—to ensure a high quality standard. "We don't throw away anything," notes Johannes Kohne, technical manager for the Emsland Frischgeflügel production facility in Haren, Emsland. "Everything is processed—for human consumption or as high-quality animal feed."
The Rothkötter group has three compound feed plants, as well as a hatchery and two chicken slaughtering and cutting plants. Franz Rothkötter laid the foundation for the compound feed plant in 1959. In 2003, Franz-Josef Rothkötter built the production facility in Haren. About 2,500 employees process chicken pieces from blade to fillet for food retail and further processing in various weight and packaging units.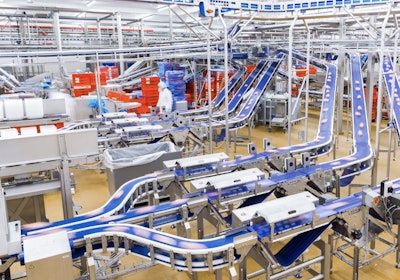 The process relies heavily on a vacuum pump system that enables the site's transport system to move waste from meat production, as well as ready-to-eat products, from point to point by pneumatic suction conveyance. Emsland Frischgeflügel had been using the same vacuum system with oil-lubricated rotary vane vacuum pumps it had been using since the facility opened in 2003. The maintenance cost was more than 2,000 euros a year per pump, plus repairs. The pumps had an output of 17.5 kW, an inefficient drive, and the hot exhaust gases created a very high fire hazard.
But in early 2022, Emsland Frischgeflügel made the switch to 36 new Mink vacuum pumps from Busch Vacuum Solutions. The advantages of the new Busch claw vacuum pumps were obvious to Kohne: Because of their dry operating principle, they do not require operating fluids in the compression chamber and operate nearly maintenance-free. "Not only have we saved an unbelievable amount of time tending to the systems, but we have also saved 70% on maintenance costs," he says. "Specialists spending hours cleaning pumps and changing oil on the weekend is now a thing of the past."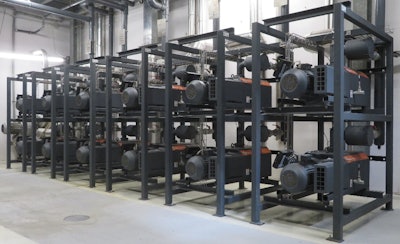 Because of the state-of-the-art IE4 motors that drive the Mink vacuum pumps, the chicken processor is saving about 274,500 kWh of energy in one year. Moving from outdated pumps to state-of-the-art, energy-efficient technologies also enabled Emsland Frischgeflügel to qualify for a refund from Germany's Federal Office for Economic Affairs and Export Control (BAFA). Busch experts helped Emsland apply for the reimbursement, which amounted to 30% of the purchase cost.
Bringing maintenance into the digital age
Perhaps most advantageous for the new vacuum pump technology is the ability for technicians to keep an eye on performance data from wherever they are. Not only is data viewed from large control screens, information for each pump is available in real time on the tablets of all 60 company technicians—making it easy for them to know the system's current condition and intervene if something goes wrong.
"Everything is running smoothly," says Kohne, as he looks at the large screens in his office. Just a few rooms down, the Mink pumps are purring away, supplying the site's transport system with vacuum.
All 36 Mink pumps are fitted with Otto, Busch's digital service system. They continually send performance data such as pump temperature, vibrations, and inlet pressure to the cloud, which can then be accessed via PC, tablet, or smartphone.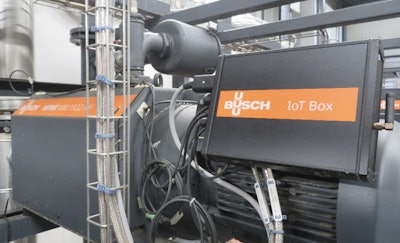 "How high the transmission oil temperature is, whether the inlet pressure is constant, how high the exhaust air temperature is—we didn't know all that before. And now, thanks to Otto, we even have it on our tablet via the app," Kohne says, adding that the tablets are also used for a ticket system for service tasks. That's a far cry from how the company was operating with its old pumps. "In principle, we had no information at all about the condition of the pumps—at best, via analog pointer instruments."
Cooperation between Emsland's IT department and Busch experts has meant a smooth and reliable installation of the vacuum pump system, according to Kohne. Emsland Frischgeflügel has also signed an active service contract for maintenance with Busch and entrusts the vacuum specialists from Maulburg with maintenance services. Through targeted, predictive maintenance, excessive wear and premature failure can be prevented. And in the event of a problem, Busch technicians can also connect to the system remotely.
A reliable and fail-safe future
Reliable and fail-safe operations are crucial for Emsland Frischgeflügel. The company cannot afford for manufacturing to come to a standstill—in a worst-case scenario allowing food to spoil. On the processing lines, all cut chicken pieces fall through collection hoppers into dedicated vessels. A ball valve opens every six minutes, and the contents are extracted. Busch Mink claw vacuum pumps provide the vacuum required for extraction, transport and the cleaning process at the end of the production shift.
Based on the data that is continually sent to the cloud, standard cycles are calculated and aligned with the actual pressure profile to detect deviations in advance, allowing company technicians to act ahead of time. "We want to fix the problems before they actually arise," Kohne explains. The data collected will also be used to optimize pump equipment in the future via KPI analysis.
Emsland Frischgeflügel's facility in Haren also uses other central vacuum systems from Busch, providing additional transport systems with vacuum. The operation uses 25 special oxygenated versions of the Mink vacuum pumps for packaging under protective gas with an elevated oxygen level (MAP). All 135 existing pumps will be retrofitted with the digital kit in the near future.
A sister company in Wietze, Lower Saxony, Germany already has all its pumps fitted with Busch's Otto system. "Then our vacuum supply is state-of-the-art and we are fully digital," Kohne says. "It was the right decision to modernize and digitalize our plants together with Busch. For us, Otto is both convenient and profitable."
Companies in this article
Videos from Busch Vacuum Solutions