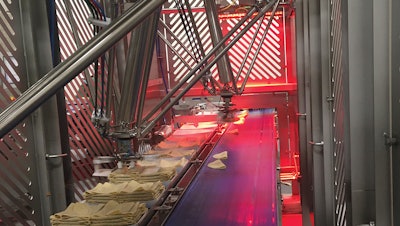 There are many different interpretations as to exactly how the popular phrase "Taco Tuesday" originated. But at CTI Foods based in Saginaw, Texas, every day is taco day. The culinary-driven company was founded in the early 2000s by a group of industry veterans, and today, it is owned by a private equity firm and has seven plants throughout the U.S. The 187,000-sq-ft Saginaw facility was built in 2010 and started taco production in 2011.
"We're mainly focused on high-quality, casual, fast casual and quick serve food products," states Will Davenport, CTI Foods' senior director of engineering. "Our plants make a wide variety of products, almost all protein products and cooked meats. We make a dehydrated refried bean right here in Saginaw at the facility next door. We also produce a variety of soups and sauces on-site."
Producing fresh tacos for major fast food chains and packaging them while still warm was a labor-intensive and repetitive task. In fact, the company employed 16 workers on each shift to manually load filled, soft tortilla tacos into chipboard trays that were also manually formed. The workers would orientate the tacos and load two stacks of 25 into each tray.
"The tacos have always had a very unique packaging orientation, where there's 50 to a tray," explains Davenport. "We're packing them hot, and then, they go through a spiral freezer." To keep the tacos from misshaping through the freezing process and transit, they were interwoven within the trays by hand. "We were constantly having to shift people from spot to spot to not have a repetitive motion injury," he adds.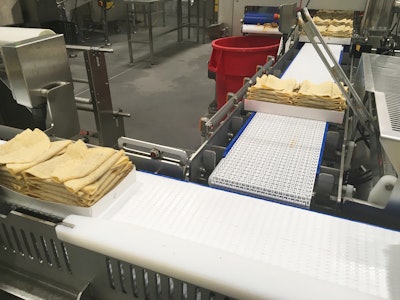 At the Saginaw facility, white corn is cooked, washed, hulled, stone ground, and formed into tortillas.
"That's roughly a 12-hr process from the time we start cooking the corn to the time we're making tortillas," states Davenport. Next, meat made at an adjacent CTI Foods processing area is ground, mixed with seasoning, and cooked before it is deposited into the tortillas.
"The tortillas go through an oven with about a 40-second retention time, and then, as they exit the oven, they pass by fillers that deposit the meat," says Davenport. "When they're packed, they're a little over 100 °F," he states. "It was not a fun job packing them by hand."
Unique approach to robotic end-of-arm tool
CTI Foods had been looking for ways to efficiently upgrade and automate the taco line and started discussions in 2019 with JLS Automation. "We've been familiar with JLS for a long time through different industry connections," Davenport says. "As we started talking about it [the project] more, and they gained an interest in it, it just seemed like a good fit. They brought what I felt was a different approach to the project."
The new robotic packaging taco line started production in November 2020. The project had a phased approach, where JLS developed an end-of-arm tool (EOAT) first and brought it to Saginaw to test it on warm tacos. "It was a very manual operation, just an end-of-arm tooling with some push buttons on it," says Davenport. "We were doing it by hand, but we were able to actually pick up the product. We were able to see that if you didn't fire that motion just right, it wanted to unfold the taco, or it would make the fold uneven. It was very beneficial to do that test ahead of time."
According to Steele Burchell, program manager at JLS Automation, the EOAT is a mechanical gripping solution, as opposed to a vacuum-based solution. "It's what we call a spatula tool," he says. "The thing that's really unique about this is it's actually a two-pick mechanical tool. We've got individual actuation of the two different sides. And to my knowledge, I don't think anyone else in the industry has done or is doing that."
A warm, soft tortilla with a warm portion of meat is not a stable item to pick up. CTI Foods tried to develop a way to re-thermalize tacos from a frozen or a chilled state to better simulate it at the JLS facility. "We never really could get it back to that same texture during the testing at JLS, but we were able to get it fairly close. It was a very hard thing to simulate," explains Davenport. "We were trying to run up to 960 a min, so you need a lot of tacos to prove a concept."
After using the robotic taco line more than a half a year, CTI has seen significant improvements in efficiency and output. In addition, staffing challenges have been reduced by eliminating the manual packing operation. "Our pounds per man hour is up significantly," says Davenport. "It's roughly double, maybe a little more." JLS designed four Talon robotic pick-and-place systems, including three IP69K-rated delta robots per unit. The new taco line includes the following equipment:
NCC Automated Systems—custom high-speed infeed conveyors
IESM—taco folding and turning conveyors
Syntegon (formerly Kliklok-Bosch)—tray erectors
Nordson—glue system for trays
B&R Automation—robotic system controls
Cognex—vision system
Sealed Air/Shanklin—tray wrapper
Wipotec-OCS—checkweigher and X-ray inspection
Vemag/Reiser—shuttle conveyor with retracting belt
JLS also developed new algorithms for handling three-headed robots, with products going in the same direction as the cartons. "We call it co-flow or parallel flow," says Burchell. "With more than two heads, it was a very challenging algorithm to develop."
Processors never want to send cartons or cases out of a system unless they are completely full. "The ideal thing is to have as much supply of products as what you want to pick and place into that carton," explains Burchell. "With the one [carton] that's just about to leave your system, you always know you've got a product to fill it. If lines are running in the same direction, you're picking things at the first robot. Where you want the supply to be the heaviest is down at the third robot."
Open-frame hygienic design is worth the investment
Most equipment manufacturers, including JLS Automation, are up to date on hygienic standards. But CTI Foods developed some of its own standards and wanted to review equipment specs in advance to ensure all equipment was cutting edge in terms of sanitation, and all cleaning surfaces could be accessed easily. Before installing the new robotic line, CTI removed all equipment from the taco packaging room, deep cleaned the room and equipment, replaced lights, and made cosmetic repairs while it had the opportunity.
"Anytime we can remove manual operations from a process, there's food safety to manage," Davenport explains. "Redesigning the [taco packaging] room offered us an opportunity to review all aspects of the hygienic design of the new equipment. JLS was very open and accommodating to all our input and requests to improve the hygienic design."
Davenport also discussed whether tubular design is easier to maintain and clean. "Hygienically welded tubular framework was the industry standard for many years. However, over time, the welds can fail or holes created in the framework can be contaminated and become harborage areas," he states. Davenport says an open-frame design is easier to clean, because there are no hidden places. It may cost more in some cases, but CTI Foods decided to make the investment.
The JLS integration project included an open-frame design. "Originally, we were not going to do the open-frame design," says Davenport. "But after really understanding the differences, we elected to go that route."
The taco processor also tries to avoid Lexan or plexiglass and go with a more hygienic cut stainless-steel-type guard, which also provides a sight line into the system.
Automation solves pandemic woes, provides essential data
Many food manufacturers faced increased staffing issues during the recent pandemic. Davenport says he can't imagine the kind of problems CTI would have suffered if it didn't have the robotic taco line in place. Instead of trying to fill scores of jobs during the height of the virus outbreak, the company now has to fill fewer positions.
Social distancing was one of CTI's first lines of defense on the taco line. "When COVID first hit, we were still packing by hand and had people shoulder to shoulder," explains Davenport. Each CTI facility was closed for a short period of time. "We were able to get employee separation partitions up before we reopened and put other COVID protocols in place."
Because CTI already had automation plans prior to COVID-19, it was not affected by the long lead times faced by other manufacturers that struggled to install automation at the height of the pandemic.
Despite pandemic challenges, JLS was able to meet CTI's project deadline. Burchell says components like cylinders, which are traditionally available in a week or less, were taking eight to 12 weeks for delivery.
"To this day, we're still doing a lot of virtual FATs [factory acceptance tests], but on this project, on this scale, everyone felt that it was important to do it in person, and that we could find ways to do it safely in person," he adds.
In fact, CTI Foods conducted early FATs, particularly for its ancillary equipment. "The engineering manager went to the FATs and did a video conference call with our team back here," states Davenport. "We did that with the tray former and the conveyor systems that we bought as part of the package. When it came time to do the main FAT with the JLS equipment, a small team of us did go to York, Pa., to witness that."
Under normal circumstances, Davenport says the FAT would have likely included a slightly larger group. "We had representatives from QA, operations, maintenance, and engineering there. We probably would've had a safety person and maybe another operations person if we could have, but we were able to do it through a web conference and get those people involved. It worked out really well."
CTI also brought a tech operator to the FAT and sent another one a week in advance to help assemble and test the equipment to get ready for the FATs. This provided plant floor workers to obtain early training on the equipment
CTI is able to pull data from the four JLS Talons or tacobots, as the CTI team has affectionately named the JLS Talons. The data tells plant management the number of successful picks, if a pick was not successful, and why the machine did not pick it—whether it's a bad fold, incorrect meat placement, or orientation issue. It allows the taco processor to review data on an hourly or daily basis to solve production issues.
CTI Foods uses Redzone for its overall equipment effectiveness programs, as well as Redzone philosophies, such as huddle meetings. Davenport says the focus here is on ensuring CTI is measuring the correct machine actions. In other words, focusing on the right areas, the proper actions to take, and which code faults to reset to make the data easier to understand.
JLS also set up remote equipment monitoring for performance evaluation, program updates, and other services. Burchell says the system has a central point that is for remote access, but also serves as the nerve center for collecting data.
The NCC conveyor cabinet serves as JLS's central point of communication, because there's a conveyor between every piece of equipment. "We're using that to allow the feeding of some data back to their SCADA systems," states Burchell.
Understand manual operations
Working within the small footprint of the existing taco packaging room was definitely a challenge for this project. "The way JLS approached the project and didn't look at it as one line, but split it into four separate lines with four separate tacobots, made a lot of sense," says Davenport.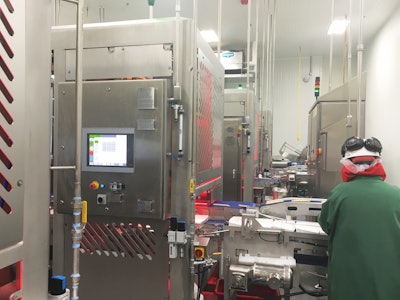 Looking back, Davenport would advise others undertaking a similar project to really understand all aspects of a manual operation. "We've always known that employees are our last line of defense, our last quality check doing a visual observation. A person can do more quality attribute checks than you can do with an X-ray or a metal detector," he says. When CTI switched to the automated line, it found it wasn't easy to pick up every action employees were making. Their actions were not obvious. "They were fixing some of the folds or making minor meat placement adjsutments. It made product presentation even more important when installing the JLS equipment," he states.
Davenport says the new line's advantage is a predictable output. "We know what we're getting. We know we don't have to adjust the line, because only 10 of the 16 hand packers showed up. We get better every day with the start-ups and equipment operation. We have no doubt we'll meet our project objectives. We're very close to them now," he says.
Companies in this article