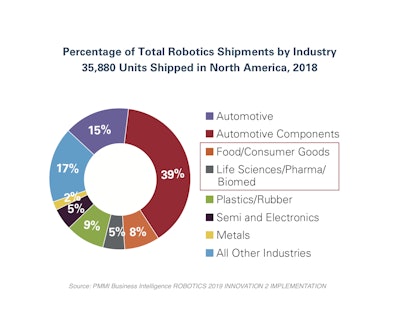 According to robot industry statistics, deployment of robotics in North America in the food and consumer goods segment reported record setting growth of a 47.6% increase in the number of units shipped from 2017-2018 (total 2,946).
In addition to this, a 31.3% increase in units shipped also occurred in the life sciences/pharma segment during the same time period (total 1,714).
While all processing/packaging applications charted significant increase (processing, primary packaging, secondary packaging and transport packaging) secondary packaging charted the largest and fastest growth.
The study, "Robotics 2019: Innovation 2 Implementation," reveals that five years ago, 48% of respondents reported using robots for secondary packaging. In 2018, that number jumped to 70%.
It is far easier to employ robots at end of line, instead of in food handling, for instance, where washdown concerns remain. And it is still difficult to program robots, according to the study, although it is getting easier and easier (relatively speaking.)
"Programming is always complicated with various languages, not just anyone can do it. With five axes or more, it's even more complicated," remarked one senior packaging engineer at a food and beverage company.
Robot software is getting easier to manage for most commonly used robots, especially cobots, says the report. But it can still be a challenge. Robots handling products, cartoning, case packaging, palletizing, loading or unloading, as well as performing complex tasks like assembly and joining parts, are now easier for the end user to operate and control due to the implementation of machine learning.
The software works independently of the robot hardware to make programming as easy as operating a smartphone. As programming for industrial robotics becomes more operator friendly, there is a greater need for unified controls integration. Unified control means all motion specifications can be redeployed from one application to another with reloadable preprogramming using one language or a central control architecture. This has the potential to make interfacing disparate components less of a challenge.
The study predicts easier programming in the future, as well as smarter robots. "Robotic programming is at the cusp of a revolutionary breakthrough," says an application engineering manager from a robot manufacturer.
"Robots of the future will assess their surroundings on the line, evaluate the task they are doing, communicate with the line, and autogenerate action or correction," predicts one development engineer for a systems supplier.
Download your FREE 9-page Executive Summary, or PMMI Members can download the entire report for free here.
Visit PACK EXPO Las Vegas to see dozens of robots in action, both stand-alone and integrated into packaging machinery.