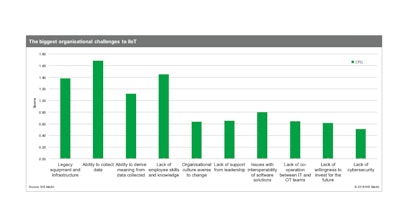 Artificial intelligence (AI) has the ability to take things from scratch and not just incrementally improve them, but challenge the traditional ways we do things, says Alex West, principal analyst for the manufacturing technology group at IHS.
Speaking last month in Florida to the largest-ever CPG and OEM audience at the 14th annual Top to Top event from PMMI, The Association for Packaging and Processing Technologies, West explained that while AI can defeat grandmasters at the game of Go, technology companies are struggling to create AI algorithms that can mimic the brain of a worm. At CPG companies, AI can be utilized to help solve common industry challenges, such as product sorting, quality management, food safety, and even creating new recipes. In fact, he says overall equipment effectiveness (OEE), which often sits well below 50 percent, can be improved with the use of AI.
While the CPG sector is behind in terms of its readiness to introduce AI in manufacturing applications, West says the good news is that the CPGs actually working on projects have a good conversion rate of proof of concepts compared to a number of other industries. But factors such as legacy equipment, inefficient data collection and usage, and employee skill levels can often be hindrances to new technology adoption.
"There's still a lot of education needed," West states. Companies often ask themselves, where is the problem and how should they apply the technology? That's really the wrong way to look at it, he says. "It should be, 'I have this problem, this is something I need to identify, so how do I utilize the technologies out there to improve my manufacturing processes?'" he explains.
West also told Top to Top attendees that, even when AI is deployed, best practices are required to ensure the projects succeed.
Major disrupter for production facilities
While business is becoming more comfortable with cloud computing, legacy equipment and infrastructure can hinder technology adoption. Ryan Jarvis, director of vertical markets for Siemens food and beverage sector, says CPGs struggle most with how to get data, analyze it, connect facilities, deploy sensing to collect data and collect actionable data.
"Artificial intelligence is a major disruptor for our production manufacturing facilities. It essentially will turn upside down the way we look at problems," Jarvis states.
Local computing is used in most production facilities because it's reliable, dedicated to a specific task, fairly inexpensive and safe. But anytime you want to bring innovation, start harvesting data or need flexibility, it's not so great, Jarvis explains.
He says that many facilities don't want to send data to the cloud for security reasons as well as waiting for the data to be processed and sent back to production.
"Edge, on the other hand, is truly the blend of localized computing and cloud," Jarvis says. "With the computer processing power we have today, and, quite honestly, the lower cost that's been available through technology advancements, we're able to process data locally in a very secure environment while still leveraging the cloud for innovation," he explains. "Edge, in this context, is a major enabler of artificial intelligence because, without edge, we are going to be limited."
Embracing agility
According to Jarvis, agility is a differentiator when looking at artificial intelligence. When we talk about increasing flexibility, the meaning of the word implies bending without breaking, he says. "Agility, on the other hand, is defined as moving with grace. It implies a state of constant movement and action, which is what we all need in the consumer products industry," he explains. In other words, CPGs must understand their marketplaces, identify issues ahead of time, and then react and deliver successful products and technologies to the marketplace.
To help the industry understand what enables AI technology, Siemens has created a special demonstration for PACK EXPO Las Vegas, scheduled for Sept. 23-25. Attendees will be able to use a human machine interface to select objects such as sweatshirts, hats or pens, for example, and direct a robot to look into a bin of mixed objects for their selection. The robot will locate the object in this bin and determine the optimum grasping point to pick it up. The demo will feature a KUKA robotic arm with a robotic end effector, a 3-D digital camera, and a programmable logic controller with an AI processor attached to it. It's a very simple application, Jarvis states, but PACK EXPO Las Vegas attendees will see how easy some AI applications can be implemented and take away ideas for real opportunities for their production floor.
"AI is here," Jarvis declares. He encouraged the Top to Top audience to ask themselves, "What do you want to do with this to make the world better, to make production more seamless and to make ourselves more successful in manufacturing?"
Companies in this article