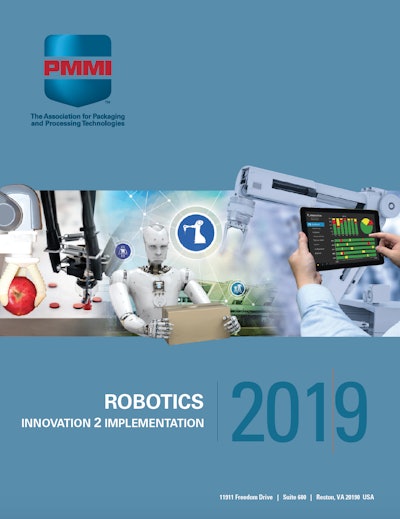 The 63-page report, "Robotics 2019: Innovation 2 Implementation," from PMMI Business Intelligence predicts growing adoption of cobots, collaborative robots that can work side by side with humans safely.
While very few OEMs are now incorporating cobots into their equipment offerings, and few ends users have adopted, the majority of participants predict collaborative robots will experience a boom, finding niche applications along the line for simple, slower motion tasks. Fulfilling e-commerce orders is a big focus.
"Four out of five OEMs offer fully integrated robotics on their machinery; only one OEM has incorporated cobots so far," says Paula Feldman, director of PMMI Business Intelligence.
Regarding retrofit robotics, end users are not frequently asking OEMs to add robotics onto existing machines, because of cost and technical challenges. A "greenfield" approach to automating with robots works best.
According to the report, off-the-shelf solutions are trending; end users are dubious of the benefits, but nearly 1 in 5 will consider it in the future.
Service expectations increase as end users adopt more robotics across the production line; users are asking for more training, and OEMs are responding by hiring dedicated service technicians. The study reports CPGs relying most heavily on the OEM for support, with integrators and robot suppliers a distant second-choice. This sometimes puts a strain on OEMs who need to hire higher-skilled technicians.
In general, OEMs are starting to use simulation and digital twinning for automation projects. Forty percent of OEM engineering departments polled are using a virtual simulation model to modify, reconfigure, validate, or otherwise improve their customers' systems in this growing IIoT environment. A third of end users report using digital twinning, but some report being at only the early stages of learning. More companies are talking about it as seamless integration and managed systems continue to be installed.
PMMI members can access the full 62-page report, and all readers can download the free detailed executive summary here.
Visit PACK EXPO Las Vegas Sept. 23-25 to see dozens of robots in action, both stand-alone and integrated into packaging machinery.