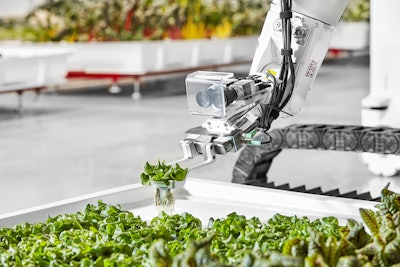 The latest twist to indoor farming is automating operations as much as possible to reduce traditional labor.
Iron Ox, an indoor farming company based in San Carlos, CA, started delivering leafy green products in May 2019 to Bianchini's Market, a family-owned grocery store specializing in local and organic produce.
"At Iron Ox, we've designed our entire grow process with a robotics-first approach," says Brandon Alexander, co-founder and ceo of Iron Ox. "That means not just adding a robot to an existing process, but engineering everything, including our own hydroponic grow system, around our robots."
The company produces romaine lettuce, butterhead lettuce, and kale, as well as culinary herbs including basil, cilantro, and chives at its main plant.
The 8,000 sq-ft indoor, Iron Ox hydroponic farm relies on robotic picking machines and a mobile transport system called Angus to move produce pods around for picking or monitoring health. The six-axis, proprietary robot includes sensors and camera vision near the end-of-arm tooling to provide produce data to its cloud enterprise software. The robot and gripper can seed, harvest and monitor produce via the sensing technology from the vision and sensors.
The automation solution at the indoor farm, according to Iron Ox, is proprietary systems, so automation equipment suppliers were not revealed to ProFood World magazine.
Operators also play an integral part in production, but with a twist. Operations, or the plant science team as it's known at Iron Ox, focuses on ensuring plant health, maximizing crop growth, setting and implementing standard operating procedures, and ensuring food safety across all systems.
According to the company, the indoor application can grow 30 times more produce per acre than traditional farms, using the sun and high-efficiency LED lighting. The growing system uses 90 percent less water than conventional farming.
Learn more about robotics at PACK EXPO Las Vegas, September 23–25, 2019 at the Las Vegas Convention Center. Register by August 30 to save 70%.