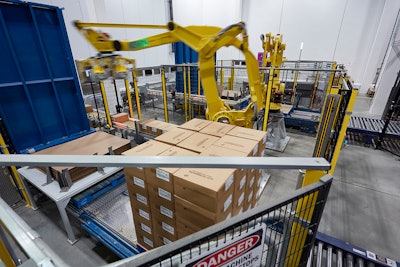 Photo by Thomas Kirby
As robots become increasingly prevalent in the food and beverage industry, especially on the packaging end, you might expect a state-of-the-art facility like MWC to have its fair share. But that complexity isn't needed in a facility producing consistent product types and sizes. Instead, MWC's operations lend themselves more to hard automation—traditional conveyors and case packers, for example—according to Jody Zepnick, CEO of Zepnick Solutions Inc. (ZSI).
---
---
ZSI, which works heavily in the dairy industry, provided the automation for MWC's packaging operations—from the equipment used in sealing the cheese blocks in bags all the way through the coolers and palletizers. ZSI integrates systems, develops equipment and robotic cells, and does a fair amount of the custom equipment design and fabrication, Zepnick notes.
Where the robots are
At MWC, Fanuc robots are used to place the packaged 40-lb blocks of cheese onto pallets before they go through a stretch wrapper and are taken to the warehouse. Besides being robust and reliable, a big selling point of these robots, Zepnick says, are the controller safety systems, which integrate seamlessly over Ethernet with the Rockwell Automation safety PLC systems.
---
---
Another particular design consideration for these palletizing cells is the end-of-arm tooling (EOAT) that ZSI developed more than a decade ago working together with long-time customer Southwest Cheese. "We reviewed some standard equipment, but it wasn't robust enough for the applications we were looking at," Zepnick says. "We found ways to reinforce and simplify the design. Instead of components, we standardized on welded frames."
For the MWC project, ZSI made additional adjustments to better accommodate the Fanuc robots. "Those [original] palletizing units have been in operation for over 12 years," Zepnick notes. "So we've been provided additional feedback on how to make updates to make them even better."
One of the challenging aspects of any EOAT is cable routing. With the tool twisting back and forth for the palletizing motion, ZSI simplified the cable routing through the end of the robot arm. "It's now a much more reliable installation of how it accommodates the turning of the end-of-arm tool," Zepnick says.
Ultimately, the end-of-arm tooling enables the Fanuc robots to reliably and efficiently pick up two 40-lb blocks of cheese at a time, lifting and rotating the packaged cheese onto the pallet.
---
| | |
| --- | --- |
| | Join Automation World's David Greenfield and PMMIs Glen Long, Tom Egan, and Bryan Griffen as they discuss current trends in robotics, and how this field has been advancing in the food and beverage industry. |
---
In fact, ZSI has other robotic systems that can handle MWC's massive 640-lb blocks of cheese as well, Zepnick adds. "The robot picks the blocks off the end of the line and stacks them in a format that's much easier for the fork trucks to handle," he explains. "Rather than having to handle each block individually, they can handle up to four or six blocks—two rows deep and up to three high—and bring them into the cooler."
Simplified automation
The packaging line that Zepnick put together for MWC begins where bagged blocks of cheese are conveyed on two lines through side-by-side sealers. The two lines are then merged together to go through a metal detector and a leak detector that ZSI developed more than a decade ago. The blocks then continue into a case packer, the cases receive a printed barcode to track them through the system, then up an incline to a rapid cooler. After a 24-hour cooling period, the cases come back down a decline and are weighed, scanned, and labeled. Then they move on to the robotic palletizers.
Besides the challenges that COVID-19 presented, MWC's complexity came more from the size and flexibility of the project—allowing backup strategies for one line to run into the other, on to the rapid coolers and palletizing cells. "There's a lot of experience, knowledge and technology that goes into making these systems perform reliably. There are several integrated technologies from mechanical product handling, product accumulation, data collection, product scanning and tracking, and vision inspection," Zepnick says. "Really, the challenge was matching MWC requirements with the most robust configuration of equipment and technology to meet their business needs."
---
PACK EXPO Las Vegas and Healthcare Packaging EXPO (Sept. 27-29, Las Vegas Convention Center) will reunite the packaging and processing community, offering new products, technologies and solutions, while implementing up-to-date protocols for a safe and successful in-person event. Attendee registration is now open.
Companies in this article