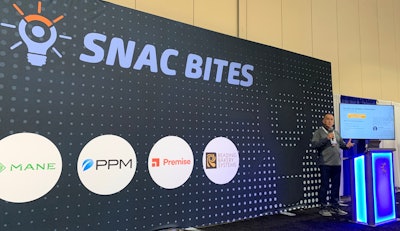 Michael Costa
The adoption of automation is an ongoing process in the food manufacturing and packaging industry, with the eventual goal to replace risky, injury-prone jobs and soften the labor crunch. However, one major roadblock for manufacturers is the cost of automation. Some companies don't have the upfront capital to spend, while others are worried they'll never realize ROI on their purchase.
Within these business gaps, RaaS (Robotics as a Service) is emerging, with a similar model to SaaS (Software as a Service): an operator signs a contract for a certain timeframe to use a piece of automation equipment—like a palletizer, for example—and is charged an hourly rate for that usage, while the RaaS provider handles all installation, maintenance, and ongoing support for the duration of that contract, according to Bryan McClelland, sales director at Formic, one of several RaaS providers in the industry. "We stop getting paid if the equipment breaks down," he said.
A RaaS provider will assess what exact equipment a manufacturer needs based on their production goals, rather than the processor guessing what might work in their operation. RaaS is also different from leasing equipment, McClelland notes, since leasing often means the customer assumes all risk with the equipment as well as any needed repairs or upgrades during the length of the contract.
At the recent Snaxpo conference in Orlando, McClelland explained RaaS for an audience of snack producers, co-packers, and emerging brands, but his advice can be applied to any food or beverage manufacturing operation on a tight Capital Expenditure (CapEx) budget.
Fear of automation
Automation is often mentioned as the salvation to solving the industry's ongoing labor problem, but automation is not a risk-free venture, and comes with several caveats for cautious processors. Those concerns, according to McClelland, include:
· A high upfront CapEx investment in equipment
· No guarantee the equipment will deliver on production expectations
· The additional cost of ongoing maintenance and paying an in-house service staff
· No time or knowledge of how to choose the ideal piece of equipment
"The traditional way people acquire automation is to pick a problem they have, like stacking boxes and palletizing. Then they try to identify a company to provide a solution for them. A simple palletizer can easily exceed $160,000, and it appears as a CapEx cost. Even if they lease the equipment for a monthly fee, there's no guarantee of performance," McClelland said.
"RaaS is more than just robots, it encompasses all types of manufacturing equipment," McClelland added. "A RaaS provider visits a plant and identifies the production needs necessary to solving a processor's problem. Again, it's a zero CapEx acquisition, and a RaaS provider should guarantee performance in the service agreement. For example, if the agreement says the equipment will handle 20 boxes an hour at a constant rate, they should guarantee that you don't have to pay if the system isn't performing to those metrics. And if the equipment breaks down at any time, the RaaS provider will come fix it."
Real cost of labor
All the variables involved in human labor—pay rate, unpredictable shift-to-shift productivity levels, injuries, ghosting, and more—can be alleviated by utilizing RaaS, according to McClelland, and because there isn't an upfront CapEx expense, savings for a processor can be realized immediately.
"Let's say you have two $15-an-hour employees stacking boxes. They can be replaced with an RaaS palletizer at a $25 hourly rate, so the customer is saving $5 an hour right away and in perpetuity," McClelland said, adding that the labor savings really add up when a manufacturer doesn't need to budget for onsite maintenance staff to monitor and repair the machine, and the savings, depending on the operation, can exceed $35,000 annually.
RaaS is also ideal for co-manufacturers, McClelland said, because "co-packers often have short-term contracts with their customers, so they want the flexibility of knowing they can switch in and out of various kinds of equipment all the time."
Not rent-to-own
McClelland said if a customer comes to the end of their RaaS agreement and wants to purchase the equipment outright—similar to some lease scenarios—"the answer is no, because it doesn't fit into the RaaS model. Most of the customers sign up for five, six, or seven years, although a lot of new businesses opt for a one-year agreement, to see how they feel about automation in their operation," he said.
"The way RaaS works," McClelland continued, "is the RaaS provider looks at the entire cost of the automation equipment before they purchase it. Then they buy all the spare parts, install it for a customer, and provide training and ongoing support for the duration of the RaaS contract. So, take those total costs, plus the interest rate over the agreement term, minus what it's worth to a RaaS provider at the end of that contract. Then divide that amount over all the periods of the contract, and that's how a monthly rate is determined. Ideally, at the end of the contract, the customer will want to renew a RaaS agreement rather than buy the equipment outright. In that scenario, both sides will still be making and saving money."
Companies in this article