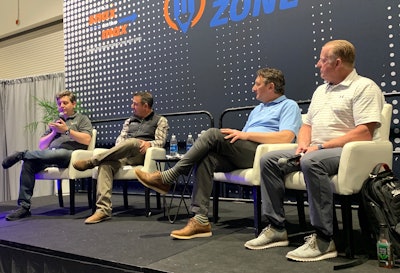 Michael Costa
Most startup food companies would have a difficult time shepherding their new product to market without the help of a co-manufacturer. The knowledge, cost, and logistics required to produce CPGs safely and consistently is often beyond the scope and budget of emerging brands, who are likely better versed on how to sell the finished items to consumers instead.
At the recent Snaxpo 2023 in Orlando, a panel of contract manufacturing experts offered advice for startups in choosing the right co-manufacturer for their product. Here are a few key takeaways from that session.
Is my company ready for a co-manufacturer?
A nascent brand may be able to produce small amounts of test products on its own, but when it's time to scale up to mass manufacturing, contract manufacturers say there are many other elements that need to be nailed down before moving forward.
"As you get ready for emergence into the supply chain, you need to have your formulation done with commercial ingredients, you need to know what your certifications should be, and what your packaging is going to be from a graphical and structural perspective. And with that in hand along with your volume forecast, you can effectively approach a contract manufacturer. That's the minimum bar to have everything ready to scale," said Jamie Valenti-Jordan, founder and CEO of Catapult Commercial Services.
"Just because you have a formulation, doesn't mean you're ready to go to market," said Chuck Woods, senior director, commercial at MSI Express. "As a contract manufacturer, the biggest struggle we see is [companies] that think they're ready to go to market, but sometimes they don't really have a plan for where they're going to sell and how they're going to sell it from a marketing standpoint."
Dave Krombeen, GM and VP of sales at Cheeze Kurls, added that from the manufacturing side, "you want to partner with [a startup] that has a passion. They have to be able to turn that passion into a product and understand the challenges we're going to face and meet us in the middle and make sure we both get what we need out of it," he said. "When someone comes in our door, we want them to be a full-time invested in their product. If you're still doing this on the side, then you're not financially committed. Once you're financially committed to anything in life, you treat it differently."
No thanks—I'll build my own manufacturing facility
Some emerging brands might believe their product is so unique that it makes sense to use capital to build their own manufacturing facility, bypassing contract manufacturers. Those on the panel say be careful what you get into, since manufacturing operations are more complicated than they seem on the surface.
"If you're considering manufacturing on your own, just understand that you will likely be managing two businesses at once: your manufacturing business, and the company you intended to start up," said Pete Brennan, VP of innovation at Mattson. "Work with a group to be able to find the right potential co-manufacturer before you start investing the dollars in your own equipment, unless [your product] is something that's absolutely new to this world, which is a small percentage of the overall innovation that's making it to market."
Woods noted that contract manufacturing has evolved over the past decade, and can handle the speedy pivots needed as the industry grows related to equipment and facilities—something a young brand might not have the money to do after their initial plant investment.
"It's a lot of capital intensity [to invest in your own facility] and there's a lot of complexity. The contract manufacturing industry is growing at a greater than 10% rate. So maybe 10 years ago, the answer would have been, maybe you can do this yourself," Woods said. "But there's a lot of different options now, and a lot of capabilities and competencies that you could leverage. Then you can stick your capital into building your brand and into marketing and other areas outside of building a manufacturing base."
If a startup CPG truly has something unique to manufacture, Krombeen advised spending a fraction of the cost for a new facility on specialty equipment instead, and let a contract manufacturer handle the operation of it.
"Instead of investing all that money to get your plant moving, go to a co-manufacturer and say you have a new process. Let them know you can buy a $40,000 piece of equipment that can make that certain shape or size you have in your product. And if you do that, the investment will be a lot less. And if that equipment is going to cost $150,000, maybe there's a partnership in there," Krombeen noted, "and they can give it back to you in tolling or some other way and you'll earn it back over time as a shared expense."
Valenti-Jordan added, "at the end of the day, your contract manufacturer doesn't make any money for commercializing and getting the first of a product out, they make money because they can run your product at a great quality level all day long, and then shut it down and move on to the next company's product. You get value out of a dedicated partner that's looking to make your product in a sellable, cost-effective way, because you can leverage economies of scale without having to build [a plant] yourself."
What if a co-manufacturer gives away my trade secrets?
Food companies—like any other industry—rely on having an edge over the competition. Therefore, an emerging brand with a closely guarded formula, for example, might be reluctant to allow an outside party like a contract manufacturer into their inner information circle. However, those on the panel say it would be unethical and not very profitable to sell those secrets, not to mention the damage to a contract manufacturer's reputation.
"The food industry is small, and we all know each other," observed Valenti-Jordan. "If you screw somebody over, we all know it. And honestly, no emerging brand is worth enough to sacrifice a decades-old reputation to steal somebody's formula and make a thing out of it. Even if they were successful, the value to [the contract manufacturer] is already lost, and they're going to lose probably 40% of their business from doing something like that."
Krombeen also mentioned that once a startup and co-manufacturer have partnered, it's the contract manufacturer's responsibility to guard anything confidential. "A co-manufacturer is there to make products. They'll take that recipe and own it as much as [an emerging brand] will let them own it, securing the raw materials and everything else. They just want to make that product, move on to the next one and keep going."
How do I pick a contract manufacturer when there are so many out there?
The number of contract manufacturers available can be overwhelming to an early-stage brand just getting started in the industry. To save time, the panelists recommended the Contract Packaging Association (CPA) which has updated lists and can help steer a startup toward the best fit for their particular product. Conversely, Google is not the place to start searching, according to Valenti-Jordan.
"Every list that I've ever run across [on Google] is out of date within about six months. I would encourage networking and finding people who know people in the industry for recommendations. It's going to be much more effective to find a contract manufacturer that way than consulting a giant list online."
Companies in this article