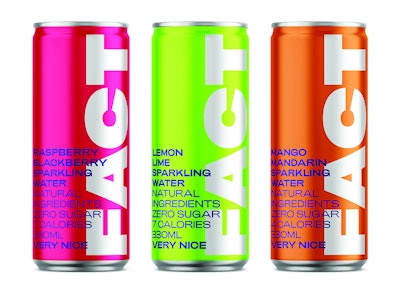 Startup beverage company almond.io wanted to provide full supply chain traceability via the blockchain and make this information available to consumers scanning purchased cans of its new flavored-water beverage, FACT. Almond found EVRYTHNG, an Internet of Things SaaS platform provider, and built its own supply chain tracing ecosystem using EVRYTHNG's partner integrations and toolkits. "Almond needed a partner who could handle the mass-scale product digitization and data management required to extract and share real-time intelligence throughout the product life cycle," says Almond Managing Director Oliver Bolton.
Every FACT can tells the product's unique story — where, when and how it was farmed; where and when it was packaged; and its journey to the store. It even shares its carbon footprint, based upon the journey it took to reach consumers' hands.
"By engaging with consumers directly at 'point of consumption,' Almond can better understand its FACT customers and see where and when its products are being consumed. And at the same time, build deeper relationships with consumers by creating trust through product and supply chain transparency while providing a platform to reward consumers," says Bolton.
Read more in "Tech advances help manage data proliferation" to learn about implementing technologies to increase supply chain transparency and how they can improve demand planning, logistics and customer satisfaction.
Companies in this article