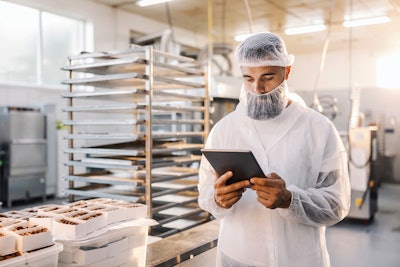 Aptean
It was not long ago that using sophisticated software meant you had to be a large company with deep pockets. That's not true today as software has become both more powerful and less expensive, putting it within reach of small and medium-sized companies as well.
Vendors are introducing new enterprise resource planning (ERP) software designed to enable food and beverage processors even in narrow market segments to quickly access the data they need to improve the efficiency of their operations.
"ERP software is constantly evolving, in no small part because the food and beverage industry is always evolving," says Jack Payne, Aptean's director of solution consulting for food and beverage. "Today, some developments are driven by new technologies, and on that front, there's no topic that's hotter than artificial intelligence (AI). We're already seeing AI applications to help with optimized software setup and customized suggestions that could be incorporated into ERP solutions."
Other developments are more trend-driven, according to Payne. "For example, ERP tools for reducing food waste and spoilage to drive greater sustainability are very popular right now, as are features that help businesses manage cost fluctuations and inflation," he says. "Mobile accessibility has also become widespread among ERP systems, but now many are moving toward mobile optimization to improve that functionality."
Connecting workflows
There's also a general push toward greater interconnectivity between ERP software and other types of software, including business intelligence (BI) for in-depth reporting and analytics, plus electronic data interchange (EDI) for transacting with larger clients. "And there are still more supplementary systems that can be integrated, including transportation management systems (TMS) for companies that distribute their own products," Payne adds.
Other new developments crucial to the food and beverage industry include enabling real-time inventory tracking, in-depth analytics, and ERP to warehouse management system (WMS) integration, notes Jacob Olson, director of manufacturing solutions for Cleo. "These advancements are driven by ecosystem integration technology and the utilization of APIs to connect business systems and improve order management and fulfillment processes," he says. "The ERP handles order management while the WMS takes care of fulfillment, creating a more efficient and streamlined workflow."
Directly integrating both ERP and WMS into business processes such as inbound customer orders helps manufacturers better monitor and predict future inventory levels in real time, Olsen adds. "This integration enables companies to maximize the value of in-depth analytics and leverage business intelligence, Big Data analysis, data archiving, machine learning, and data science to optimize processes, develop effective strategies, and plan for the future."
Cloud's broad potential
Cloud-based systems are drawing significant interest today from both vendors and customers, in large part because they make it possible to deploy ERP to manage multiple processes and departments across the enterprise, explains Jim Bresler, product management director, food and beverage, for Plex by Rockwell Automation.
"Interconnectivity across enterprise systems and assets—enabled by cloud and IoT (Internet of Things) technologies—makes it possible to deploy supply chain management (SCM) and manufacturing execution system (MES) capabilities in an ERP system that provides a holistic view of supply chain and procurement operations," Bresler says. "This is critical, especially for large manufacturers and food processors with multiple facilities that need MES and ERP solutions with the ability to integrate production and inventory data with back-end systems. A unified ERP system provides end-to-end visibility across the enterprise."
Ensuring regulatory compliance with U.S. Food and Drug Administration (FDA) requirements is a critical aspect of the cloud systems. "As a part of these requirements, manufacturers in the food industry need high levels of track and trace capabilities," Bresler explains. "While most ERP solutions provide some level of traceability, across inventories or production processes, food and beverage manufacturers need an ERP system that provides very granular levels of track and trace to meet regulatory requirements. This necessitates a cloud-based ERP solution that can integrate with back-end systems, such as MES and quality management systems (QMS), to pull data from across the enterprise and track ingredients and products from the point of origin to their final destination."
Affordable and speedy cloud deployment, along with proven implementation templates, helps enable small and medium-sized processors to access the same features as larger enterprise manufacturers, according to Bresler. "This configurable system allows manufacturers to customize the workflow according to the company's specific requirements, enabling smaller processors to avoid spending on unnecessary capabilities."
These needs typically revolve around essential aspects such as track and trace, FDA compliance, hazard analysis and critical control points (HACCP), the Food Safety Modernization Act (FSMA), and production yield and cost management, Bresler adds. "While smaller and medium-sized processors may require less plant floor automation, it is common for them to have some level of automation in place, making integration with an MES system highly advantageous," he says. "This means smaller processors can establish their minimum entry point to quickly return value, and gradually expand into more advanced enterprise-grade features if the returns look promising."
Smaller companies often try to deploy ERP software in-house rather than in the cloud, which can have a negative impact on operational efficiency, according to Stephen Burton, founder and CEO of Icicle Technologies. "There is a lot happening in Big Data and AI, which can only be leveraged when data is shared securely," he says. "Since legacy on-premise ERP software cannot leverage these advances without significant investments, cloud-based applications can often be more advantageous to manufacturers."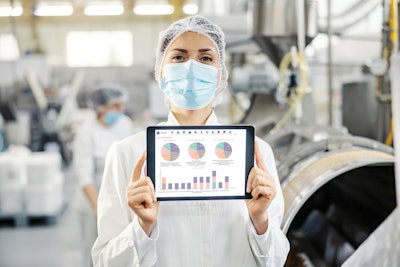 Data volume is among the most important factors in optimizing the potential benefits from AI, Burton explains. "It doesn't really work If you don't have a broad enough database to be able to use AI effectively—to do smart mining of your data, to do things like we do, where we can identify what the biological, chemical, physical hazards are," he says. "I think we're only touching the absolute tip of the iceberg at the moment, and there's going to be enormous advances that we can make on AI. But in order to have an effective deployment of AI technologies, you have to have a significant data volume, and these single one-off on-premise implementations are not going to be able to support that."
Vertical focus
Many ERP vendors are zeroing in on narrow segment focuses with their software in order to make it more effective than software designed for larger companies and broader purposes. Infor provides ERP support across the entire food and beverage industry, but does so by varying product features according to segment needs, note Marcel Koks and Mikael Bengtsson, food and beverage industry strategists for Infor.
It's important to be industry-specific out of the box—even on the micro-vertical level—in terms of functionality, content, and reporting. "Equally important is to have an implementation team that understands the industry-specific challenges and how to address them," Koks says. "At the end of the day, it is about generating real business value. To do that, a one-size-fits-all and never-ending project is not the solution."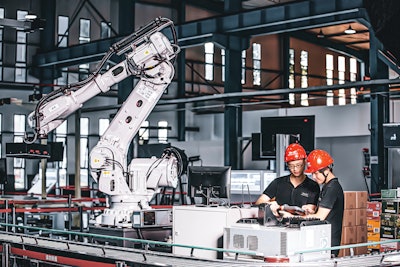 The right capabilities can turn a challenge into a competitive advantage. "It is extremely exciting to see when our customers leverage our platform as a vehicle for transformation and innovation," Bengtsson says. "For example, one of our customers just went live with a yield optimization involving artificial intelligence and machine learning, positively impacting their profitability."
Batch hurdles
Batch processing presents a number of significant challenges for ERP software vendors, particularly when customers make the same products in multiple locations. "A food manufacturer will use one formula to produce their product in their North Carolina facility and since the water chemistry is different at their California facility, for example, they use a different formula so the taste to the consumer will be exactly the same," explains Jen Childress, director of marketing for Vicinity Software.
The same finished good could have two different SKUs depending on which facility manufactured it, so the ERP software needs to be able to differentiate facilities. "Most discrete manufacturing software does not support making the same item using different BOMs [bills of material]. This is because batch manufacturers are more affected by variation or availability to raw materials," Childress notes. "The software should tie a formula to a produced item by facility. This provides the needed flexibility for batch manufacturers."
Yield analysis is another area of concern for batch processors, Childress says. "Many larger ERP systems are built for a model that uses repetitive assembly called discrete processing. You make the same item the same way every time. In discrete manufacturing, when you start back-flushing, the software says, 'You made 100 of these products. That means you must have used a fixed amount of the components.' It is all very fixed and organized. But that doesn't work in our world of batch process manufacturing," she says. "What will happen is that your raw material and inventory control will get out of whack because the bill of materials said you used 100 components, but you actually used 120 or 90. All of a sudden, that back-flush takes that variable yield and pushes it into inventory. Now, before you know it, you don't know what materials you have, and you don't know why. That linkage between what was supposed to be used and what was actually used can be really significant depending on the industry."
Scheduling, according to Childress, is probably the No. 1 feature or technology that a manufacturer that grows from small/medium to a larger-sized organization needs. "While lot traceability is in place no matter the size, scheduling is not usually added until more growth is recognized," she says.
Analytics of the quality and operational data also tends to come later on the growth journey, when companies can turn from their day-to-day operations to look more to process optimization. The ability to share data across multiple sources has become a priority. "The sharing of information across many sources of data—whether control systems, supplier or customer operations, or barcode data collection—has become essential," Childress says. "The ability to receive information from one system, send it to yours, and then hand it back and connect the pieces together throughout the manufacturing process is big. This is already happening, but will happen at a much faster pace as the software providers (and even hardware providers) come together under common frameworks to increase the number of ways to communicate with each other."
Companies in this article