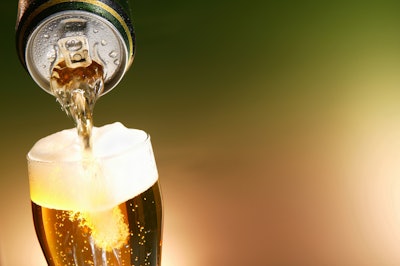 According to "Craft Breweries and Distilleries: Machinery and Automation Trends," cost is the primary packaging concern for both craft beer and craft spirits producers. Both materials cost per unit and transportation costs factor into this decision. For craft spirits distillers and craft brewers who use bottles, reducing the amount of glass on the bottom of the bottle reduces both cost per bottle (material) as well as the overall cost of transportation via a lighter bottle.
Said one brewer from TX, "We do bottles and cans now, but we are moving to more cans with expected growth; cans are growing, bottles are decreasing."
Craft beer producers who switch from glass bottles to cans have the advantage of extended product freshness, lower cost per packaging unit, lower weight per unit, and more efficient packing for distribution. Cans cost less than bottles to produce and transport, while offering superior preservation of product freshness. The downside is that a canning line is more expensive and takes up significantly more floor space than many bottle filling machines, making some craft producers turn to contractors to fulfill their canning requirements.
"We use cans to protect the quality of the beer and they are the most environmentally friendly; no breakage and easier to transport," said one owner of a brewery in IL.
Consumers are seeking products that have little impact on the environment, and the weight reduction of both cans and bottles that are lightweighted eases the strain on distribution systems, meaning fewer trucks are needed to deliver products. Cans are easier to recycle than bottles, and lightweighted bottles are produced with less material, making glass recycling more efficient.
Some craft producers consider the environmental impact of their secondary packaging as well, using recyclable cartons and recyclable/ printable clip-in can ringers. Other craft producers are moving into larger packaging formats like glass growlers and aluminum crowlers, to offer refillable options in taprooms and retail outlets.
The report notes that material suppliers can gain loyalty by relaxing volume requirements for SME orders, since larger establishments are leveraging their size for a competitive edge. Says a west coast craft producer of beer and spirits: "We are looking for savings in our packaging materials and need smaller order volumes."
To learn more about craft beer and craft spirits markets, download the FREE white paper here.
Source: PMMI Business Intelligence, "Craft Breweries and Distilleries: Machinery and Automation Trends."
Learn more about craft brew and craft spirit packaging solutions at PACK EXPO Las Vegas, September 23-25, 2019. Also, check out the digital edition of Packaging World's "Packaging for Craft Brewing" supplement.