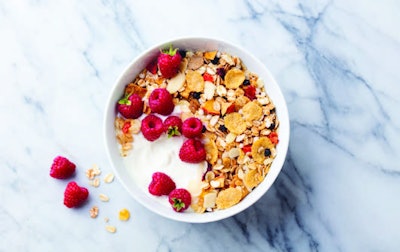 According to "2019 Trends and Advances in Food Packaging and Processing," a report by PMMI Business Intelligence, cereal and grain holds a 3.6% share of the nine food categories, with the number of establishments increasing to 546 between 2014 to 2017 (a CAGR of 2.6%), and the number of employees increasing to 32,341 in the same period, at a CAGR of 2.5%.
Cereal and grain product packaging trends include greater package variety such as pouches, smaller sizes and resealability. While there has been a decline in cold breakfast cereal, there has been an increase in on-the-go breakfast bars. And of those adults who do eat cereal, popular choices include cold cereal, high-fiber, weight-management cereals and granola. Nuts and seeds are also growing in popularity.
Of cereal packaging trends, one Packaging Engineer at a cereal and grain company said, "Cereal might be going to paperboard boxes with a liner and away from bags."
Cereal and Grain Product Processing Trends
• The U.S. Department of Agriculture predicts cereal and bakery prices to increase 2% to 3% in 2019.
• Slow growth is projected to rebound in the next five years with brands offering more healthy on-the-go cereal choices.
• Cereal industry aggressively trying to change image of sugary, unhealthy breakfast food; adding more dried fruits and nuts.
• Nearly 50% of North American product introductions with nuts contain almonds.
Consumer habits are driving change in this market as sit-down breakfast declines, and the value of shipments for breakfast cereal manufacturing declined 10% from 2012 to 2014. Consumers are looking for healthier premium brands, shifting the focus of marketing to promote health benefits.
Source: PMMI Business Intelligence "2019 Trends and Advances in Food Packaging and Processing"
Download the FREE Executive Summary below, or PMMI Members can download the entire report here.
Make plans to visit PACK EXPO International in Chicago, November 8-11, to see on-trend food processing and packaging machinery and materials.