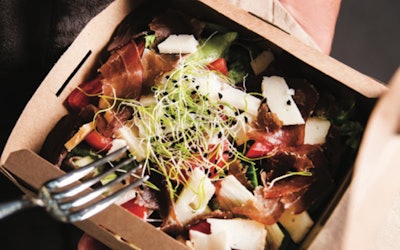 According to "2019 Trends and Advances in Food Packaging and Processing," a report by PMMI Business Intelligence, perishable prepared foods holds an 2.1% share of the nine food categories, with the number of establishments increasing to 813 between 2014 to 2017 (a CAGR of 2.3%), while the number of employees increased to 55,965 during the same period, at a CAGR of 10.7%.
Perishable prepared product packaging trends include more options in fresh and ready-to-eat meals and the general growth of plant-based protein alternatives. Recyclable and compostable packaging that use novel substrates are also a trend for take-out food. Hummus products in particular are growing due to offerings of new flavors such as beet, carrot, black bean and edamame, which are replacing traditional dips.
Perishable Prepared Product Processing Trends
· The U.S. Department of Agriculture predicts fresh fruit prices to increase 2% to 3% and vegetable prices to rise 2.5% to 3.5% in 2019.
· The Produce Safety Rule established under FSMA sets, for the first time, science-based standards for the safe growing, harvesting, packing, and handling of fruits and vegetables.
· Fresh prepared food sales are out pacing all other grocery store items.
· The demand for more fresh, organic perishable foods is increasing.
· Seaweed gaining popularity as a new source of protein.
Consumer habits are driving change in this market. The report states that consumers are following more of a regimented food intake to make sure they are eating a balanced and nutritious diet, and that Gen X is reducing meat, alcohol, and caffeine while upping their consumption of fruit, vegetables and fish. Meal kits are also expected to become integrated as an offering of larger grocers, instead of stand-alone businesses.
Source: PMMI Business Intelligence "2019 Trends and Advances in Food Packaging and Processing"
Download the FREE Executive Summary below, or PMMI Members can download the entire report here.
Make plans to visit PACK EXPO International in Chicago, November 8-11, to see on-trend food processing and packaging machinery and materials.