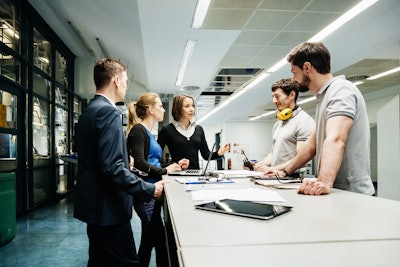 Getty
As consumers and legislators demand more environmentally friendly packaging, and e-commerce continues to drive new and innovative packaging designs that may require new machinery to implement, the packaging market must be ready to pivot quickly.
A report from PMMI Business Intelligence based on conversations between CPGs and OEMs at PACK EXPO's Top to Top said, "Given the amount of ongoing change, machine flexibility is key, with rapid changeover times and machines that are future-proofed to handle new materials an absolute must."
Top to Top Summit is an annual three-day networking event of high-level executives in the packaging and processing industry, who meet to discuss industry problems and solutions with the aim of improving industry outcome. Sponsored by PMMI, this year's meeting (the 15th annual) was held in conjunction with PACK EXPO Las Vegas.
End users who participated in the discussion plan to work more closely with all suppliers (including OEMs) to better understand the supply chain, as well as with their regulatory teams to better understand new legislation around sustainable materials. End users also reported that they look for OEMs to offer new ideas, and new technologies with creative solutions to problems.
Ensuring that machinery can handle recyclable and/or biodegradable materials and new innovative packaging designs is a current operational challenge. One solution is to facilitate communication between OEMs and the end user's own material suppliers and marketing departments. A need for improved market understanding and forecasting around issues such as post-consumer recycled materials was also mentioned by many end users.
Balancing the reduction of a package's environmental impact with a good customer experience, while also keeping new sustainable packaging formats simple and easy to produce, was also mentioned as a key concern, as was the need for standards and definitions of "sustainability."
OEMs spoke about concerns they have that the latest biodegradable materials can run on their equipment, as well as issues with the frequency of which new materials are being introduced. Since CPGs hope to run machines for many years, adaptability to as yet untested materials is needed, and OEMs must develop the ability to support trouble shooting surrounding new raw materials.
Lead times and the cost of packaging raw materials were consistently mentioned as one of the largest challenges faced by end users. One end user described unpredictable lead times on raw materials as 'their greatest anticipated constraint over the next 12 months.'
While this challenge is, to some extent, out of the control of end users, reducing raw material waste is one method to reduce packaging costs, and choosing local raw material suppliers, or on-shoring or near-shoring raw material production, are also possible solutions.
Download a FREE copy of this report below to read more about these discussions.
Source: PMMI Business Intelligence, "Key Challenges for Packaging and Processing Operations."