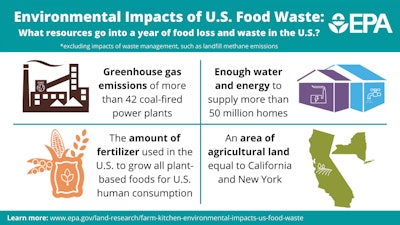 The EPA has released a report called "From Farm to Kitchen: The Environmental Impacts of U.S. Food Waste" to inform domestic policymakers, researchers, and others about the environmental footprint of food loss and waste in the U.S. and the environmental benefits that can be achieved by reducing U.S. food loss and waste. The report focuses primarily on five inputs to the U.S. cradle-to-consumer food supply chain—agricultural land use, water use, application of pesticides and fertilizers, and energy use, plus one environmental impact—greenhouse gas emissions.
The report provides estimates of the environmental footprint of current levels of food loss and waste to assist stakeholders in clearly communicating the significance. According to the report, the environmental impacts of U.S. food waste include greenhouse gas emissions of more than 42 coal-fired power plants; enough water and energy to supply more than 50 million homes; the amount of fertilizer used in the U.S. to grow all plant-based foods for U.S. human consumption; and an area of agricultural land equal to California and New York. Consequently, reducing and preventing food waste can increase food security, foster productivity and economic efficiency, promote resource and energy conservation, and address climate change.
---
---
The report also addresses decision-making among competing environmental priorities and designing tailored reduction strategies that maximize environmental benefits. In addition, the report identifies key knowledge gaps where new research could improve the understanding of U.S. food loss and waste and help shape successful strategies to reduce its environmental impact.
To download a copy of the report, click on: From Farm to Kitchen: The Environmental Impacts of U.S. Food Waste (pdf).
Companies in this article