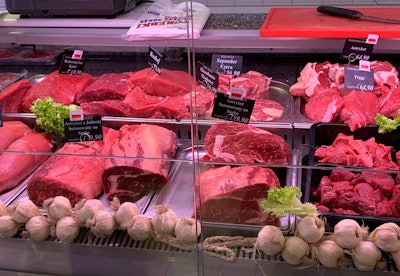 On a trip sponsored by the Union of Producers and Employers of Meat Industry (UPEMI), a group of U.S. and Canadian food industry journalists visited Poland to learn about the quality of European meats.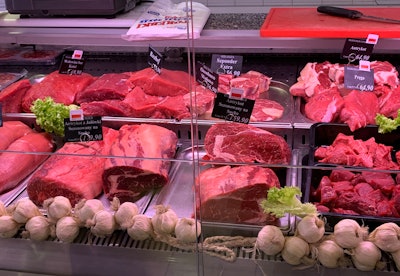 Through a series of interviews with trade and government officials, meat processors, chefs, and restaurateurs, we learned not only of the desire to reach North American markets with high-quality beef, pork, and chicken, but also the efforts being taken to ready products for export around the world.
Poland is the No. 1 poultry producer in Europe, but it has had difficulty getting the go-ahead to export poultry to the U.S. since 2014. That hurdle was finally overcome in late October, according to Polish delegates we met with in November.
"The U.S. veterinary services recognizing the equivalence of the Polish supervision system for poultry meat production with the American system was a huge success," says Katarzyna Piskorz, deputy chief veterinarian for Poland, also pointing out some superior aspects of Polish poultry. "In the U.S., they're allowed to add certain disinfectants when processing. That's not allowed in the EU. We would be ecological 100%."
Beef and pork
But it was primarily beef and pork that the visit was focused on—touring Mokobody, a beef slaughterhouse and processing facility; Mościbrody, a meat processing plant focused largely on pork; butcher stores; and several restaurants with renowned chefs serving up some of the best the country has to offer.
---
---
The EU exported more than $220 million of pork and close to $44 million of beef to the U.S. in 2020, according to the European Commission. The U.S. is Poland's primary market for pork exports. However, beef from Poland is not currently exported to the U.S. That is a situation that the country aims to change with its Meat With European Quality campaign.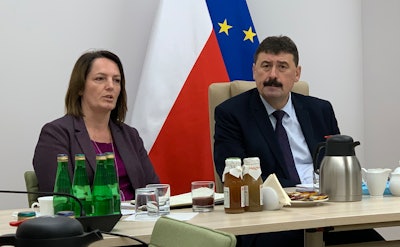 The recent win for Poland's poultry industry in the U.S. "gives hope for the aforementioned prompt initiation of beef exports to the United States, as well as expansion in the supply of a catalogue of pork products," Piskorz notes. "For beef, we're hoping it won't take so long as eight years."
Pricing its meat lower than some other parts of Europe while also still adhering to European safety regulations puts Poland in a competitive position in other markets. "The significant potential of Polish agriculture consists of well-developed plant and animal production, the highest standards of quality and food safety, which go hand in hand with competitive prices," says Ryszard Bartosik, deputy minister of agriculture and rural development.
Sustainabiilty
Wieslaw Różański, president of UPEMI, attributes the quality of European meats to animal genetics, wellbeing, transport, and slaughter.
Różański also brings up the efforts being made in Poland toward more sustainable practices within the meat industry. "Beginning next year, Poland will require farmers to certify their operations as zero emission," he says.
Poland's meat producing industry maintains sustainability guidelines through the whole production chain, Różański says. "There has been an industry move to more renewable energy sources, biodegradable packaging, lower-emission transport, and other best practices," he notes.
It's an expensive effort that will take a number of years, he says. For farmers, the most direct route is to use solar panels to capture the renewable energy. Some might aim for bio-gas plants, using manure as fuel. "There are basic practices that will result in farmers getting to carbon-free," he adds.
UPEMI is currently creating its own emissions calculator that every producer of pork or beef will be able to use. "It's adjusted to consider the peculiarities of the Polish market," he says.
The processing plants
As part of our tour, we visited two different meat processing plants. The first, Zakłady Mięsne Mokobody was originally established in 1989 and then completely rebuilt and modernized in 2004 and established as an LLC, with its current name, in 2008.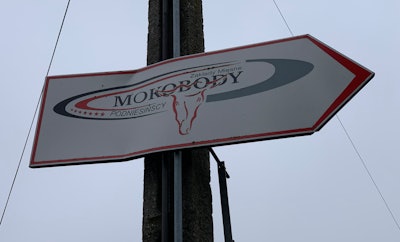 "There was a very big investment made in our operation just before Poland joined the European Union in 2004," says Waldemar Podniesiński, Mokobody's president. "Our plant was rebuilt from the ground up over a seven-month period. We entered production in 2004 as a fully upgraded European Union slaughterhouse facility."
Podniesiński made the decision to upgrade to EU requirements rather than become obsolete—likening the decision to keeping a knife sharp in the slaughterhouse rather than moving forward with a dull knife. "If we didn't upgrade our technology then, we would not be here today because the plant would simply be obsolete now," he says. Built with automation in mind, the plant has room left for added automation in the future, he comments.
Mokobody has been focused solely on beef since 2005, when it phased out pork slaughter for economic reasons. "It was not profitable, so we decided to focus on beef," Podniesiński says. "Pork and beef are also competitors on the market, so it was more reasonable for us just to specialize in beef."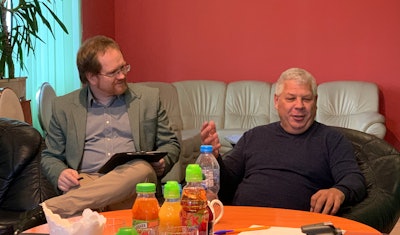 That beef, he insists, is a higher-quality beef. The Polish cattle, he says, do not have as much muscle as other European breeds. "But still, the difference is the excellent taste of Polish beef."
Podniesiński points to the way the animals are fed and the way they are cared for. Dismissing questions about the use of growth hormones or antibiotics, he says, "Here in Poland, we use natural feed like straw, maize, things like that. Everything is done for the animals to make them comfortable. The water mist, it's not for show. If the animals are stressed, the meat looks black, and the pH levels change."
Cultivating exports
Within the beef market, Mokobody has put a strong emphasis on its certification within Islamic markets for Halal beef, enabling it to sell its product to several markets outside of Poland. "We're certified to export to Dubai, Uzbekistan, Turkey, Indonesia, Japan, Hong Kong, and others. So this is our main focus right now," Podniesiński says. "The price we get for Halal meat is key for us. In 2010, we were the first Polish brand that entered the Turkish market with our Halal meat."
Certified by the Islamic Faith Association, Mokobody's plant undergoes an audit every year. It's an expense certification to maintain, he says, noting the special training required to perform Halal slaughter. "Our plant has to have at least two full-time employees of Islamic faith so they can work different shifts. This is why you see employees here from Kazakhstan and Uzbekistan," Podniesiński says. It is a long, complex slaughtering process, he adds.
A major reason that Mokobody focuses so much on Halal exports is because the general beef market is not particularly profitable, Podniesiński notes. As with many products around the world, the COVID-19 pandemic has caused supply problems for cattle as well. "The number of cattle in Poland is steadily decreasing, so all the plants and slaughterhouses have the same problems," he says. "In Poland, we're now in a situation where if you want to buy some livestock, you have to make decisions quickly. If you wait, they will disappear immediately because the competition will snatch the animals."
Mokobody also exports to the Chinese market, but for leather rather than meat. "We have government representatives who are fighting to get the Chinese market open for Polish meat right now," Podniesiński says. "Nobody from Europe is currently exporting meat to China."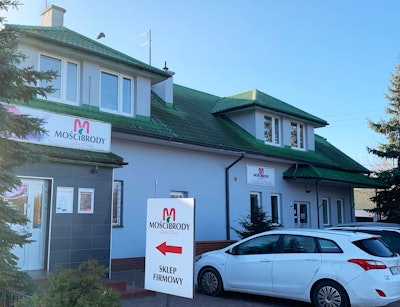 Though our tour was focused largely on the pork processing side of the business, Zakład Mięsny Mościbrody, founded in 1996, produces a range of smoked products from turkey, beef, and pork, and slaughters beef and pork. The producer exports to Germany, France, and Italy. It is also starting partnerships in Denmark.
"For the past four years, I've been working with Japan to export smoked turkey drumsticks and other smoked products into that country," notes Irena Hejnia, managing director of Mościbrody. "Because we process and package meat products, we can export to other countries that we cannot export to otherwise. For example, we cannot export raw meat to Japan, but we can export processed products there."
There was a time—maybe 10 to 15 years ago, Hejnia says—that Poland looked to Russia as its key export market. "Russia eventually closed their borders to us, and then they started to learn how to produce those products that we used to export to them," she says.
Because of that, Polish meat producers are still learning how to sell their products more effectively in Poland, according to Hejnia. "Our niche now is to focus on the superior quality of our meat and take our products to market on that high level to differentiate from others," she says. "We are proud to sell meat produced from Poland today."
Workforce concerns
No matter where we are around the world, we seem to be hearing the same workforce woes, with every quarter having difficulty finding the workers they need to grow their operations—or even keep them running at capacity. This is no different at the meat processing plants in Poland.
---
---
At Mokobody, the lack of labor causes problems throughout the farming and slaughter business, says Podniesiński, who is seeing a generational shift in the industry. "There aren't really farmers anymore like my parents were, and their readiness for the difficult toil of farming."
He is taking extra measures to secure the workers he needs, particularly for the Halal processing. "We have an employee from Uzbekistan. On Friday, I took the documents of four of his friends to the work-related authorities to get them registered so they could work here," he says, also noting, "Our company is currently building housing for our workers from other countries. I have to have those kinds of attractions. Otherwise, I would have nobody working here."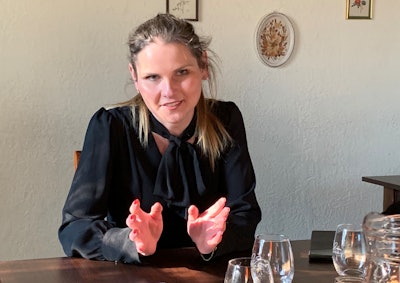 Mościbrody gets only about half of its workers from inside Poland, with others coming from the Ukraine and Georgia, for example, Hejnia says.
"The staffing problem for me is that workers from outside Poland are coming here for a short time, and they're learning a new process. It takes about a month for them to learn their jobs, and by the third month, they're going back to their countries," Hejnia says. "Some stay here for half a year, but it's not possible to stay here longer because of their work permits." (Note: This conversation took place before the Ukraine's current war with Russia, during which more than 2 million people have so far fled the country, many into Poland.)
Hejnia sees labor as Mościbrody's biggest issue, making it very difficult to find workers. "The ones we have learn how to work in meat processing. When they leave, they take those skills to other countries like Germany," she says.
The next stage for Poland is to ensure additional funding to promote high-quality products around the world, UPEMI's Różański says, adding the need to better prepare students in vocational schools for the industry. "We're equipping training rooms, buying the equipment to educate young people, to give them real information about animal production."