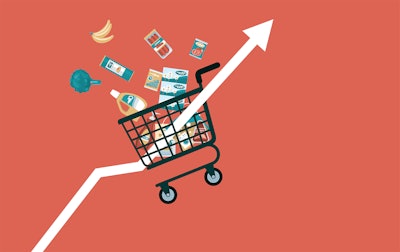 Getty
Those who remember the late 1970s and early 1980s with a sense of nostalgia likely don't extend that fondness to the record inflation that defined the economy during Jimmy Carter's presidency and the early years of Ronald Reagan's administration, eventually leading to a recession that ended in late 1982.
The inflation rate during that time reached double digits three consecutive years from 1979 to 1981, with a peak of 13.55% in 1980. The U.S. never reached double-digit inflation again in the ensuing 40+ years, but 2022 isn't over yet. Inflation this year reached a peak of 9.1% in June, according to the U.S. Bureau of Labor Statistics, and hasn't come down significantly since then.
What this means for consumers today is an increase in food prices not seen since 1979-1981. In July this year, food prices were up 10.9% year-over-year (YOY) from 2021, which is the biggest jump since May 1979. Prices for groceries increased 13.1% YOY, the highest rise since March 1979.
No matter how people buy their food—at the store, via e-commerce/direct-to-consumer (DTC), or through restaurants and foodservice—they are feeling the current pinch on their wallets. A recent survey by Vericast revealed 60% of shoppers are looking for more discounts and deals to offset inflation, with some shopping at dollar stores and other discount outlets rather than traditional grocery chains.
Consumers who make the trek to a traditional grocery store are more discerning than ever about how they spend their money. Research by The Food Industry Association shows 41% of shoppers are actively seeking less expensive store brands, and the Private Label Manufacturers Association (PLMA) says store brand sales were already on an upswing even before 2022's inflation set in. PLMA reports store brands' annual dollar volume increased by $1.9 billion in 2021, for a record $199 billion in total sales.
Other inflation-inspired decisions by shoppers in 2022 include "trading down" from beef to less expensive chicken, cutting back on perceived luxury items like chocolate, and eating less to make grocery purchases last longer. Those hunting for deals on Amazon during its annual Prime Day sale bought more household items than previous Prime Days, according to CNBC, with Frito-Lay snack packs among the top-selling items.
Price hikes and shrinkflation
For many of our Global 250 companies this year, inflation has been the proverbial double-edged sword: The cost of materials and ingredients has skyrocketed (if those ingredients are even available), which in turn leads to higher prices for finished goods. Some of the big players have been able to take advantage of the situation, though, gaining better-than-expected profits as their costs are passed on to consumers.
Those price hikes led to pushback from some major retailers, who threatened to stop carrying products they deemed too expensive. Kraft Heinz (No. 7 on our Global 250) had stopped supplying items like ketchup and baked beans to U.K.-based Tesco because the grocery chain wouldn't sell them at inflated prices to customers. The two reached an agreement in July.
"Shrinkflation" is one area where food manufacturers can make up for high production costs by slightly reducing the package size and/or volume but keeping prices the same—the reductions often go unnoticed by shoppers. "A 10% product size shrinkage is equivalent to an 11% price increase, but most people wouldn't really think of it that way," says Jeff Inman, professor of marketing at the University of Pittsburgh, in an interview with the Pittsburgh Post-Gazette.
Since inflation is on the radar of many consumers in 2022, they're noticing shrinkflation in their purchases. It's so prevalent this year that there's even a Reddit forum devoted to the subject with more than 36,000 members, who post side-by-side photo comparisons of original and shrinkflated products they've bought.
Ingredient availability and costs
The top two brands on our Global 250 list this year (Coca-Cola and PepsiCo) each announced Q2 results in July that exceeded expectations for earnings and revenues but were tempered somewhat by higher operating costs.
In its Q2 statement, PepsiCo Beverage North America noted its core operating profit "decreased 3% and primarily reflected a difficult comparison with the second quarter of 2021 in which we delivered 84% core operating profit growth. The decline in core operating profit also reflects an increase in inflationary pressures across our commodity, labor, transportation and supply chain costs…these pressures were partly offset by strong topline performance and a gain on sale of an asset."
Inflation affecting operating costs might also have played a part in Chobani's short-lived (less than three months) foray into ultra-filtered dairy milk production for retail sale. In a statement sent to Food Dive, the company said it is impacted by inflation like many other companies. "We have come to the tough conclusion that it does not make sense for Chobani to be in the dairy milk business at this time."
Two other factors affecting ingredient availability and pricing in 2022 are the conflict in Ukraine and climate change, creating a global shortage of wheat and cooking oil, in particular. Drought-related agricultural shortages that escalate the price of commodities is known as "heatflation"—another new-for-2022 buzzword. As commodities become scarcer, prices go up, and consumers pay higher prices, whether shopping for groceries or dining in a restaurant.
Supply chain strain
Even if raw ingredients are available, delivering them to manufacturers has been a major hurdle affecting food companies this year as ports, trucks, trains, and other transportation avenues have struggled to stay consistent. An unpredictable supply chain has also forced some brands to simplify recipes and find ingredient substitutes to meet production demands.
Once ingredients reach a manufacturer and products are made, there's no guarantee they'll arrive in stores on schedule. Some brands that make seasonal products, for example, are producing those items when they can in 2022 and distributing months in advance. For Halloween this year, companies like General Mills (No. 12 on our Global 250) and Post Holdings (No. 97) sent their seasonal monster cereals (Count Chocula, Franken Berry, Boo Berry, Frute Brute, and Halloween Fruity Pebbles) to grocery stores in late July/early August, perhaps to avoid relying on an inconsistent supply chain to deliver closer to the holiday in September and October. Hershey (No. 22) and Boston Beer (No. 28 on our Top 50 Alcoholic Beverage Manufacturers list) followed suit by putting Reese's Peanut Butter Pumpkins, and Jack-O Pumpkin Ale in stores over the summer.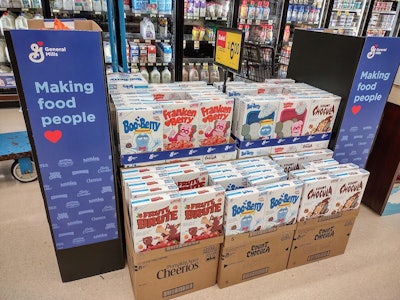 Mergers and acquisitions
Many of the companies on our Global 250 list this year made moves to expand their reach in the marketplace by either partnering with or acquiring other companies. Mondelēz (No. 4) acquired Clif Bar for $2.9 billion, and also bought Ricolino candy from Grupo Bimbo (No. 14) for $1.3 billion; Cargill (No. 100) and Continental Grain purchased Sanderson Farms for $4.5 billion, then merged it with Wayne Farms, a subsidiary of Continental Grain; Sapporo (No. 31 on our Top 50 Alcoholic Beverage Manufacturers list) bought Stone Brewing for $165 million; J&J Snack Foods acquired Dippin' Dots for $222 million; Hershey purchased Dot's Pretzels and its co-manufacturer for $1.2 billion; and Coca-Cola bought full control of Bodyarmor for $5.6 billion, making it Coca-Cola's largest brand acquisition ever.
Kellogg (No. 13) made headlines not through acquisitions, but by dividing itself into three different companies in 2022, focused on snacking, cereal, and plant-based foods.
Meaty matters
Despite the rising popularity of plant-based meats and alternative proteins—the global market is estimated at $7.9 billion, with the U.S. market at $1.4 billion—it's barely a blip compared to traditional meat sales, which are about $1.4 trillion globally.
It has been a busy year for meat companies, with Tyson Foods (No. 36) posting Q2 sales of more than $13 billion, a YOY increase of 16%. Tyson also opened a new, highly automated case-ready meat plant in Eagle Mountain, Utah. Case-ready meats are trending in retail due to the lack of labor in many grocery meat departments.
Other notable news for meat companies in 2022 had to do with pricing. The largest foodservice distributor in the world, Sysco, is suing the four biggest beef producers for alleged price fixing, which includes Tyson, Cargill, JBS (No. 231), and National Beef Packing. Grocery chain Giant Eagle also filed a similar suit against the same four companies this summer. In an earlier suit filed by a group of grocers and wholesalers against the same four brands, JBS settled its portion for $52.5 million in February, but admitted no wrongdoing.
Smithfield Foods settled a $42 million suit in July for pork price fixing filed by a group of restaurant owners and caterers (Smithfield also settled a similar suit in 2021 for $83 million).
Recalls
Food and beverage recalls spiked in 2022, possibly due to an ongoing labor shortage coupled with inexperienced new employees working in food manufacturing facilities.
Abbott Laboratories (No. 61 on our Global 250) made headlines this year after Cronobacter found in the company's baby formula brands manufactured at its Sturgis, Mich., plant (Similac, Alimentum, and EleCare) prompted a nationwide recall and subsequent shortage. Production at the Sturgis facility was also temporarily shut down while the FDA investigated, increasing the scarcity of baby formula further.
Other high-profile CPG recalls this year include:
Jif peanut butter products (manufactured by J.M. Smucker, No. 63 on our Global 250) for possible salmonella contamination
Capri Sun (Kraft Heinz) Wild Cherry juice blends for possible cleaning solution contamination
Home Run Inn frozen pizzas for possible metal contamination
Wayne Farms ready-to-eat chicken breast fillets due to possibly being undercooked
Premier Protein ready-to-drink shakes for possible Clostridium botulinum contamination
Daily Harvest French Lentil + Leek Crumbles for possible issues with the ingredient tara flour causing illness
Big Olaf Creamery ice cream for Listeria monocytogenes contamination (its Sarasota, Fla., production plant has been shut down)
Built Brands' Banana Cream Pie Puffs protein bars for possible E. coli contamination
Skippy peanut butter for possible inclusion of stainless-steel fragments from manufacturing equipment
Kinder chocolate (made by Ferrero, No. 10) for possible salmonella contamination
E-commerce evolves
Some consumer habits accelerated by the pandemic are still here in 2022, and that includes online grocery shopping. In July, total U.S. online grocery sales increased 17% YOY to $7.8 billion, according to research by Brick Meets Click. More than 68 million households bought groceries online in July, up 3% YOY.
While the pandemic is waning, it's still a factor for many in deciding to shop for groceries online in 2022. "COVID-19 concerns coupled with inflation have forced a tradeoff between two fundamental desires for shoppers—not getting infected and not paying more than necessary," says Brick Meets Click's David Bishop.