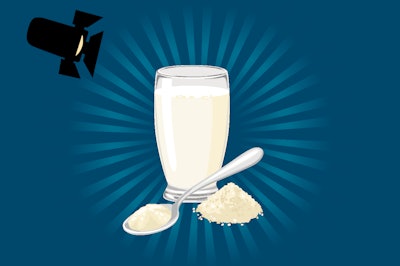 PMMI Business Intelligence: 2023 Dairy Industry Report: Innovation, Adaptation, Transformation
The dairy industry is milking consumer trends with a slate of product innovations.
Consumers are showing increased preference toward dairy products with more protein, less sugar, more convenience, and without lactose, according to PMMI Business Intelligence's "2023 Dairy Industry Report: Innovation, Adaptation, Transformation." The industry is capitalizing on these trends with new products that meet demand.
Trendy Product Attributes
Liquid milk can be made more attractive through trendy additives, such as probiotics. Dairy producers can tout the extra benefits of probiotic-infused milk over simple probiotic supplements by emphasizing the naturally healthy characteristics of liquid milk like vitamins A and D.
A recently released line of cottage cheese fortified with probiotics aligns with consumer preferences. The product also promises itself as having twice the protein content of yogurt, contains real fruit, and is high-fructose corn syrup free, covering a wide range of consumer concerns.
Another novel product in development that is expected to hit the market is animal-free dairy milk. Produced from strains of whey protein through cellular agriculture, this "lab-grown" milk boasts a significantly smaller carbon footprint. It can also easily be manipulated into formulations like lactose-free.
While lactose sensitivity is well known, recent research suggests that some individuals are actually sensitive to one of the casein (protein) compounds in milk, specifically the A1 beta casein. To address this, dairy producers are introducing products that contain only the A2 beta casein, giving consumers with the A1 sensitivity a healthier and more approachable option.
Advanced processing technology is also allowing for an extended shelf-life of fluid milk.
ESL, or extended shelf-life processing, utilizes high temperatures to produce milk that has lower microbial counts than pasteurized milk, extending the refrigerated shelf life by up to four months.
UHT, or ultra-high temperature processing, takes this concept a step further but utilizes additional heat and aseptic filling techniques to produce a fluid milk product that is fully shelf-stable at ambient temperatures for up to a year.
These two technologies are helping fluid milk producers drive their products into new channels and improve the convenience of fluid milk, especially in developing countries with less refrigerated distribution infrastructure.
Healthier Products Through Sugar Reduction
Reducing or eliminating sugar is an excellent way for dairy producers to cater directly to consumer requests.
However, sugar is also an important texture-improving ingredient, meaning dairy producers must rely on other bulking agents, fiber, or other texturizers to replicate the mouthfeel of sugar.
It is important for dairy producers to explain what these additives are and why they are used. Label-savvy consumers often don't recognize these ingredients and don't realize they are texture additives.
E-Commerce Dairy
With the advent of more advanced shelf-stable technology and (crucially) growing consumer interest, dairy companies have expanded DTC shipping beyond liquid milk.
Dairy producers can stand out by catering to DTC channels, but they must ensure their packaging can withstand the rigors of rougher handling.
Convenient Packaging and Portions
One producer recently launched a new butter product that is portioned into individual, uniform balls to facilitate easy home cooking and measurement.
The product addresses the needs of consumers by making it more convenient and usable since cooking at home increased during the pandemic and has endured into recovery.
SOURCE: 2023 Dairy Industry Report: Innovation, Adaptation, Transformation
Download the FREE executive summary below.