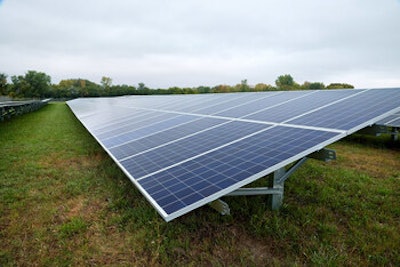 Hormel Foods has completed an 8-acre solar field at its Jennie-O plant in Montevideo, Minn. The project is expected to generate 3.2 million kilowatt hours (kWh) per year between the community solar and onsite solar projects.
The onsite solar portion of the project will supply approximately 10% of the plant's annual electricity, while the community solar portion will provide community members and businesses the opportunity to save money on their energy bills. In addition, the new solar array will reduce greenhouse gas emissions by an estimated 2,265 metric tons per year.
The solar field is the latest in Hormel's environmental successes. The company recently received a Green Power Leadership Award from the U.S. Environmental Protection Agency in recognition of its outstanding clean energy initiatives and the company's impact on the green power market. For example, in 2022, Hormel matched nearly 938 million kilowatt-hours (kWh) of green power with renewable sourcing, enough to meet 100% of the company's domestic energy use and 96% of its total energy use.
---
---
According to Hormel Foods' recently released 17th Annual Global Impact Report, the company also is on track to meet an approved science-based target in 2023 for the reduction of greenhouse gas (GHG) emissions and has invested in sustainable agricultural practices through a 50,000-acre pilot project in Minnesota that is designed to generate positive outcomes in environmental-impact measurement, water stewardship, carbon removals, and agricultural resilience.
"The leadership at Hormel Foods implementing renewable electricity in their organization exemplifies the kind of impactful action that EPA wants to see consumers in the voluntary green power market take," says James Critchfield, EPA Green Power Partnership program manager.
Companies in this article