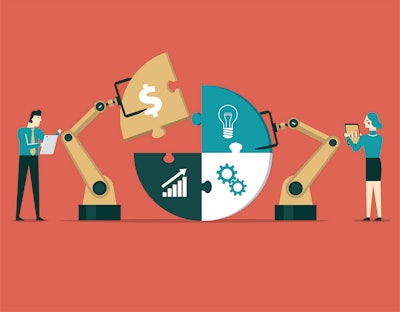 In the second quarter of 2023, the consumer goods sector witnessed merger and acquisition deals worth $43 billion—a growth of 45% over the previous quarter and 7.9% over Q2 of 2022, according to a recent report from Global Data. In terms of volume, there were 537 M&A deals recorded in Q2 2023.
The CPG industry continues its pattern of growth through acquisition, some very notable. In August, for example, Campbell's announced its acquisition of Sovos Brands. Last year, Hershey acquired Dots Pretzels and Pretzels Inc.
Deals are not always this sizeable. But large or small, all must address the assimilation of the acquisition into the company's strategies, processes, culture, and manufacturing operations.
A major deal took place in 2018 as Conagra acquired Pinnacle Foods. It was significant in many ways—ranging from the number of plants to the thousands of people involved to the strategic impact on product offerings.
FSO Institute asked Mark Cacciatore, former senior vice president of operations at Conagra, to share his insights and lessons learned about Conagra's acquisition of Pinnacle Foods. Cacciatore had an active role on the company's senior leadership team to guide the assimilation of Pinnacle into its desired goals.
FSO Institute: Mark, would you please provide some context on the scale of Conagra's acquisition of Pinnacle so that the reader will have some appreciation of the magnitude of this effort?
Mark Cacciatore: Conagra's major acquisition of Pinnacle Foods occurred in October 2018 and was widely reported in the industry and business press. Strategically, Conagra assessed several opportunities that would add value to our business and shareholder value.
First were the significant opportunities presented by acquiring well-known brands that in our view needed revitalization. Pinnacle's frozen meal brands, such as Birds Eye and Hungry-Man, aligned well with Conagra's Healthy Choice, Marie Callender's, and Banquet brands. The Birdseye agribusiness was also complementary.
Secondly, the process technologies aligned well with ours. The combined Conagra and Pinnacle frozen brand enabled Conagra to become the No. 1 in sales volume in the frozen meal category.
Finally, this multibillion-dollar acquisition resulted in a net gain of 10 plants (after consolidations) and a greatly expanded co-manufacturers' network (+80%).
FSO Institute: Conagra, as a major presence in the consumer products industry, certainly had definitive goals and expectations from this acquisition. What would be some of your key objectives?
Cacciatore: As many know, Conagra has been on a journey of driving integrated work systems (IWS) throughout the organization. This has had very positive results and, as such, a key goal was to focus those efforts on the Pinnacle plants to deliver faster and higher results. In addition, our expectations were to achieve synergy savings ($220 million) in the first 30 months.
The goal of reinvesting these well-established but underperforming brands, by modernizing offerings and integrating production into our supply chain, was challenging as it became obvious that more capital than anticipated was required.
FSO Institute: Given those expectations, it is probably safe to say that there were some challenges faced by the leadership team. How did the team overcome the more significant challenges?
Cacciatore: One of the key challenges was assessing and determining the talent—identifying and recruiting key players that needed to be retained because of their tribal knowledge or expertise. A valuable internal discussion ensued, such as the impact of policy changes needed to occur. This manifested itself in several ways: differences between Conagra's Midwest-centric and Pinnacle's New Jersey-headquartered organizations, pay and benefit differences, remote work (pre-pandemic) policies, and other policy changes could impact keeping the "must haves" talent.
Another key challenge recognized soon after the acquisition was completed was the need for unforeseen and incremental capital. Gaps relative to Conagra standards in key areas of compliance and risk management areas that were not uncovered during due diligence required urgent attention and both financial and human capital to address. In some of the acquired facilities, deferment of asset care, potentially due to Pinnacle's prior history of private equity investments, led to further unforeseen capital expenditures.
FSO Institute: Mark, I am sure the readers would be most interested in learning of the lessons learned. What guidance would you want to leave with the audience?
Cacciatore: Reflecting on our lessons learned has been healthy for the Conagra team. I hope this is helpful for providing insights to any contemplating acquisition or divestiture.
Be Nimble: Critically evaluate where you can get your first synergies or wins. This required setting aside the original game plans for organizational design and timelines to respond to the urgencies identified during implementation. For example, we had to modify the focus and pace to which we drove the Conagra manufacturing systems into the Pinnacle plants. Moving fast when necessary enabled the organization to achieve all its synergy targets in the planned timeline.
Leadership Teamwork: Conagra's Supply Chain leadership team committed to incredible teamwork that delivered the needed results that helped overcome some shortcomings in the acquisition.
Due Diligence: The magnitude of this acquisition necessitated a more comprehensive and transparent evaluation. The organizational structure (old and new) and its impact on all associates. What really are the conditions and processes in place for environmental, food safety, and risk management (particularly ammonia).
With all the upside excitement presented by M&As, it is valuable to remember some key guidelines when your company is involved—direction clarity, remembering the purpose of this action and how it aligns with your company's long-term goals; and role clarity among the senior leaders on the team to affect the integration. Due diligence efforts can often be sidestepped given the time pressures of the deal. It would be beneficial to redouble efforts to "look under the hood," particularly with supply chain and manufacturing operations.
Companies in this article