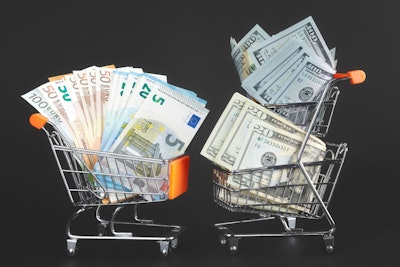 More than two-thirds (69%) of U.S. consumers continue to shop in-store for groceries despite the COVID-19 pandemic, based on the April survey results from Blue Yonder. Of those U.S. consumers that had groceries delivered, more than half (54%) said they experienced delays, with 28% stating their delivery was delayed by more than three days.
In Europe, almost two-thirds (64%) of shoppers who are spending more online say they will continue to do so once the crisis subsides. While shopping in-store will continue to play an important role after COVID-19, 19% in Europe said they would visit grocery stores less than they did before – a figure that jumps to 27% for non-grocery stores.
Stock availability has been one of the major challenges facing retailers across America and Europe during the pandemic, as many people can't eat in restaurants and are stocking up more than usual.
According to the survey, almost nine in 10 (87%) U. S. consumers encountered out-of-stock products during their most recent shopping experience in March. Three-quarters (75%) of U.S. shoppers were more likely to buy the same product from a different retailer if their desired product was out of stock, while 78% were more likely to buy a different brand of product from the same retailer if their desired brand was out of stock, based on the April survey.
In Europe, more than one-third (38%) of shoppers said their favorite items and brands are more often out of stock at grocery retailers compared to the beginning of the COVID-19 crisis. Within grocery retail, before the COVID-19 crisis, only 48% of European shoppers cited stock availability as important, after price (72%) and range of products (54%). However, stock availability is now the most important (58%), ahead of price (56%) and range of products (39%).
"Shopping patterns are shifting, and we are seeing a resurgence of the big weekly food shop. It is clear that consumers are willing to compromise on product and price, provided the items they need are in stock," states JoAnn Martin, vice president of retail industry strategy at Blue Yonder.
The European survey was conducted between March and the end of April 2020. The findings are based on 6,018 online interviews with respondents in Europe (2,000 in the U.K., 1,000 in France, 1,000 in Germany, 1,000 in Italy, and 1,000 in Sweden). The U.S. survey collected responses in both March and April 2020 from more than 1,000 US-based consumers, 18 years of age and older .
Other stories you may like:
Triumph Foods Reports 373 Workers Positive for Coronavirus
Smithfield Foods Closing Additional Pork-Processing Plants
COVID-19: The Voice of Latin American CPGs
The Hershey Company to Make Disposable Facemasks
FDA Provides Flexibility for Shell Egg Producers
FDA Blueprint on 'New Era of Smarter Food Safety' Delayed
$19 billion Coronavirus Assistance Program to Support Food Producers Announced
Companies in this article