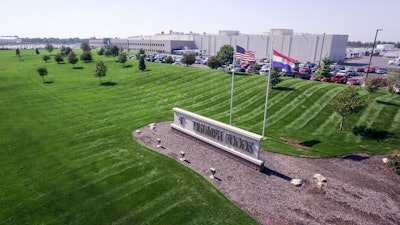 The Missouri Department of Health and Senior Services (DHSS) has partnered with the City of St. Joseph Health Department, Northwest Health Services, and Mosaic Life Care to offer COVID-19 testing to all employees at the Triumph Foods pork processing plant in St. Joseph, Missouri. The testing at the plant began last week, and more than 2,000 employees and contract workers had been tested as of April 30.
Of these workers, 373 have tested positive for coronavirus; all of them are asymptomatic. The workers have been asked to stay home and self-isolate, and will be paid under Triumph Foods' COVID wage continuation policy.
At the request of the City of St. Joseph Health Department, the state is sending staff support to assist with contact tracing efforts, and more testing is expected as close contacts of the COVID-19 positive individuals are notified.
The company is continuing to deep clean, sanitize, and disinfect the facility to prevent the spread of the virus.
Other stories you may like:
Tyson Resumes Operations at Logansport Facility, Rolls Out On-site Health Care Services
Trump Employs Defense Production Act to Ensure Meat Supply
Smithfield Foods Closing Additional Pork-Processing Plants
Leprino Foods Shuts Down Plant
COVID-19: The Voice of Latin American CPGs