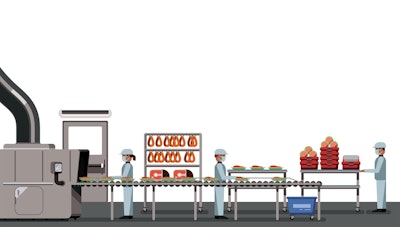 Food and beverage manufacturing plants have been hotbeds for COVID-19 due to the nature of the work: lack of physical distancing, hygiene standards, and the pressure to come in even when workers are sick. But some processors have successfully instituted best practices to keep their workers safe on the plant floor.
Reports from the Centers for Disease Control and Prevention (CDC) highlight many of the safety measures and protocols Perdue Farms has implemented to protect their workers from the coronavirus after giving the agency tours of its poultry processing facilities in Virginia and Maryland. They include temperature checking as a requirement before entering the facility; installation of easily cleaned partitions between workers on the production line when social distancing is not possible; knee-pedal handwashing stations workers are required to use each time they enter the processing floor; and hosting virtual town-hall-style webinars with community leaders to stay updated about the symptoms and transmission of the virus.
---
If you missed it before, see it at PACK EXPO Connects' website, available through March: Designing and Building in Uncertain Times, by ESI Group USA. Preview the Showroom Here.
---
Tyson Foods has also sought to improve the safety of its plants after the company experienced outbreaks at several of its facilities. The processor installed more than 150 infrared walk-through temperature scanners in four facilities: pork plants in Iowa and Indiana and poultry plants in Arkansas and Georgia. Every person is required to have their temperatures taken before entering the plant. It eventually plans to install these scanners at all of its facilities. In addition, Tyson intends to open health centers at several of its plants next year to provide on-site health services for employees. It recently created the position of chief medical officer and plans to hire almost 200 nurses and administrative support personnel for its health services team.
Many processors are also offering their employees hazard pay and other benefits to prevent the spread of COVID-19. For example, Tyson employees who test positive for the virus receive paid leave and can only return to work when they satisfy health and safety criteria that Tyson and the CDC have created. McCormick & Co. continues to pay its workers an extra $2 an hour and offers full pay for up to 12 weeks if operations temporarily close. In March, PepsiCo paid employees at PepsiCo Beverages North America and PepsiCo Foods North America an incremental $100 a week through the month. In addition, employees who must quarantine or are diagnosed with the virus receive 100% of their pay during the 14-day quarantine period. Beyond the quarantine period, employees receive two-thirds of their pay for up to 10 weeks.
PACK EXPO Connects Jumpstart

Bumble Bee Seafoods has reinvented itself under the watchful eye of CEO Jan Tharp. Learn how she is leading—and reviving—the company through tumultuous times in this interview on PACK EXPO Connects Jumpstart morning show on Workforce Development. More info here.
Other articles you might like:
Get More From Your Existing Assets
Security, Remote Access, and Manufacturing Data
More Rules and Realizations in the Era of Smarter Food
Companies in this article