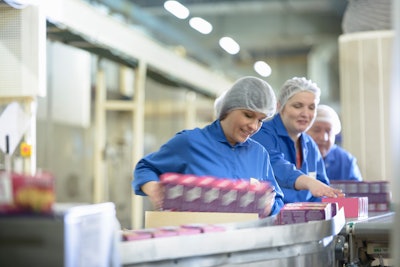 Source: Getty Images
For more than a year, the COVID-19 pandemic has brought unprecedented change to the food and beverage industry—difficulties in keeping workers safe, disruptions to the supply chain, and in many cases booming demand. But as more people get fully vaccinated and some normalcy returns, what will producers do with the lessons learned?
More than likely, food and beverage manufacturers will carry those lessons into new projects. They will take into consideration new ideas about worker density and hygiene, air flow and filtration, automation and robotics, and a whole host of other details.
"Masking will eventually go away, but the leftover impact on the facilities will not," says Jeff Matis, senior project director for CRB, which designs and build plants in the industry.
The next pandemic
The consensus from food and beverage companies is that they expect to see another pandemic in the not-so-distant future, and they need to be prepared. In fact, 78% of food and beverage executives say they're actively preparing for a future global pandemic, according to a study from AIB International. Close to one-third of respondents expect another pandemic within four years, and half expect one within the next decade.
Regardless of expectations for a coming pandemic, nobody wants to be caught off-guard. According to AIB's survey, 61 percent of respondents said their company did not have an adequate plan in place to deal with the COVID-19 pandemic when it began.
"Nobody is seeing this as a one-time event," says Brian Bernard, president of Spec Engineering, a firm focused on system design and process equipment integration. "There will be others."
The industry needs to be more flexible and more resilient going forward, says Scott Hodel, director of process engineering and capital project management for Hixson, which specializes in the design of food and beverage and other technology projects. "Even if it's not COVID-19, it'll be the next COVID or the next virus that comes five years from now," he adds.
Producers have dealt with contagions in the past, but this one has been particularly jarring. "All of the clients that we're dealing with have talked about how they can reconfigure, redesign, and provide enhanced capabilities in the event of future contagion," Matis says.
It's affecting the food and beverage industry in a variety of ways. "Facilities that we're designing have always been focused on hygienic control and on maintaining a level of hierarchy. That's always been overlaid with allergen and other segregations," Matis says. "Now there's another level of development, and they're looking at how their facilities can be tweaked in the event of a contagion to minimize impact."
Throughout the manufacturing environment, there is increased focus on reducing the spread of germs—additional places to wash hands, no-touch faucets, more foaming stations and boot washes, Hodel says.
Because the food and beverage industry already has such high standards in hygiene on the manufacturing floor, not as much change is happening specific to the process, according to Matis. "The processes we're laying out now focus more on the ability to provide some form of segregation and decontamination of workstations with enhanced automation to reduce personnel interaction."
Even pet food production is akin to good manufacturing practice (GMP) environments, Matis adds. "They're equivalent to human-grade levels of food sanitation," Matis says. Working with companies like Freshpet, he sees firsthand how conscious they are about quality processes and cleanliness monitoring.
Keeping up with demand
Pet food companies have seen considerable growth through the pandemic as more people forced to stay home decided to adopt a new pet. In the U.S., pet food and treat sales grew by close to 10% over 2019, according to the American Pet Products Association.
"Pet food has been growing nicely anyway, but there's been an exponential bump over last year," Bernard says. "We're working on four plants right now—three greenfield, one a brownfield refit—for the pet food industry."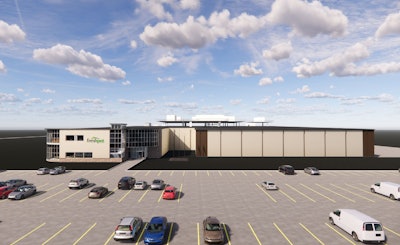 Freshpet announced early in the pandemic that it would significantly expand production capacity with the construction of a new plant in Ennis, Texas. While growing to meet demand, Freshpet also made changes to address potential future contagion concerns to protect its workers.
---
---
Those processors fortunate enough to have done well in the pandemic still face challenges. Keeping production running at the levels needed requires being able to bring enough workers into the plant and keep them socially distanced on production lines. But the pandemic itself has exacerbated an already-existing challenge manufacturers faced in finding workers.
The Sikich Industry Pulse, which surveys manufacturing and distribution executives throughout the year, points to the difficulty industry has in filling positions. According to some of the latest responses, while 56% of those surveyed plan to grow their workforce in the next six months, only 5% are confident in their ability to obtain the talent required.
---
---
Automation's role in the workforce
Quality has always been a significant goal of automation. "The more you can automate, the more consistent your process can be," Hodel says. "A by-product of that is that there are fewer human interactions."
Reducing labor is another common goal. And, of course, that would also reduce the density of people in a facility and alleviate staffing issues. As a result, automation might be looking pretty attractive to more manufacturers in the face of COVID.
"In today's world, it's all about automation. It reduces the headcount," says Jeff Lewandoski, senior partner/project manager at Dennis Group, which focuses on designing and building food processing plants. "But you can't do that in all instances."
Dennis Group is working on a project for a beverage company where the filling, bottling, and packaging processes are easier to automate, Lewandoski says. Not so easy, on the other hand, are lines where cutting and chopping of food items take place.
In a world where innovation is common, increased automation might come in a later phase of a product's development, as it did with a leading snack food manufacturer. "They take these two snacks and put it in a bag," Bernard explains. "It's done on a line, but it's a new product, so it's not all automated because the volumes aren't there yet."
Instead, the process required several workers packing boxes by hand. Spec Engineering was asked to space workers apart while keeping the line running. "In the short term, we elongated the line, provided separation, and simple barriers. We had an air manifold that proactively drew the air away and brought it to an in-plant HEPA filter with UV," Bernard says. "It made all the employees comfortable, kept the line running at a better productivity, and invested in new conveyors and an air handling system."
Fast forward, the single-serve snack line is still selling well, and it's good timing for the company, Bernard says. "Now the capital is being planned to fully robotically automate the line. They can eliminate the issue and increase the speed by 3.6 units per minute," he says. "Short term, we help operators work safely and hygienically. And then the big trend for those that can is to move to robotics."
Over the past half a year, Spec Engineering has been planning, designing, and quoting an increasing number of robotic systems, according to Bernard.
With so much continued need for social distancing, attention turns continuously to the amount of space needed for those requirements. Here also is where robotics can help. "Some existing facilities are locked in by the space they've got, so they could supplement with cobots," Hodel suggests.
One factor that Dennis Group has been working on with its clients is to space human-machine interface (HMI) screens more throughout the facility. "There was a single operator station in the past because that made the most sense. One operator can control a whole line," Lewandoski says. "Now they're rethinking that. If you have a couple different folks on that HMI, do you really want to put them shoulder to shoulder? In times past, the answer was yes. Now they want to add more functionality to a single HMI, but space those out a bit."
Even before operations leaders at Kraft Heinz knew the pandemic was on its way to the U.S., they made a significant investment in an automated on-demand clean-in-place (CIP) system at the company's Wausau, Wis., plant, which Spec Engineering installed in December. "It was already being considered before the pandemic," Bernard says. "But as the pandemic was coming, they needed to get it in right away."
Hodel has found that clients who aren't necessarily ready for all the latest emerging technologies now are more amenable to at least leaving space for future additions. He references Industry 4.0 trends, along with data dashboards and IT-level controls. "There will be more robotics, more cobots [collaborative robots]—that trend will continue," he says. "If it's not the right fit yet or the client is not ready, they might still plan something in for the future. That maybe wouldn't have happened a few years ago."
Need for flexibility
Increased flexibility has long been needed on the manufacturing floor, but it's another trend that the pandemic has compounded as producers struggle to repurpose lines in the face of unequal market growth—the service sector suffering as restaurants closed while grocery stores couldn't keep product on shelves. Manufacturers needed to be flexible enough to handle the changes in package configurations, Hodel notes.
Bernard got a call in May from a customer in Chicago that blends spices. "He said, 'Come down here right away, we have a major problem,'" Bernard recalls. "For food service, he had a high-production line, and it was down to 30% capacity. His retail line was smaller, more customized, and it was booming; orders were through the roof. For the grocery stores, he couldn't keep up. He said, 'I need a new line, and I need it yesterday.'"
Though the level of flexibility varies by client, it helps to plan for flexibility early in the planning stages, Hodel says. "Some clients have facilities that were master planned a few years ago. …Now there's a more heightened sense of awareness for flexibility," he says. "Sometimes they're hemmed in by facility restraints. Sometimes you just don't have the space to do everything you'd like. But there's a broadened awareness and willingness to do these nice-to-have features."
Connected assets
During the pandemic, increased connectivity has really come into play with suppliers and customers for commissioning and troubleshooting. "Most of our clients had remote access in place before the pandemic, but they're more fully utilizing it to their advantage now," Hodel says. "If there's an issue with downtime, or if something is not working the way it should, we can get in and make a fix from remote access."
Remote support, remote monitoring, and remote access have all become important over the past 10 years, Bernard agrees, and will continue to be enabled. "The good news is I think we were already in a good position," he says. "The [plants] that didn't have that in place are putting it in place immediately."
Now that the ice has been broken, many of these pandemic practices will continue. "Sometimes it takes a catalyst to get you to adopt a technology that's already there," Hodel says. "Where we used to have a lot of face-to-face interaction with clients, we're doing that more remotely, and it's been successful."
Spec Engineering moved to remote factory acceptance tests (FATs) without much guidance in place initially. "A leading confectionery manufacturer ended up doing three of their FATs in our plant before the equipment shipped. Remotely, they'd say, 'We want this, or we want that,'" Bernard says. "We had to just jump in. The first one was not as well thought out as the following one. We had to learn, build protocols, build checklists."
Hearing from CPGs across the industry about the need for this type of guidance in the midst of COVID-19, PMMI's OpX Leadership Network released best practices and leadership guidelines for executing virtual FATs (vFATs) in June 2020. The addendum to OpX's existing FAT product, available for free download at opxleadershipnetwork.org, tackles how to most effectively use communication and connection technologies to interact remotely with OEMs.
---
---
Ultimately, Spec Engineering learned to do those remote FATs effectively. "That's going to be a gain in general. We can save a lot of potential time in planning and scheduling," Bernard says. The pandemic pushed them to that level of capability out of necessity, he adds. "Old school, you went to the factory to see, to feel, to touch, to engage, to test. Except for touch, you can do all of that remotely. There's a wide acceptance of that going forward."
---
---
The need to regulate air flow...
Many food companies are taking a hard look at their ventilation and filtration, according to Lewandoski. "Before, you could put a single HVAC system in a whole production space. We're being asked now to look at systems by area," he says, explaining that this is done to limit the effects of a potential airborne illness.
Because of increasing concerns about indoor contagions, some new plant designs are incorporating a greater percentage of outside air, Matis notes. But that leads to higher energy consumption because of the heat and humidity control required.
It's also important to keep an eye on the overall facility pressurization if you increase the amount of outside air, Hodel says. "It can start impacting rooms that are adjacent," he says. "You have to have well thought-out pressurization schemes."
This adds considerable cost to the facility, however, and some clients are not willing to spend that kind of money. So they're also looking at their filtration systems to see if they can achieve the same results.
"Filtration's one thing, but how you manage the air circulation is another," Hodel says. There's more call these days for creating corner pockets to sweep the air to, rather than sweeping it across the whole room so that any contaminants aren't being so widespread. "There's a heightened awareness and interest in HVAC. People are more aware of filtration, and making sure filters are changed."
…and the flow of foot traffic
There's also a heightened awareness of how people are flowing through the plant. Facilities are rethinking their modes of entry, in particular. "Almost all the facilities that we're now designing are taking an enhanced look at how personnel enter the facility. It's a more controlled entry," Matis says. "As we lay out basic facilities, we're always keeping one eye on how we can control traffic in order to minimize human-to-human contact."
Reevaluating the flow of personnel is easier to do when designing a greenfield project, but must get more creative in brownfield situations, where a typical entry has workers entering in a single door, all going to a timeclock, and then going to a locker room to change. "Now the shift change is the biggest problem," Lewandoski says, noting that manufacturers are trying to figure out how to enforce social distancing as workers enter the building.
There needs to be more points of access, Lewandoski says, and shift changes need to not happen at the same time. At brownfield sites, he sees a focus on temperature taking, along with some staggered shift times. "It's harder when your design is the old-school way," he says. "There are more precautions on looking for the symptoms as opposed to segregation."
Setups are still evolving, but an example of how brownfield sites are handling the change in protocol is to switch from a single point of entry going into a security station to now multiple points of entry. This might require more security guards, or in some cases facilities are relying on turnstiles or key card access instead.
"There are a lot of exits that are deemed emergency exits because they're required by code. We're looking at how to utilize those to facilitate more one-way traffic," Hodel says.
A way forward
There are more post-pandemic lessons to be learned, and ideas are evolving. "This is still young, relatively speaking. We're still learning," Lewandoski says. "Engineers can come up with a lot of great solutions, but they cost money."
Every new measure is designed to keep workers healthy—not only through the current pandemic, but for future pandemics as well. "Human safety is becoming as important as food safety," Lewandoski says. "They're now one and the same."
In many cases, the trends that will continue forward were in the works before the pandemic, but got a considerable push because of it. Now that momentum is there, many of those will continue. "There's increased awareness of the importance of things that we already did as good practices anyway," Hodel says.
---
PACK EXPO Las Vegas and Healthcare Packaging EXPO (Sept. 27-29, Las Vegas Convention Center) will reunite the packaging and processing community, offering new products, technologies and solutions, while implementing up-to-date protocols for a safe and successful in-person event. Attendee registration is now open.