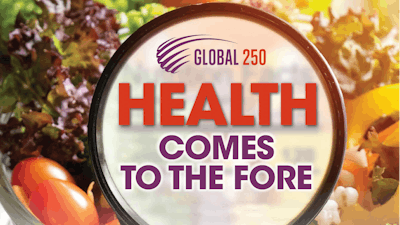 During COVID-19 lockdowns, many consumers shifted their relationships with food. Largely, they were trends that were already beginning to take root, but the pandemic really accelerated many of them. Consumers are looking for healthier diets—more mindful not only of what they're eating, but where it's coming from. They want transparency about how their food is sourced. They're paying more attention not just to calories, but their macros, trying to get the right balance of carbs, fats, and proteins.
---
---
Though the COVID-19 pandemic has certainly been a driver for that healthy behavior, it didn't initially push people in that direction. According to shopping data from Ibotta, 2020 saw American consumers buying 33% more desserts, 16% more cheese, and 12% more chocolate than they did in 2019.
Alcohol purchases were up across the board as well. Consumers bought more brandy (43%), tequila (40%), and whiskey (39%) in 2020 than they did in the previous year, and also more cocktail mixes (30%), flavored wine (73%), and rosé wine (34%).
---
---
As the pandemic has worn on, however, consumer attitudes have taken a turn for the healthier side of life. They're more mindful of the ingredients that are in the foods they continue to cook from home. More and more consumers are venturing into plant-based diets, at least experimentally. And alcohol consumption has continued to drop precipitously.
Plant-based options
Interest in plant-based foods—which avoid not only meats but other animal-derived foods such as dairy—was already surging before the pandemic. Plant-based foods have outpaced conventional animal product sales for the third consecutive year, according to a report from the Plant Based Foods Association (PBFA) and The Good Food Institute (GFI). But COVID-19 has given the sector even more of a boost with an increased focus among consumers on personal health, sustainability, food safety, and animal welfare.
Data from PBFA and GFI showed U.S. retail sales of plant-based foods increasing by 27% in 2020, bringing the total market to $7 billion. That's almost twice as fast as the total U.S. retail food market grew during that pandemic year, up 15% with restaurants closed.
Sales of plant-based meats grew 45% in 2020, rising to $1.4 billion. Here again, this sector grew twice as fast as conventional meat. Refrigerated plant-based meats, which are increasingly shelved beside conventional meats, grew 75%. That's significantly better than frozen plant-based meats, although they still grew 30%—10 times faster than in 2019.
Plant-based milk accounts for 35% of the total plant-based food market. It's a much more established category than the plant-based meats are, but still saw a big boost in 2020 as well—with sales up 20%. Again, that's twice as fast as sales of cow's milk grew. This sector is dominated by almond milk, but oat milk has surged ahead of soy milk.
"2020 was a breakout year for plant-based foods across the store," says Kyle Gaan, an analyst for GFI Research. "The incredible growth we saw in plant-based foods overall, particularly plant-based meat, surpassed our expectations and is a clear sign of where consumer appetites are heading."
---
---
Despite the considerable growth in all plant-based markets, this is not an indication that the world is filled with vegans and vegetarians. Combined, they account for only about 6% of consumers, according to Greg See Hoye, market manager for the plant-based protein industry at Dedert, a supplier of drying and evaporation technologies. But what has developed significantly, he said at a recent Powder Show presentation, is the flexitarian sector.
In general, flexitarians, which make up almost a third of the market, recognize the benefits of a vegan or vegetarian diet, but still like meat. This is a big reason why several manufacturers, See Hoye said, are driven to make their plant-based proteins taste more like meat—along the lines of the Beyond Burger or Impossible Chicken Nuggets.
Chocolates with milk alternatives
Some of the biggest names in chocolate are getting into the plant-based game through milk alternatives. In June, Nestlé (No. 3 in the Top 250) released KitKat V, a vegan version of the chocolate product, made with a rice-based milk alternative. The company had previously launched plant-based alternatives for ice cream, coffee creamers, rice- and oat-based drinks, a range of non-dairy cheeses, and others.
Mondelēz (No. 4) has reportedly had a vegan version of its Cadbury Dairy Milk chocolate bar in the works for some time. And early this year, Mondelēz acquired Hu, a fast-growing provider of plant-based snacks, including vegan and paleo-friendly chocolate bars.
Mars (No. 8) was an early entrant on the plant-based scene, launching a vegan range of its Galaxy chocolate bars in late 2019. Several other top food and beverage manufacturers have joined the plant-based fray in one way or another.
Alcohol alternatives
As consumers rethink their health and wellbeing amid the pandemic, they are also starting to weigh the benefits of reducing their alcohol intake. This is another trend that began before the pandemic, but which has intensified further because of it.
In August 2019, Nielsen published a report that pointed to the rise of the "sober curious" movement. As with many of today's consumer trends, the Nielsen report says, Millennials are driving the movement toward mindful drinking, with 66% making an effort to reduce their alcohol consumption. That's well above the 47% among all U.S. consumers 21 and older.
Within bars and restaurants, no- and low-alcohol beer is the fifth-fastest growing beer type in the U.S., and has a total value of $77 million, according to Nielsen. In retail, non-alcoholic beverages were worth $7 billion more in 2019 than they were just four years prior.
What this means for alcoholic beverage providers is the need to get more creative in their offerings. The void will not be filled with flavorless seltzers and club sodas, but rather a more premium offering that provides the same kind of experience an alcoholic cocktail can provide. "Near-beers, premium soft drinks, mocktails, low- and non-alcoholic options, kombuchas, and botanical tinctures all offer a wealth of opportunity for on-premise establishments to experiment with and promote to consumers," the Nielsen report notes. "Skillfully crafted mocktails…can offer uniqueness, health benefits, and an appearance that fits the occasion—a bar experience without the buzz."
---
---
2020 was a difficult year for alcoholic beverages, but consumer demand continues to increase for no/low-alcohol products, according to a report from IWSR Drinks Market Analysis. Total volume of that sector is expected to grow 31% by 2024, the report says.
The bulk of that market is the beer and cider category, which commands a 92% share of the total no/low alcohol segment, according to the IWSR. "Thanks to the investment in the category from the major brewers, consumers are becoming more familiar and accepting of no/low beer as a quality product," the analysts report. "The segment is likely to become even more of a focus for smaller craft producers who are able to bring a diverse range of products to the market in the future."
The IWSR credits the segment's resilience during the pandemic to its suitability for low-tempo occasions. The most popular occasion for consuming no/low products is when relaxing at home (64%), the study found.
Struggling with declining beer sales, companies like Anheuser-Busch InBev (No. 1 on our Top 50 Alcoholic Beverage Manufacturers list) and Molson Coors (No. 5) are straying outside their alcohol comfort zones into other beverage terrains. Molson Coors has struck up partnerships that take it into non-alcoholic energy drinks with natural ingredients and vitamins; hard seltzers with probiotics; and grain-based milk alternatives.
Anheuser-Busch announced just recently that it will begin distributing ShineWater—a bottled hydration beverage with 100% of the daily recommended dose of Vitamin D.
Sales of functional or enhanced water—low- to no-calorie beverages that purport to offer health benefits through vitamins, minerals, or other substances—are expected to grow from $4.11 billion in 2018 to $5.3 billion in 2022, according to Statista.
The rise of online grocery sales
This past year has been a big one for grocery e-commerce sales. The Hartman Group, in its Food Sourcing in America 2020 report, documented a meteoric rise in online grocery shopping in the summer of 2020. Of those surveyed, 56% of shoppers said they had bought groceries online in the past 30 days. Additionally, 27% of shoppers said they shopped online for groceries more than before COVID-19, and 14% said they had shopped online for groceries for the very first time.
Though e-commerce sales were already on the rise, the COVID-19 pandemic caused them to soar much faster than initially expected, according to Mercatus, an online platform for grocery retailers. Based on a study that Mercatus did with Incisiv, online grocery sales are expected to account for 21.5% of total grocery sales by 2025, reaching $250 billion.
---
---
Early investments put some of the big hitters in an excellent position to take advantage of the boom in e-commerce once the pandemic hit. PepsiCo (No. 2 among Food and Beverage Manufacturers), for example, set up a dedicated e-commerce team back in 2015, according to a report from Digital Commerce 360. Though PepsiCo doesn't sell much directly to consumers online, it still sees e-commerce as a vital part of helping it stay competitive during the pandemic. "Those investments allowed PepsiCo to be ready for the surge in orders across all e-commerce channels as consumers shifted to online shopping because of the pandemic," the report notes.
Kellogg (No. 13), whose online sales are also done primarily through retailers such as Amazon and Walmart.com, made investments over the past two years that helped it respond quickly when lockdowns related to COVID-19 caused online grocery sales to rocket, according to another report from Digital Commerce 360. Online sales account for about 9% of Kellogg's global revenue, about twice the percentage of the previous year, the report notes.
Still eating at home
Though a study from Ibotta found that 33% of shoppers are tired of cooking at home and almost three-fourths of those surveyed have been missing dining out at restaurants, that isn't translating into reduced retail sales. Feeling more comfortable with shopping in grocery stores these days—and entertaining friends in their homes—25% of consumers actually say they've been spending more on groceries in recent months.
And despite missing restaurants, 51% of respondents said they prefer cooking at home over dining out or ordering in. They want to use all those new cooking skills they acquired during lockdown.
---
---
A study from LendingTree compared data from April 2020 to January 2021 to see how U.S. consumers' food spending changed over the course of the COVID-19 pandemic. A key finding, according to data from the U.S. Census Bureau, was that Americans spent 23.1% more at restaurants and takeout places this past January than they did at the beginning of the pandemic in April 2020. Meanwhile, spending on food at home, including groceries, increased by only 10.7% in that time.
Revenue Management Solutions (RMS), through other studies, turns that focus to the amount of in-home dining that's taking place despite increased spending at restaurants. Delivery and takeout services kept restaurants operating in 2020, and these and other contactless channels will help restaurants recover at a higher level as well, according to Joel Davis, chief strategy officer for RMS.
"As dine-in returns, we believe that it won't replace delivery/pickup," Davis said in an RMS webinar. "A new audience arose during COVID who recognize the value of delivery/takeaway from the local restaurant or favorite chain. They are likely to continue this behavior after dine-in returns to pre-pandemic levels."
In a survey that RMS conducted in November 2020, 30% of respondents reported using drive- thru and takeout options more or much more than pre-pandemic levels.
Keeping it healthy
The RMS survey also discussed many of the trends the food and beverage industry is seeing in terms of healthy eating and drinking. While 72% of respondents indicated no real change in their dietary habits since COVID-19, the remaining 28% reported changes that are worth paying attention to.
The bulk of those changes, 21%, have come in the form of healthier eating. That involves 11% of respondents cooking more at home, and 6% on a diet of some kind. Another 4% are eating less primarily to save money or make things last longer.