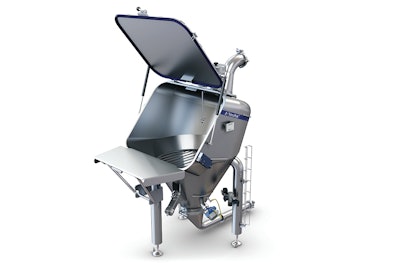 As food processors struggle with labor availability, there has been increasing interest in clean-in-place (CIP) capabilities for sanitation. But bringing wet cleaning techniques—automated or not—near dry powder is never going to be a winning proposition.
With more emphasis than ever on hygiene and sanitation, Tetra Pak took the opportunity of PACK EXPO International to show off its new innovations in clean-in-place (CIP) designed specifically for powder handling. A new bag tipping unit increases plant efficiency and promotes a safer working environment—finding ways around not only concerns about human capabilities in cleaning but also the mix of water and powder.
A common worry when working with bag tipping units is how to properly clean between batches to meet high hygienic food and beverage standards, particularly if dealing with allergens or other changeovers in ingredients. Operators have typically cleaned units by hand, which is difficult and time-consuming. The Tetra Pak Bag Tipping unit CIP offers easy cleaning thanks to an ergonomic redesign, new configurable features, and added safety elements.
For years, people in powder handling have been reluctant to clean their systems with water. So a powder handling system that is CIP'able might not sound altogether appealing. "For many, many years, people in powder handling would be afraid of dealing with water," says Jean-Christophe Margotteau, processing solutions and equipment manager food solutions for Tetra Pak U.S. and Canada. "They would run away when you're talking about water."
Nonetheless, CIP remains appealing as a way to remove human error from the process. "When you dry clean a bag tipping unit or any other piece of equipment, you rely on the operator. So you have a human factor here," Margotteau says. "When you have very high hygiene standards set by your customer, that could be an issue. Any customer would like to limit the involvement of the operators on the line. That's true also for cleaning the equipment."
---
---
A trend toward higher concerns about allergens also enters into the mix, with concerns about cross-contamination between batches. "You could buy two lines—one for non-allergens and one for allergens—and you're good to go," Margotteau comments. "But you can end up with an issue with the footprint if you buy two lines instead of one; not to mention, of course, the amount of investment. So it's good to have a line that you can clean for allergens. And, in that case, you really need to go for CIP."
Suitable for use with a variety of mixing equipment, the bag-tipping standardized unit has an improved design to ensure powder flowability and complete powder discharge thanks to smooth-angled corners and no dead-ends, hence no powder retention. In the same way, water drains completely in the cleaning process to increase drying and reduce wet spots.
The CIP cycle for the bag tipping unit can be scheduled to run during the night, with no operator involvement, Margotteau notes. "The only thing that the operator needs to do is to close the door of the station before a CIP cycle is launched, and that's it," he says. "With our solution, you do not need to disassemble, remove any part, any device. You clean the station, just closing the lid, and that's it."
Dry CIP for mixers
Tetra Pak does not plan to stop here with CIP capabilities, working on CIP solutions for powder mixers as well. "Whether this is a ribbon type mixer or paddle mixer, it takes much more to clean a powder mixer than a bag tipping unit because, inside the vessel, you would have a ribbon, paddles, twin shafts…and it can be really tricky," he says. "There are solutions on the market to wet CIP mixers. But again, for such a big piece of equipment, the challenge is not to flush with water and detergents; the challenge is how you dry your equipment. If it's not properly dried, then you end up with a big mess and you can have bacterial growth in your mixer."
With that in mind, Tetra Pak has developed a new concept for dry CIP. "We don't want to use water and detergent so that we don't have to dry that equipment for hours. So we use air jets," Margotteau says. "We have nozzles on the hopper or on the mixer that can pop up, and we inject compressed air in different parts of the mixer in order to remove that layer of powder—sticking on the walls, on the ceiling, on the bottom, on the shafts of the mixer—and we vacuum out this powder that will not be lost."
The powder that gets blown out of the system is saved to rejoin the rest of the batch, helping to significantly reduce powder losses.
"It's an automatic cleaning system, so you don't have to open the vessel," Margotteau says. "We all know that from the moment you open a vessel, you create a risk of contamination with the environment. So the idea was to be able to launch a dry CIP cycle, without any operator intervention, and reduce your powder losses."
---
---
"Everybody wants again to limit the involvement of operators, but the only solution we had before was to use water and detergent, and 90% of the customers would refuse to go for that. So the only alternative was to go for dry cleaning involving operators," Margotteau adds. "You would open your mixer doors, you would extract the shafts out of the vessel. It can take hours to clean a powder mixer manually."
This concept got a good reception at PACK EXPO International, Margotteau says. "We had very good feedback," he says. "We have successfully promoted this solution in Europe, and we are already installing a few systems on top of the prototypes that were installed las year. But we're looking forward to promoting this solution in the U.S."