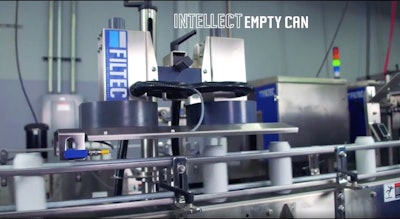 Filtec–an in-line inspection systems provider for the food and beverage industries–displayed its INTELLECT Vision Inspection Solution this week at PACK EXPO Connects. This equipment is an automated machine vision system for canning lines.
The system is designed to incorporate comprehensive empty can inspection (ECI) algorithms that can detect defects–dents, knicks, damaged sidewalls–and contaminants–oil, grease, stains, foreign objects–in empty cans to ensure that only ready cans reach the filler and seamer, reducing excessive downstream value-add losses.
The dual circular LED top lighting module is created to uniformly illuminate the empty cans and inspect the flange, inner sidewall, and base. A complementary rejecter is used to remove defective cans from the production line.
The system's high-resolution industrial cameras, LED strobes, and image inspection algorithms are made to work together to perform pinpoint can inspection for lines operating up to 2,400 cans per minute. The system includes an event log, screen diagnostics, and wizard-driven changeover. 
The system is set up for a variety of can types and can be configured with a wide range of INTELLECT's complementary applications and modules.
Explore Filtec's showroom here. 
Companies in this article