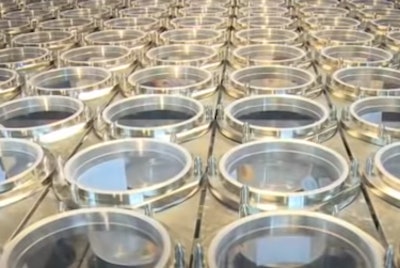 photo credit: Paxton Products
Paxton Products, an ITW Company, makes air rinsing, knife dryers, and blow-off cleaning systems. This week at PACK EXPO Connects the company is making two new product announcements related to cleaning and drying.
First, the Ionized Air Rinser Vac addresses the need to remove dust or debris out of upright cups typically used for dairy products or snack trays. After empty cups or trays are placed upright into continuous conveyor recesses, it is critical to remove any foreign particulates prior to filling. However, these applications are not conducive to inverting the cups, as is typical for bottles and cans.
According to company officials, development of the Ionized Air Rinser Vac began a year and a half ago, combining the dust and debris removal of the company's Ionized Air Rinser with a powerful vacuum to remove, collect, and contain particles from inside or outside of container walls while preventing re-deposition of dust. All of this is done without making significant changes to existing fill/packaging layout or processes.
The second new product, a pouch drying system, targets water trapped in parts of the pouch that can damage secondary packaging. According to the company, the use of pouches for packaging is rapidly growing in a variety of markets spanning from food and beverage to laundry detergent and health care products. Normally, pouches are filled, sealed, and washed prior to secondary packaging. After washing, the pouch must be completely dried to prevent bacteria growth or damage to case packaging.
Paxton's Pouch Dryer effectively removes water trapped in the top, bottom, and gussets of pouches using maximum efficiency air knives and nozzle manifolds. It combines Paxton Products' high-performance air delivery systems with its centrifugal blowers to create a custom-engineered solution that begins by defining conveyor speed, pouch size, and how much water needs to be removed.
To view the Paxton Products demos (available through March 31, 2021), and to add Paxton to your MyConnects Planner, click here.
Companies in this article