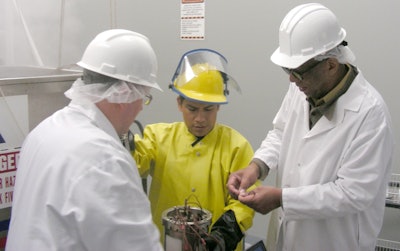 Food and beverage processors have always been responsible for their own food safety measures, whether it be through on-site training, internal audits or improved track-and-trace technologies. However, with the new Food Safety Modernization Act (FSMA) taking effect in September, food manufacturers may experience a shift in food safety responsibilities.
"Let's be clear on this point: Food safety has never been the responsibility of the U.S. Food and Drug Administration," says Larry Keener, president and CEO of International Product Safety Consultants, LLC, Seattle, Wash. "To an extent, FSMA regulations will change that paradigm, and FDA will have a bigger stake in the ownership of food safety than it has in the past."
For example, under FSMA, the U.S. Food and Drug Administration (FDA) can maintain recall authority for the first time in the agency's history, according to Keener. FDA will also garner greater access to a company's records and production-related data.
"The idea that FDA will 'accept' and/or 'acknowledge' the validity of a company's preventative control plan is also emblematic of the agency's increased ownership of food safety," adds Keener. "Fundamentally, FSMA is bringing scientific methods to food safety and food production."
So, what happens to those food manufacturers who fail to meet the September deadline?
The consequences remain the same, says Keener, and can include product recalls, loss of market share and brand equity, litigation and possibly jail time. However, this time, FSMA gives FDA the power to take action.
"Matters become increasingly complicated for a processor once the agency makes such pronouncements against the company and its products," Keener adds. "Based on experience and dealings with the FDA for nearly 40 years, I would expect that the agency's approach to managing delinquent processors would follow this scenario—Fortune 500 food companies will be targeted first for compliance, and of these companies, several are likely to take a regulatory hit for failure to comply. There will also be corresponding high-profile, negative publicity regarding the failed company. The affected companies will be issued 483s and warning letters with a strong implicit message from the agency that it is prepared to take market actions against its products, if required, to force compliance. With its new recall authority, this is indeed a real and powerful threat."
Likewise, if a food processor has not yet initiated a comprehensive assessment within its own food safety system, achieving FSMA compliance is going to be a challenge.
"That said, there will be a last minute rush by the stragglers to employ consultants and other experts to critique existing food safety programs," says Keener. "Medium-size processors in this cohort (one-half billion dollars in annual sales) should have little difficulty achieving baseline levels of compliance."
Furthermore, there are others in this mid-size and smaller grouping that have yet to understand that FSMA compliance will not be judged by manuals and binders, he adds.
"There are many companies with food safety plans, well-written HACCP and pre-requisite plans, which have never been implemented on the production floor. FSMA, as I read it, will demand proof that the processes and procedures elaborated in the GMP/HARPC plans are, in fact, implemented, validated and verifiable. For companies in this category, the journey toward achieving baseline compliance will be long and expensive."
[email protected]