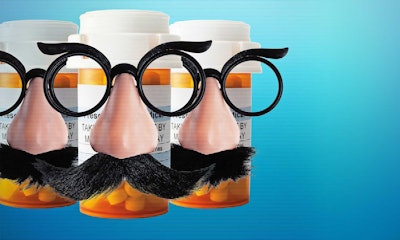 In California, nut thefts are on the rise. Almonds and pistachios are leaving the processors' sites loaded onto trucks that never make it to their expected destinations. Instead, they are diverted to another warehouse or sent away aboard a "ghost truck" that looks legitimate but is untraceable in a trucking database.
According to an article in the Los Angeles Times, 31 nut heists were reported last year in California's Central Valley, amounting to a $9 million crime wave. And local authorities are finding the cases tough to crack because of the sophisticated nature of "high-tech nut bandits," who ship cargo across state lines and overseas.
The problem goes way beyond the West Coast nut industry, however. The Federal Bureau of Investigation (FBI) estimates that total cargo thefts (including food, drugs, consumer product goods and medical devices) nationwide amount to a $15 billion to $30 billion issue annually for companies who fall victim to these roadside swindles.
And that's just half the problem, as manufacturers must also deal with counterfeit products entering the supply chain. According to the International Chamber of Commerce, counterfeiting is one of the fastest growing economic crimes of our time, noting that 5-7 percent of world trade is fake.
Whether it is theft (which could move the product into poor conditions that impact product quality) or counterfeits, this is an issue that costs manufacturers a lot of money, and also puts consumer safety at risk. This is especially true when it comes to food and pharmaceuticals, which is why the U.S. Food & Drug Administration (FDA) introduced laws such as the Food Safety Modernization Act (FSMA) and the Drug Supply Chain Security Act (DSCSA).
Now a movement is underway by serialization suppliers to provide more flexible, sophisticated and secure methods of keeping food and drugs safe, starting in the processing plant, because it is clear that this is serious business.
"The people counterfeiting this stuff are not the people on the street corner," says Jim Sinisgalli, director of market development at Systech International. "It is organized crime."
Systech offers a variety of supply chain tracking technology, from authentication to serialization and traceability. But its product, UniSecure, offers a new twist on anti-counterfeit technology. In a way, it deceives the thieves.
Fooling the fraudsters
"Counterfeiters are good. They have access to all of the same technology to make [the product] look like you did," Sinisgalli says. Traditionally, industries have tried to protect products by changing the ink or font on the packaging label, things that can be easily imitated. But UniSecure takes a different approach. "It makes no changes to product packaging so that counterfeiters don't know what you've done, because, in fact, you haven't done anything."
You may have done nothing, but the Systech technology has. UniSecure derives a unique identification signature from an existing print mark or barcode. It looks at microscopic variations that are random, unique and cannot be intentionally recreated. These variations occur as a result of the humidity in the room or from the vibration of the machine, for example. It is essentially a fingerprint that is generated when the product is being packaged. Systech takes a picture of the barcode, looking at the microscopic level to see fluctuations that are beyond what the human eye can pick up in order to create a unique identifier associated with the item. That image is then stored in the cloud and can be authenticated using Systech's UniScan mobile app by cross-referencing it against the original fingerprint.
The smart phone app can be written to fit whatever use case is needed using Systech's software development kit. For now, it might be a customs agent who can scan an item and tell if it is a fake or if it has been diverted to the wrong country. In the future, because it is using a smartphone app, it could be end users who are flagging the fakes in a central database. "There's nothing stopping crowd authentication, which is ultimately what everyone wants to get to," Sinisgalli says.
Creating something that is not disruptive to existing packaging lines or the way people work is the goal of the next-generation serialization technologies. "The market does not like change," says Jean-Pierre Allard, CTO of Optel Vision. "Anytime a change is made, the FDA forces the pharmaceutical manufacturer to do a full test again." However, making modifications to a programmable logic controller (PLC) is not always an option. Instead, Optel Vision is adding cameras, IT technology, 2D barcode with serial numbers on labels, and a secondary serial number printed with invisible ink to facilitate the aggregation recording.
Optel Vision's TrackSafe platform for the pharmaceutical industry solves the problem of what happens to bottles after they hit distribution when pallets are broken down into cases and sometimes cases into bottles. There needs to be item-level traceability. "In the U.S., we don't want to follow the case, we want to follow all of the individual bottles inside of the case," Allard says.
Optel Vision starts with an IT server that provides the serial numbers to the packaging lines, which are transmitted to the LineMaster software designed to connect to any printer and scanning device in real time. From there, each label is encoded with a unique serial number. Plus, a unique—invisible—tracking code is applied to the top of each individual bottle, and then multiple cameras record when the bottle was inspected, commissioned and packaged into a bundle.
"Recording the parent-to-child relationship is called aggregation," Allard says, and is important because now there is a record of which 12 bottles are in which bundles without worrying if a bottle was removed out of sequence or the machine skipped a bottle along the line—which does happen.
According to Allard, having the ability to know what's in a case, bundle and bottle is an important tool for combating cargo theft. "You just need an operator to scan the serial number on a pallet or case, and if the truck is reported missing you can go back to the FDA and say all of these [serial] numbers have been stolen."
Turnkey tracking
Though generating and verifying serialization codes are important, the entire process also needs to be controlled and managed. The FDA's DSCSA outlines the critical steps required to build an electronic, interoperable system that will be able to identify and trace prescription drugs distributed in the U.S. Beyond printing and applying barcodes and electronic product codes, manufacturers will also need enterprise software and analytics. That's why Bosch Packaging Technology has developed the Connected Packaging Industry (CPI) software for Track & Trace, which can be easily integrated into existing IT infrastructures. The company took its automotive automation and connectivity expertise and adapted processes to the pharmaceutical industry. It not only manages serialization from the allocation of the serial numbers right through to the last aggregation step, but it can also connect single components, packaging lines and complete factories.
Bosch Packaging Technology's Carton Printing System prints 1D or 2D data matrix codes on up to 400 folding cartons per minute. It can be connected to machine software or IT systems ensuring serialization reliability.
The Carton Printing System (CPS) forms the basis of all serialization solutions from Bosch. The system prints 1D or 2D data matrix codes on up to 400 folding cartons per minute. According to the company, the CPS can be connected to both machine software and IT systems in a multi-level process, ensuring that serial numbers are attributed reliably.
But Bosch is not alone in its integrated approach. To accommodate the multiple layers of traceability required, the industry is seeing more traditional automation suppliers entering the serialization space. In October, Schneider Electric introduced its Life Sciences Serialization Suite, a turnkey software suite that includes line serialization, site serialization, master data configuration, and analytics and reports.
Pre-configured templates provide the ability to build relationships between serial numbers for aggregation purposes at each point in the packaging hierarchy. Site serialization software can be integrated with manufacturing execution systems (MES) for visibility across the plant, as well as with an on-premise database that stores all the product and serial numbers, which helps in the event of a recall or quarantine.
The integrated design has been purposely built to solve serialization issues across multiple packaging lines and organizational layers, says Maryanne Steidinger, director of industry solutions marketing for Schneider Electric Software. It is also designed for collaboration. "We included model-driven workflow as part of the solution, which allows us to provide a standardized method of implementing the system and a standard way to communicate between all stakeholders," she says.
Though this is a really efficient method for managing serialization numbers and aggregation data, manufacturers are still fixated on new ways to get beyond the barcode, especially in light of cargo thefts targeting food and medicine.
So why are food and drugs such hot commodities? Because you can't put a serial number on a nut or a pill. Or can you?
The incredible edible barcode
Is the olive oil you just poured over your pasta pure extra virgin olive oil from Tuscany or adulterated olive oil from Tunisia? Are your apples organic Washington State apples or imported knock-offs? According to SafeTraces, with its technology, you know.
SafeTraces' DNA-based edible barcode is mixed into the final coating process of fresh produce, enabling each piece of fruit to be tested for purity and safety with data retained in a cloud-based system.
The company's SafeTracers technology allows you to tag food—not the packaging—by using DNA extract from seaweed to create edible barcodes that can be sprayed on fruits and vegetables as part of the final rinse or applied as a powder on dry goods like flour or beans. The key here is that there are no incremental steps in the production process. And the edible barcode is FDA-approved and a non-genetically modified organism (non-GMO).
The technology originates from Lawrence Livermore National Laboratory, which was licensed by SafeTraces in 2013. There are two pieces of equipment: the printer, which mixes and creates the DNA barcode; and the reader, a brick-sized portable device that can test and verify the source, purity and safety of fresh produce in under 10 minutes.
SafeTraces plans to bring the test result timeframe down even more, "but keep in mind that a year ago the same test lasted over two hours, so the technology is advancing rapidly," says Anthony Zografos, founder and CEO of SafeTraces. "The advantage we have is that we have a way to move the production of the DNA barcode into the customers' hands to generate the barcode on site when needed. And we give them the ability to test for the barcode on site. It is a simple test that doesn't require a scientist." While focused on food, SafeTracers can also be applied to liquid or solid form, which creates an opportunity in pharmaceuticals.
Similarly, TruTag Technologies, which is focused on the food, life sciences, electronics and consumer goods industries, offers "edible memory," which are tiny microscopic particles made of silicon dioxide, also called silica. Silica is a compound that is edible, biologically inert (so as not to interfere with other ingredients), and durable in that it is resistant to high temperatures.
On a batch-by-batch basis, the lattice structure TruTags are etched onto the individual food or drug item as an optical signature that can be mixed into a coating or polymer. This allows it to be introduced during the coating stage of a pill, for example, and does not change any of the manufacturing processes, says Barry McDonogh, vice president of business development at TruTag.
The TruTags, which don't have to be forensically analyzed in a lab, are verified in about 8 seconds via the company's portable spectrometer-based optical readers. The readers can reference a label in a secure database, where additional item information such as lot number, expiration date, authorized customer or country of sale can be stored. And, because of the unique coding of the microtag, even if the tag is broken, each individual piece still contains all of the encoded information so that no data is lost.
"Yes, it is incredibly complicated," McDonogh notes, "and that lends itself to the security of the solution."
Securing products through the supply chain—be it to thwart cargo theft or to quickly identify counterfeits—is the ultimate goal. Thanks to barcode and serialization innovations, we are getting closer to stopping crime in its tracks.
Companies in this article