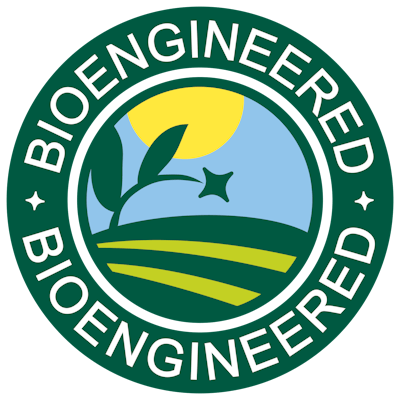 In December 2018, the U.S. Department of Agriculture (USDA) issued a final rule for the National Bioengineered Food Disclosure Standard (NBFDS), which became effective in February 2019, then was implemented on January 1, 2020—and January 1, 2021 for small food manufacturers—with the mandatory compliance date of January 1, 2022.
AIB International designed a course outlining how to use bioengineered food labels, including a recorded webinar on NBFDS providing an overview of the finalized requirements for food and ingredients. Specific examples are given within the webinar. The course's goal is to help the industry understand the labeling rules, exemptions, and use of voluntarily including bioengineered (BE) food-related content.
As explained in the webinar, though the NBFDS was mainly intended for retail products, "the Agricultural Marketing Service (AMS) does not have statutory authority to extend exemptions from the disclosure to non-retail foods such as those sold by manufacturers to restaurants and ingredients sold to other manufacturers to incorporate into other foods," says Elaine Meloan, manager, food labeling, AIB International. "Therefore, this information will need to be provided for non-retail foods as well,"
All foods subject to the Food, Drug and Cosmetic Act (FD&C Act), including chewing gum, are subject to the disclosure, along with dietary supplements. Though food used for animals is exempt.
Determining a bioengineered food
As described by the NBFDS Final Rule, a BE food:
Contains genetic material that has been modified through in vitro recombinant deoxyribonucleic acid (rDNA) techniques
Is a food for which the modification could not otherwise be obtained through conventional breeding or found in nature.
Can be a multicomponent food containing meat, poultry, or egg products subject to FSIS regulations, containing an ingredient subject to the FD&C Act as the primary ingredient by weight
The following would not be considered BE foods:
Incidental additives, which are foods used as ingredients that are derived from a BE crop, but are not required to be listed in the ingredient statement as they meet FDA's definition of "incidental additive" in Title 21 CFR 101.100(a)(3)
Foods containing broth, stock, water, or a similar solution as the first ingredient and a meat, poultry, or egg product as the second ingredient
Refined products, or food derived from a BE crop that is refined to remove the modified genetic material, as long as maintained records verify the food has been subjected to a refinement process, validated to make the modified genetic material in the food undetectable, or certificates of analysis or other records of testing appropriate to the specific food are obtained to confirm the absence of BE material
According to Meloan, "AMS does not specify what test to use to validate the absence of genetically modified material, however, they do provide standards of performance regarding the methodology. In general, the testing laboratory is expected to employ quality assurance standards common to the industry to ensure the validity and reliability of test results."
The current list of BE foods includes bioengineered crops and foods that are produced in both the United States and other countries and may be present in stores in the United States. The list will be reviewed yearly and modified as needed. BE foods on this year's list include certain brands or varieties of foods (e.g. AquaAdvantage salmon and ringspot virus-resistant varieties of papaya) as well all varieties of a given food, no matter the grower (e.g. corn).
Each regulated entity is responsible for determining its use of BE foods through its records. If the records show that a food or food ingredient from the list is bioengineered or cannot confirm it, then the product must bear a BE disclosure. No disclosure is required only if records can prove the food is not bioengineered. If a food or food ingredient is not on the list but the entity has actual knowledge that it is bioengineered, then the disclosure is needed. AMS has determined that "may be bioengineered" statements are prohibited.
Exemptions from the disclosure
Certain foods, manufacturers, and establishments are exempt from applying BE disclosure labels to their foods and may not use a voluntary disclosure if it is: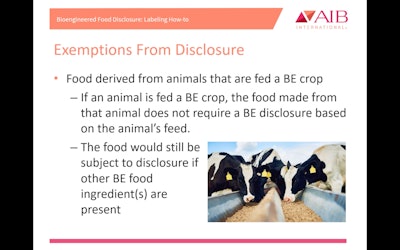 Food served in a restaurant or similar retail establishment which are operated as enterprises selling prepared food to the public. This further includes food enterprises located within establishments providing ready-to-eat foods, as well as salads, soups, and other ready-to-eat items prepared by grocery stores.
Very small food manufacturers, defined with annual receipts of less than $2.5 million, to provide regulatory relief to food and dietary supplement manufacturers.
Foods that inadvertently contain BE substances under the allowed threshold of up to 5% for each ingredient. Compliance for this will be shown through records and not prescriptive test methodologies.
Food that is only derived from an animal that was fed a bioengineered crop and does not contain other foods or ingredients that are derived from or are bioengineered.
Food certified under the national organic program as "100% Organic", "Organic" and "Made with Organic." Though products containing less than 70% organic ingredients are not exempt.
Responsibility, appearance, and placement of disclosure
The AIB course webinar explains that there are three categories of entities responsible for disclosure, the food manufacturer, the importer, and the retail packager, depending on who packages the food product. The final rule says the disclosure must be of sufficient size and clarity to appear prominently, conspicuously, and legibly on the label.
The BE food disclosure can be placed on the information panel adjacent to the statement identifying the name and location of the manufacturer/distributor or similar information. When there is insufficient space on the information panel or principal display, the disclosure can also be placed on an alternative panel. Bulk foods sold by retailers may use any of the on-package options for BE disclosures and must appear on signage or other materials on or near the bulk item. Multi-unit packages where individual units are not labeled for retail sale may simply put the disclosure on the outer packaging, following the disclosure requirements.
Disclosure method options
Multiple disclosure methods are accepted in the final rule. AMS emphasizes that no personally identifiable information about consumers or their devices may be collected, analyzed, or sold, and access to disclosure information is free for consumers. None of these disclosure methods can include marketing or promotional materials of any kind. AMS explains that labels may also be written in the predominant language of a U.S. territory if the product is sold solely in that territory.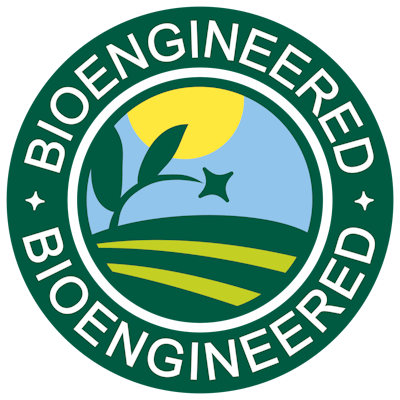 "The final regulations allow for equivalent language for the instructional statement to keep up with technological changes, said Meloan. "AMS recognizes that electronic and digital links take different forms. Current technology includes, among others, digital watermark technology that is imperceptible to consumers that can be scanned anywhere on a food package using a phone or other device with a "scan anywhere on the package for more food information" statement. So, the instructional statement can be customized for the type of technology being used."
Small food manufacturers, defined as having annual receipts between $2.5 - $10 million, can use any of the previously mentioned disclosure methods, or a telephone number, or an internet website statement. Both methods must meet the electronic or digital link disclosure requirements.
Small packages, defined by 21 CFR 101.9(j)(17), have less than 40 square inches of labeling space. Very small packages, defined by 21 CFR 101.9(j)(13)(i), have less than 12 square inches of labeling space. Considering the package sizes, these are allowed to use all previously mentioned disclosure methods as well as modified methods so long as they meet disclosure requirements:
An electronic or digital link with the shortened instructional text "Scan for info."
The shortened text message statement "Text [command word] to [number] for more info."
The shortened phone number statement "Call [number] for info."
If there is a preexisting link or phone number for nutritional and other food information already on the package, the same may also be used for the BE disclosure.
Voluntary disclosures and record keeping
Products regulated by FSIS, not subject to NBFDS, cannot voluntarily include a BE disclosure, even if it contains an ingredient derived from a BE food. However, restaurants and similar retail food establishments and very small food manufacturers may voluntarily disclose the presence of BE food as long as it meets the requirements for regulated entities. These entities may also voluntarily include a disclosure for foods or food ingredients that were refined to remove modified genetic material. "derived from bioengineering" and any of the other disclosure methods may be used. A "derived from bioengineering" logo is available from AMS.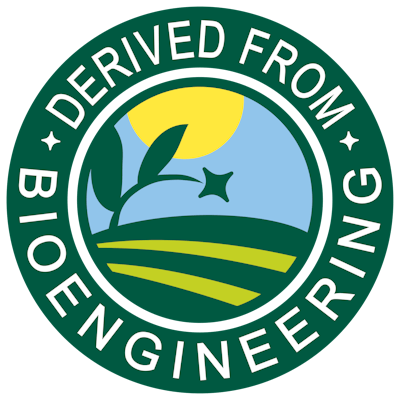 The final rule has a non-exhaustive list of records that may contain sufficient detail about the products and can verify their bioengineered status, including supply chain records, invoices, labels, contracts, broker statements, organic certifications, lab testing results, validated process verification, etc. The records, either physical or digital, must be kept at least two years beyond the date the food or food product is sold or distributed for retail sale. Since "non-GMO" is not defined by the BE disclosure standard, record keeping documents that state the food is "non-GMO" would not be sufficient to comply with the standard.
Entities subject to NBFDS must provide access to these records upon request from AMS and must be provided within five business days. AMS will give at least three business days' notice if they need access to records at the entities' place of business.
"Failure to make a BE disclosure when it is required is a prohibited act under the disclosure standard," said Meloan. "The enforcement provisions of the final rule allow for the filing of written complaints with the administrator of AMS, further investigation by the agency, and an auditing of a company's records. A company may request a hearing on the results of an audit."
Companies in this article