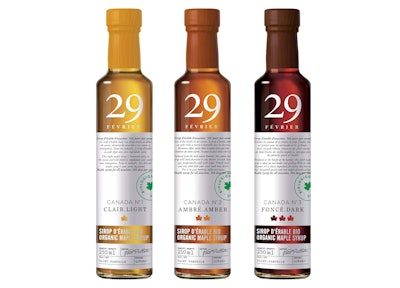 Canadian maple syrup producer 29 février is benefiting from a cost-efficient supply of labels in short runs for its premium product range by way of the digital UV ink-jet printing capabilities of its newly appointed supplier, Multi-Action Labels.
Designed by lg2 boutique, the labels for the six varieties of syrup—light, amber, and dark grades, and organic alternatives for each—display the brand's versatility. Extensive use of text on a white background educates consumers about the subtle flavors and serving ideas. A no-label look "window" reinforces the impact of the brand name, and offers appreciation of the product contents.
When 29 février was launched in 2014, the labels for the brand were originally screen-printed opaque white followed by digital toner process for black and green. The brand owner sought a solution that offered higher productivity, lower label unit costs, and ordering flexibility in order to achieve supermarket listings in Canada, the U.S. and Korea.
Multi-Action provided the solution using a single-pass printing and converting process, via its eight-color 13-in. wide DIS (Digital System Integration) UV ink-jet press from SGPPrints. With makeready times for its fully digital workflow reduced to file handling, the converter offers lead times of within 48 hours and even the possibility of same-day deliveries. Furthermore, the converter was able to ensure high-impact and durable image reproduction, as SPGPrints' proprietary inks offer high scratch-resistance and, in white, an optical density of 93%.
Says Jonathan Bourbonnière, President of Multi-Action Labels, "The 29 février brand, with its exceptional quality and an elegant packaging, is transforming the perception of maple syrup as a fine food product. With our digital UV ink-jet label workflow based on the DSI press, we are well-placed to offer the high levels of flexibility and shelf-impact needed to ensure the brand's international success."