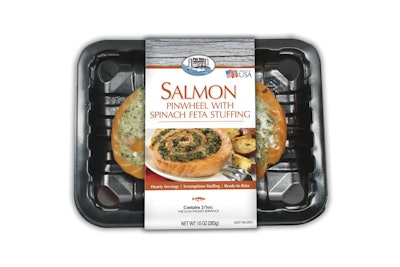 Pier Fish Company, Inc., New Bedford, MA, is a family-owned and operated seafood distributor of a broad range of premium, quality-controlled seafood products from bass and cod to swordfish and tuna. The company specializes in tailoring its products and packages to meet exacting retailer requirements. Marketing performance and retailer convenience are key.
For many years, this long-established company had been relying primarily on rollstock form/fill/seal packaging for its frozen products. But Pier Fish was looking for a better method to allow its retailer customers, both large and small and with or without full-service seafood counters, to purchase the frozen product, thaw it, and sell it in the same packaging. This capability averts freezer burn and product surface dehydration. Of course, it was imperative that the packaging method did not in any way compromise the safety, flavor, appearance, or shelf life of the post-thaw product.
Pier Fish Chief Operations Officer Scott Bode comments, "We have seen an increased need for convenient packaging solutions among retailers. But these solutions cannot forfeit product quality or presentation."
With these objectives in mind, Pier Fish began to explore new packaging options and decided on the Cryovac® Darfresh® 10K OTR (oxygen transmission rate) Vacuum Skin Packaging System and Poly Pro barrier trays from Sealed Air Corp. The system Pier Fish selected includes Series T400 vacuum packaging machinery from Multivac. Products are hand-placed into the trays before entering the vacuum packaging system. After VSP, a wraparound paperboard label, supplied by Action Label, is manually applied to the finished tray-packed product.
Sophisticated film fabrication
The leak-proof packaging, which meets FDA oxygen permeability guidelines, is designed to allow quick, deep chilling of the seafood. The skintight Cryovac VSP film creates close contact between the product and the tray, preventing cross-contamination issues. And the see-through feature of the packaging facilitates quick three-dimensional visual inspection of product condition.
Cryovac VSP series multi-layer semi-rigid and flexible composite films can be customized to suit exacting product application requirements. Produced by means of a patented, proprietary process, top and bottom webs are coextruded and laminated, exhibit excellent optics, and offer forming characteristics easily adaptable to irregular-shaped products such as seafood.
Pier Fish's new packaging approach first hit markets in October 2014. The packaging substantially reduces food waste by enabling maintenance of excellent safety standards, flavor, presentation, and shelf-life quality of post-thaw seafood. The estimated shelf life is five days after thaw. Bode notes, "At Pier Fish, we evolve and grow with our customers, and this packaging technology speaks to that. We understand what retailers need, and we work to find the right solutions for our customers, while delivering the highest quality product and service."
Companies in this article